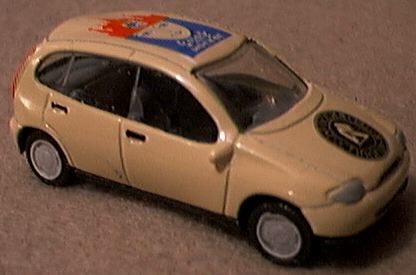 Avva - Lada (Fiat design, Herpa casting), made in Russia



Meha - Lada 2102 Vaz (Fiat 124), made in Russia



Matchbox - Skoda 130LR rally car



Maisto - Trabant



Szelvesz-Auto - Kisipari Termek, made in Hungary
Always attempting to achieve the same level of supremacy that was occupied by Western technology, the countries of the Warsaw Pact, particularly the Soviet Union, relentlessly unveiled "cutting-edge" products that sought to prove that the Communist world could answer to and out-do anything that the West could dream up. For the most part, this ambitious fury of energy and scientific research was directed into designing ever more advanced weapons that were hoped to provide the East bloc with a slight edge over the Americans in the ever escalating arms race. While the military primarily benefited from any, new discoveries or technological advancements, a few "showboats" occasionally saw the light of day in other, more peaceful fields of endeavor. One such dazzling spectacle was the ill-fated supersonic Tupolev TU-144 passenger jetliner: an answer to the Anglo-French Concorde, it suggested that not all Soviet transport had to be mediocre or mundane (this, in spite of its crash at the Paris Air Show).
Generally, however, communist transport was laughable. Perhaps owing to the fact that a car was a personal possession that could be viewed as a status symbol within the supposedly class-less society of communism, the Iron Curtain regimes, when they did allow their citizens to own a car, remained seemingly content to provide their governed with Western rejects. Predominately, communist cars fell into two categories: type A--unashamedly blatant copies of Western designs that never gave any credit to the originals; or, type B--vehicles built under license from Western manufacturers that were more than happy to sell off the long ago retired tooling used to produce the out-dated designs. While there was little in the way of variety, the East bloc did manufacture a good number of rather sorry cars and light trucks for the proletariat.
Over the years, almost every communist-made car was honored in miniature and the extensive line of 1:43 scale diecast models produced in the former Soviet Union is most impressive in both its detail, quality and number of different castings. Elsewhere, other models were made in both diecast and plastic in a wide range of scales. Strangely, virtually none of these miniatures ever appeared in scales smaller than 1:43 and, in an even more peculiar twist of fate, several of the small scale (in the approximately 1:64 scale size) diecast models that did enter production were cast in the West!
Perhaps the most widely distributed 1:64 scale miniature of an East bloc car is Maisto's long-lived Trabant. Based on DKW designs, the three-cylinder, two-cycle, compressed cardboard-bodied Trabant was the East German answer to the Volkswagen. With the fall of the Berlin Wall and eventually communism, the blue smoke-pouring Trabants became symbols of everything that had gone wrong with the communist states. Headquartered in Thailand, Maisto's Trabant is technically produced in a communist nation since it is made in China. Appropriate to its subject, the Maisto Trabant is a rather lackluster model; nonetheless, it does exhibit a certain charm that is difficult to define. East Germany's other car, the Wartburg, has yet to appear in 1:64 scale; however, completists can hold out hope since this more up-market vehicle has been captured in scales ranging from 1:87 to 1:24.
Home to two of the most progressive car makers operating behind the Iron Curtain, Czechoslovakia can proudly claim both Tatra and Skoda, two car lines that were designed and built cars to near Western standards. While several models of pre-war Tatras are available, apparently no 1:64 scale models of these interesting cars has been made available. Happily, one Skoda, in full competition regalia (yes, they were entered in competitive events prior to Volkswagen's takeover) was produced for European consumption during the 1980s. Made in Macau, this fascinating Matchbox miniature is the only communist vehicle to ever be included in the venerable toymaker's range of models. Equipped with an opening hood that reveals the Skoda's rear-mounted engine, this model is now difficult to find on today's antique toy market. Yet always remember that if this model makes you want more miniature Skodas, several are available in other scales and materials.
To be thorough in our review of East bloc vehicles, it should also be noted that Corgi Juniors offered a nicely proportioned Zetor farm tractor during the 1970s. Now partially owned by John Deere, Zetor tractors are still in production and represent one of most widely sold and distributed of all formerly communist-made products. Furthermore, this same model was copied by Hong Kong-based Playart and sold alongside its eclectic lineup of other motorized vehicles.
From Hungary comes a mysterious 1:64 scale miniature of a stylized cross-country and/or military vehicle decorated with Red Cross decals. Named Kisipari Termek and looking like a close relative of the Bundeswehr's DKW Munga, details on both the actual vehicle as well as this model are minimal at best. Was this vehicle a copy of the Munga, was it licensed or is the resemblance a simple coincidence? Do any of our readers know?
Finally, Russia provides small scale car collectors with two Ladas, both old and new. Built from the Fiat 124's tooling, the Lada 2102 became one of the most widely-known of Russian cars due to an extensive export campaign; while never sold in the U.S., Ladas were distributed in Canada and in the border states, they make frequent appearances on American roads. Portrayed in all of its wide range of body styles and trim options in 1:43 scale, the model pictured at right is apparently the only miniature of this car to have been made in 1:64 scale. Yet time moves on and despite relying on a discarded Italian design for the better part of the last 30 years, Lada has finally attempted to update its products by enlisting Fiat to assist it in designing a new, relatively modern, front-wheel-drive Russian economy car. Cast from dies once tooled or owned by the German-based Herpa, this latest Lada creation can be purchased as an accurate 1:64 scale miniature.
Perhaps owing to the lack of competitiveness found in their automotive products, the communist states never seemed to want to compete in the small scale toy car market against the many Western brands. This is truly a shame since the quality of many of the larger scale models leaves collectors to wonder what could have been. Clearly, with the fall of communism in Eastern Europe, few, if any, of the home-grown vehicles will ever see themselves miniaturized in the future. After all, they were largely forgettable yet at least the few models that do exist can serve as historical documents of an experimental era in human history that will never be forgotten.