8001 - Jaguar XJ-SC


8002 - Ferrari F40


8003 - Porsche 911 Turbo


8004 - Lamborghini Countach
Just ten years ago, the idea of highly detailed collector editions in the small-scale diecast market, was just beginning. The first company to produce such models was Matchbox with their World Class cars of the late 1980's. The World Class cars were simply regular Matchbox models with rubber tires and detailed paint. They originally sold for about three times the price of the 1-75 line.

The modest success of World Class models tempted Majorette of France to try their hand at a series of collector cars. Their 'Deluxe Collection' is still one of the most impressive lines ever produced in 1:60 scale. The limited success of the line means that many recent collectors are unaware that these beautiful models ever existed. It is time to take a closer look at these pioneers of the collector toy car market.


The most unique feature of the Deluxe Collection cars was the process by which the bodies were made. Each model came with a small book describing the process and each model in detail. According to Majorette they featured, "body work in FX700, an advanced technological material enabling a highly detailed finish." This advanced plastic allowed the models to be offered un-painted but with a beautiful finish. Screwed-on metal bases added weight to the line. Each car featured soft, treaded tires with authentic chromed wheels, opening doors with interior inserts in each door, headlight and tail-light inserts, license plates and chromed exhausts and correct interiors. Five of the models had opening hoods with detailed motors. The Rolls Royce even had a full-color dash facia. The only item on each model that was painted was the base! The lack of paint gave these models a very realistic appearance with crisp body lines and depth of detail. They had a real car, assembled look.

All eight models were circa 1990 production sports cars. No American or Japanese cars were done and even more curious for Majorette, no French cars were offered. Certainly the Alpine Renault GTA would have been appropriate. The first six models were produced in 1990 and the last two in 1991. The final model, a BMW 850i is shown but did not appear on store shelves to my knowledge. The image here is from the brochure and if anyone has an example, please let me know. This may not have appeared because Majorette had already decided to pull the plug on the Deluxe Collection.

The market for collector models in small-scale was not established and at $5.99 each, these cars did not sell well. Each car was offered in two colors before the line disappeared. They are seldom seen at toy shows today and when they do, values are in the $10 range or more. Majorette never offered these castings in any other line and that's a shame. They would be a much better success if they were re-issued today.

8005 - Ferrari Testarossa (note the inner door panels)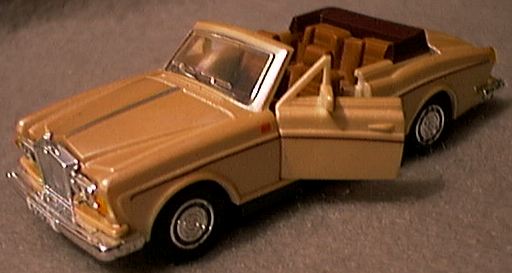 8006 - Rolls Royce Cornich II


8007 - Mercedes-Benz 500 SL


8008 - BMW 850i
(may not have been produced, if you have one let me know)