Some cars simply make you smile and the original and new Beetle models do just that. The VW Beetle must be the ultimate 'cute' car. The Beetle also has been one of the most popular toy cars but not all VW Bugs are cute. For years VW Bug owners have modified their cars. Some are simply little hot rods while others are clearly for serious competition.

Here are a dozen VW Beetles that seem to be taking life a bit more serious. Some have been prepared Baja style while others are ready for the drag strip. Some simply push the fun factor to new limits.

Matchbox is clearly the king of super-modified VW Bugs. Their most recent version is the fifth to be done. The 'desert rescue' theme seems a bit much. I think the Evil Weevil by Hot Wheels is still the baddest bug of them all.
---

Volks-Dragon #31-E - matchbox


Sand Digger #49-F - Matchbox


Connectibles VW Baja - Matchbox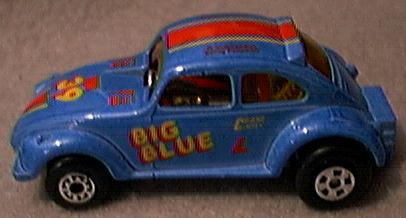 Beetle Streaker 46-H - Matchbox


Beetle 4x4 - Matchbox

Custom Volkswagon - Hot Wheels


Evil Weevil - Hot Wheels


Blazin' Bug - Hot Wheels


Bug Bomb (replica) - Johnny Lightning


Baja VW - Maisto


Baja Blaster #D100 - Zylmex