American Icon - The '59 Cadillac in Miniature
by Doug Breithaupt
---

For five years I owned a 1959 Cadillac Coupe de Ville. In wood rose (Cadillac never offered pink in 1959) with a white top, this was an impressive car. I finally sold it in 1989 to put a down payment on a house. No car I have owned before or since has attracted as much attention. Riding in the '59 Cadillac was like driving a circus wagon down main street. Children and parents would point, smile and wave. Lookie-Lews on the freeway made a simple drive into competitive event. One time at a stop light, a guy jumped out of his car, ran to my window and just kept yelling "I love your car!" I loved my car too but when I sold it I was ready for break.

Is any car more all-American than the 1959 Cadillac? Flash, style, power, and the freedom of the open road are all represented in the '59. Of course, the fins and bullet tail-lights are the biggest and boldest ever offered. Any other car looks small next to a '59 Cadillac.

Toy car makers were slow to produce the 1959 Cadillac. Road Champs was the first to do a 1:64 scale '59 Cadillac. Their model of the Eldorado Biarritz was offered with a removable convertible top or top-down cover. The doors open and the big front grill and bumpers are made of metal. The casting is of modest quality with a tail that is to short and crude attempt at the wrap-around windshield. All the same, it was the first and I was happy to have a '59 in the collection.

The second '59 Eldorado Biarritz made the Road Champ model look real good. Summer's '59 is barely diecast and it is hard to find something nice to say about this cheap model. The convertible top is up and that saved Summer the cost of an interior.

The Ghostbusters movie featured a 1959 Cadillac Ambulance as the feature car and Universal offered as promotional model when the movie came out. It is quite cartoonish and the fins are plastic. As the third '59 in my collection, at least it offered some variety from the Eldorado Biarritz models done so far.

Hot Wheels decided to do a '59 Eldorado Biarritz and it is still in the line-up. Unfortunately, it is a sad casting of this great American car. It's too narrow and the wrap-around window in the wrong shape. The white-wall tires are standard Hot Wheels fare and the front bumper is too big for the rest of the car. This model has been offered in many colors and even as a Treasure Hunt selection.

Racing Champions produced the Eldorado Biarritz in their Mint Edition series. This model is easily the best yet offered with an accurate look and authentic colors. The hood opens for a view of the big V8 and the correct white-walls are combined with correct wheels. Finally, a decent wrap-around windshield and authentic interior are offered as well. The convertible top cover is even the right width. I have examples in red, green and black.

Johnny Lightning was next to provide a '59 model. Their Ghostbusters Ambulance is a marked improvement on the earlier Universal version. The fins are too small but the overall look is good. With real-rubber tires and full diecast body and base, this is a solid little model.

Most recently, Hot Wheels has offered several versions of the '59 Cadillac in their collector series. I have yet to buy their woody station wagon but I did cough up $7.99 for the custom Coupe de Ville. It is a mild custom to be sure but it is not a Coupe de Ville. It is actually an Eldorado Seville as can be seen by the lack of chrome side spear and the triple row of bullets in the rear grill (an Eldorado only feature) instead of just one row as offered on the Coupe de Ville. At least it does represent a true '59 hardtop. The body shape is good and the hood opens on the big Cadillac motor. Honestly, the Racing Champions model is better.

Mattel now has an exclusive license to do small-scale Cadillacs so it is not likely we will see any more '59 Cadillacs from other manufacturers, at least for a while. It would be nice to see a '59 Cadillac Limo or a true Coupe de Ville. I'm not in a hurry to own another real '59 Cadillac but I'll take all the toy versions I can find.

Coupe de Ville - Hot Wheels


Eldorado Biarritz - Hot Wheels


Eldorado Biarritz - Racing Champions


Eldorado Biarritz - Road Champs


Eldorado Biarritz - Summer


Ghostbusters Ambulance - Universal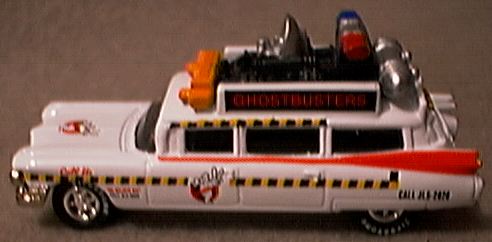 Ghostbusters Ambulance - Johnny Lightning