Siku


Darda


Matchbox


Matchbox (World Class)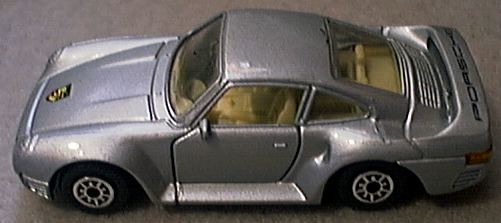 Maisto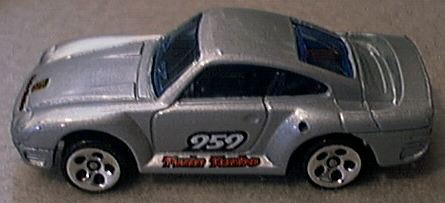 Hot Wheels


Tomica


Tomica police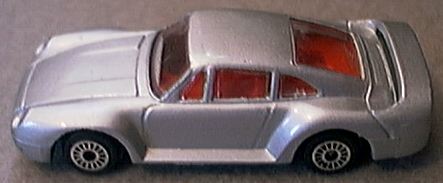 Zylmex


Motor Max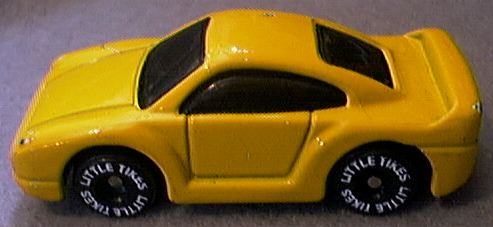 Little Tikes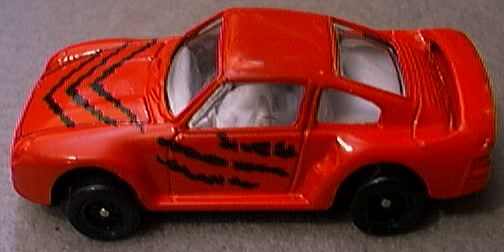 Subway (promotional)


Road Champs


Tootsietoy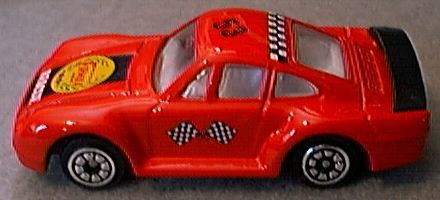 Welly
Porsche's Supercar - the 959 in Miniature
by Brian Willoughby

Considering that Porsche built only a mere 250 959s, it may seem rather disproportionate that almost every manufacturer of 1:64 scale diecast model cars has offered a miniature of the car at some point in their histories. Of course, the immortal 959 was, even by Porsche standards, extraordinary and the attention it garnered within both the automotive and diecast toy worlds was decidedly deserved. Although it is now over 15 years old, the 959 continues to stand as a technological masterpiece that remains more sophisticated and technologically advanced than most cars now in production. Rather amazingly for a company that prides itself on its cutting-edge designs, the 959 has not yet been displaced as Porsche's most spectacular tour de force ever.

Rumors had circulated widely of the old school 911's impending demise since the arrival of the first front-engined, the 924, in 1976 and the gossip was permanently cemented, or so the pundits thought, when the top-of-the-line 928 appeared only one year later. However, to paraphrase Mark Twain, reports of the 911's death were greatly exaggerated; in fact, the evergreen 911 continued to be a brisk seller and, in the end, it managed to outlast every new Porsche that was supposed to supersede it. Yet no one could have possibly anticipated that when Porsche decided to design and construct the ultimate expression of its engineering superiority it would base its new supercar on its oldest and most traditional platform. Yet due to several 911 admirers placed among Zuffenhausen's controlling and engineering ranks and the loud cries of ardent "heckmotor" fanatics, the 959 would become the supreme evolution of a car first offered for sale in 1964.

Developed to collect even more victories to add to Porsche's long and incredibly successful competition history, the 959 was intended to be the company's superlative new warrior in Group B racing. As with its celebrated forebears, the 959 conquered everything placed within its sights. A complete package, it was easy to realize why the 959 was so successful: where some cars attempted to employ the latest technology that the automotive world had to offer, the new Porsche applied this technology in a very deliberate and calculated manner, ending with a highly intelligent and pragmatic rather than simply flashy design. Adhering at least partially to tradition, the 959's engine was a flat-six hybrid spiritually based on the 911's engine that used, like "real" Porsches, air cooling for its block yet opted for highly efficient water cooling to dissipate heat from its four-valve-per-cylinder, double overhead camshaft heads. Also equipped with twin, intercooled turbochargers, this six-cylinder engine with a seemingly modest 2.85 liters of displacement generated an unbelievable 450 horsepower and 370 pound-feet of torque.

Transmitting all this power to the tarmac was a new, six-speed transmission feeding all four wheels through a newly designed four-wheel drive system and, although most drivers undoubtedly preferred not to stop the action, the latest Bosch ABS was mated to a massive disc brake at each corner. Unlike the 911's cocktail of semi-trailing arms and torsion bars, the 959's suspension consisted of unequal length control arms all around and added power assistance to the rack and pinion steering gear. Enveloping all this technology was a handsome new steel body that remained, in the truest Teutonic fashion, as functional as the old 911 shell that had inspired it and although the new 959 was clearly an evolution of the old car, it shared few common parts other than its roof and window glass with its predecessor.

When incorporating economies of scale into the entire picture of the 959, it is difficult to believe that Porsche would have spent so much time engineering, developing and perfecting the car and then absorb the costs necessary to tool up to manufacture its very unique and specific parts for a production run of only 250 units. As Sir David Brown had done in building his DB-series Aston Martins so many years before, Porsche had to lose money on every 959 it sold. Of course, the glory, recognition and advanced engineering knowledge that Porsche gained from the 959 experience is perhaps more valuable in the long term and somewhat less tangible than the money it lost during the car's brief life span. Recognized the 959 was and the number of 1:64 scale models of the car is almost staggering; with this in mind, let's start our review of 959 miniatures.

In der Vaterland, Siku produced one of the best miniature 959s to appear on the toy shop shelves. Elegantly reserved and prototypically correct, Siku's 959 was one of the star attractions within the company's catalogue during the mid to late 1980s and its stature was achieved through quality rather than cheap gimmicks. Also in Germany, Darda unveiled an unusually accurate and largely successful 959 to include alongside its other unfortunately toyish friction motor powered models. Had the Darda not had such grossly oversized rear wheels and tires, it could have been nearly as nice as Siku's rendition of the car.

By the mid-1980s, Matchbox had strayed away from its once British dominated lineup to offer models of cars produced elsewhere in the world. Of course, the new 959 proved to be an irresistible subject and Matchbox has generated a countless array of variants that continues to date. Well proportioned, Matchbox's 959 has often been let down by less than tasteful paint selections; however, World Class versions have countered the more proletarian 959s with their better detailed bodies and two-piece wheels with rubber tires. Still in production after all these years, the stalwart 959 continues to be one of the few constants in an ever changing line of Matchbox miniatures. Bowing to the sincerest form of flattery, Maisto added an "imitation" of the Matchbox miniature to its range of 1:64 scale models; as might be expected, it is nearly the equal of the model to which it owes its very existence.

Also still available is Mattel's Hot Wheels model of the 959. Painted in a wide variety of colors through the years that have ranged from subtle and sublime to simply hideous, Hot Wheels' 959 features a somewhat rare combination of a diecast body and baseplate, making it one of the heaviest miniatures Mattel currently sells. For those looking to collect infinite variations of the same 959 model, this is the ultimate place to begin: in addition to the aforementioned multitude of paint colors, this miniature has also been available in nearly every wheel style Hot Wheels has employed during the last decade.

Despite its relative obscurity, one of the best diecast models ever produced of the 959 is Tomica's stately miniature. Featuring opening doors, Tomy marketed two distinct versions of its 959 that included, naturally, a standard civilian 959 variant and a rather unique model decorated in full Japanese police regalia. Always sticklers for offering only prototypically correct miniatures, the Japanese police must have, presumably and according to this model, used a 959 to chase down Nissan Skylines traveling at excessive rates of speed (if any of TOTC's readers knows the story behind this particular miniature, be sure to relay the story to the author of this article via this publication's editor, Doug Breithaupt.) Following Maisto's lead, Welly pirated Tomica's 959 for inclusion within its 1:64 scale toy car line-up; cruder and simpler than the obsolete Tomica casting, Welly's 959 is still available at your local Walgreens drug store and is an acceptable model for its modest selling price.

Receiving little attention and even less respect, Hong Kong-based Zylmex produced a two lines of inexpensive toy cars for almost 30 years before retiring from the business and allowing a new company named Red Box to take over its tools and dies. Zylmex's 959 casting made no pretenses and although it is easy for collectors to dispense derogatory remarks concerning how disappointing the model is, it should be remembered that it was intended as a toy and not a scale miniature. After assuming control of Zylmex's extensive range of toys and continuing to produce and sell many of its old castings in new packaging, most collectors were surprised to find Motor Max offering an accomplished new range of miniatures earlier this year. Consisting of both modern and classic vehicles, the new Motor Max models have proven frustrating to many due to their limited distribution.

Rarely mentioned as a producer of diecast toys, Little Tikes has, infrequently, marketed toys that can be viewed as automotive caricatures. One such offering is their undeniably cute rendition of the Porsche 959. Also intended as a toy, the Subway restaurant chain gave away promotional models of the 959 in response to the wildly popular Hot Wheels cars included in McDonald's Happy Meals.

Finally, the 959 inspired an entire glut of both generic and near-generic models originating from a variety of factories located in the Far East. To be a true generic casting, a model should have no name or identifying trademarks of its manufacturer appearing on it: two such models are pictured are included with the photo images accompanying this article. A third generic model (again carrying no manufacturer's name), the rather sad looking "Speed Wheels" miniature is part of a cheaply made range of toy cars that has been sold through Walgreens drug stores from time to time at the price of three for a dollar. Near-generics are miniatures that cannot be said to truly belong to any particular company; they frequently have the company's name responsible for its marketing and distribution printed rather than cast or molded on their bases and they may be sold by any number of companies or chain stores. Examples of this type of model are the Imperial and Tootsietoy miniatures which have, through the years appeared under several different names and in just as many packages. The Soma casting is actually quite good and easily better than most generic models. The Road Champs casting is much closer to the other Asian generics.

The 959 was a special and highly significant car for both Porsche and the rest of the automotive world. In spite of only 250 examples being built over the course of about one year, its lasting impact is still being felt today. Porsche itself has yet to surpass this most coveted, expensive and elusive supercar and it is doubtful that anything quite like it will see a green light for production (or the light of day) anytime soon. Strangely, diecast model makers have mostly ignored the car in larger scales; however, diecast collectors can fortunately dream and, in the meantime, seek out some or all of the many 1:64 scale models discussed above.

Source:
Robson, Graham. The Illustrated Dictionary of Classic Cars. London: Salamander Books Ltd., 2001.


| | |
| --- | --- |
| Imperial | Speed Wheel |
| generic | Soma |