Unimog - Matchbox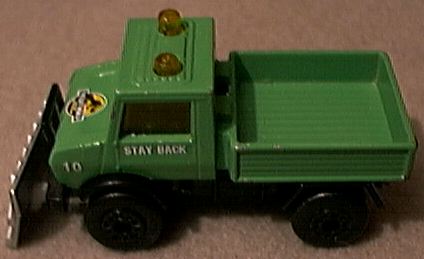 Unimog 'The Lost World' - Matchbox


Unimog Rescue - Matchbox


Unimog - Siku


Unimog - Majorette


Unimog Forklift - Majorette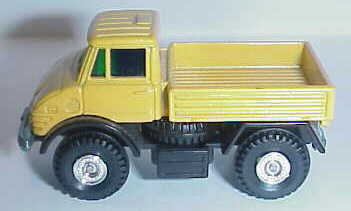 Unimog - Tomica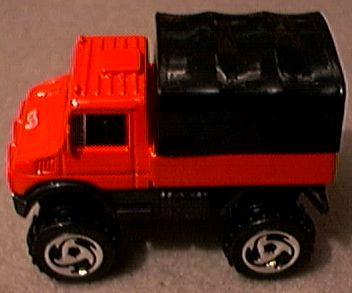 Unimog - Hot Wheels


Unimog - Smart Toys


280 GE - Siku


280 GE - Real Toy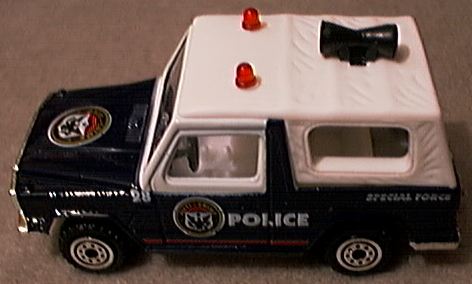 280 GE Police - Real Toy


280 GE Ambulance - Matchbox


280 GE Polizie - Matchbox
Although most people tend to associate the name Mercedes-Benz with luxury cars, the three-pointed star has adorned one of the most diverse ranges of transportation products produced in the world. In addition to cars and both light and heavy trucks, this storied German giant can also add its highly successful aero engines, agricultural tractors, diesel electric railroad locomotives and intercity buses to its long and impressive resume. Since it had conquered the world's roadways, farm fields and airspace, only the place left unilluminated by the three-pointed star was the areas where no roads led and by 1949 Mercedes-Benz was prepared to address this slight oversight.
Filling the requirements of the emerging light-to-medium duty market for four-wheel-drive field cars, the only civilian vehicles then on the market, Jeep, Land-Rover and Dodge's Power Wagon, had limitations in regard to environments where almost excessive levels of ground clearance, wheel articulation and frame rigidity were mandated. To fill this perceived demand for a combined mobile powerplant, tractor and cargo carrier that could travel by its own power in and out of the most inhospitable points of the globe, Daimler-Benz developed its "Universal Motor Gerat", or, for English speakers, Universal Motorized Apparatus--Unimog for short. The first Unimog was the 411, a very simple vehicle with an open top that was largely directed at farmers--similar to the competition. In time, the Unimog range, which has never compromised in its go-anywhere abilities, grew to become somewhat comfortable for its driver and occupants and even exploded to include an ever increasing number of bodystyles and chassis configurations.
Going where no motorized vehicles had gone before, it would not be long before the unstoppable Unimog would attract the attention of toy makers. Curiously, the 411 failed to garner any 1:64 scale diecast miniatures (however, both Wiking and EKO has issued 1:87 scale plastic models), yet all subsequent Unimogs except the most recent version has been depicted in the world of toys and scale models.
Despite having been in production for nearly two decades, one of the earliest diecast models of the Unimog was Lesney's miniature of the round-nose 406. Introduced as a Matchbox regular wheel model during 1967 and assigned the number of 49, the 406 acquired Superfast wheels and metallic paint for 1970 in a long line of less than realistic color schemes. After several insulting color choices, the accurately shaped and highly detailed 406 casting was eventually painted a more prototypical military olive drab and offered by Lesney in various Twin Packs during the mid-1970s.
After a long hiatus, the nearly bankrupt Lesney decided to include a new Unimog miniature within its 1-75 range for 1982. Patterned after the short-wheelbase U 1700, Lesney's new casting featured a more harmonious color combination than its forebear, a rear canvas tilt and a front snowplow. Number 48 within the 1-75 line-up, the new Unimog miniature was fortunately allowed to continue in production after Universal assumed control of the Matchbox brand. Modified and decorated with new logos, another variation of the U 1700 appeared as a movie tie-in for "The Lost World" during the late 1990s.
Curiously, Siku has been the only German toy maker to produce the ubiquitous Unimog in small scale diecast. Like Lesney, Siku's earliest Unimog casting was modeled after the round-nose, hard-top 406 and, unfortunately, was often decorated in bizarre colors. As with most older Siku miniatures, this model can be a challenge to find on today's antique toy market. Mimicking Matchbox again, the next Siku Unimog to appear was a U 1700; maintaining the parallels with its English counterpart, this incarnation of Siku's "Mog" was offered in more reserved colors; however, where Matchbox made couple of distinct versions of it U 1700, Siku has continued to generate ever more intriguing variations of this still-in-production toy.
In France, Majorette postponed joining the Unimog bandwagon until the arrival of the U 1700. Although of rather toyish proportions, Majorette's short-wheelbase Unimog came equipped with some rather interesting implements: while a version outfitted with a snowplow had already appeared in other manufacturer's offerings, a novel variation sporting a front-mounted forklift remains unique within the annals of small-scale U 1700s. Still available in a simplified military casting without the attachments, Majorette's Unimog is one of only few models that originally made it debut during the 1970s that is still in production.
Recognized primarily as the foremost documentarian of the Japanese motor industry, Tomica once produced an extensive range of "foreign" (or non-Japanese) vehicle miniatures. Alongside the Gullwing 300SL and then-current 450SEL, Tomica offered a minutely detailed Unimog 406. Invariably painted an orangish yellow and fitted with a black chassis, this model seemed to owe at least a percentage of its inspiration to Lesney's earlier model of this same vehicle: both carried darkly tinted window glazing to hide the lack of an interior molding. One of the best and most popular small-scale Unimogs to have appeared over the years, this Tomica miniature can frequently be found at toy shows today.
Perhaps owing to its "only thing on the face of the earth like it" status, the Unimog continues to attract new admirers that seek to document this most original of vehicles in miniature. This must have been what caught a designer's eye at Mattel since the Unimog fails to be a typical subject for a Hot Wheels car. Featuring oversized wheels with gaudy chrome centers, Hot Wheels' rendition of the U 1700 is a bit too customized for those seeking a scale model; nonetheless, early versions, such as the Castrol Racing and Real Riders variations, are somehow tasteful models despite their toy-like tendencies. Another recent attempt to capture the Unimog's legendary personality in small scale has been brought to bear by Smart Toys. Smaller than most other diecast models of the "Mog" at 1:87, Smart Toy's long-wheelbase U 1700 is apparently intended for use on model railroad layouts and available in a couple of different color variations. Despite its lack of window glazing, Smart Toy's Unimog is still an acceptable miniature of this famous Mercedes product--especially when its modest price is taken into consideration.
Keenly observing the seemingly unwavering demand that other auto makers such as Willys and Rover had experienced after the introduction of their four-wheel-drive field cars, Daimler-Benz decided to create a somewhat more refined and less extreme off-roader to complement its Unimog range. Having a frustratingly complex and somewhat ambiguous history, the new "Gelandewagen" was a creation of the German Daimler-Benz and the Austrian Steyr-Daimler-Puch that was obviously inspired by the Jeep CJ series, the Land-Rover and the Toyota Land Cruiser and much better suited for over-the-road use than the Unimogs. As it wore "the Star", many critics naturally assumed that it was the world's best field car and, consequently, bestowed countless honors and allocades upon the G-Wagen when new; however, in spite of its pedigree, it has never proven to be a stellar success.
Assembled in Austria with German-made drivetrains, the G-Wagen was a true co-operative effort that sought to combine Mercedes' engineering refinement and quality with Steyr-Daimler-Puch's extensive experience in manufacturing unbreakable all-terrain vehicles. The exact details of how this Austro-German marriage came about are unclear; however, most automotive historians agree that the vehicle was probably developed in response to specifications set forth by the United Nations for a new, light duty, four-wheel drive, off-road vehicle. Rumors have circulated for years that the UN rejected the Gelandewagen on the grounds of its excessive cost and whether or not this is true, solid military contracts were painfully slow to materialize, leaving DB-SDP with no choice other than to attempt to capture a small share of the civilian four-wheel drive market in the interim.
However, the general buying public, as well as long-time Mercedes customers, were confused by the vehicle. While it was civilized and comfortable enough to be used as an over-the-road touring car and priced at a level befitting a vehicle wearing the three-pointed star, it was less than luxurious and, perhaps most surprisingly, nearly devoid of the sophisticated style Mercedes cars had always been known for. Actually, the puzzlement stemmed from a development program for the vehicle that stressed employing as many pre-existing parts from other Daimler-Benz divisions as possible in the Gelandewagen's design. The result was an out-of-character, four-wheel drive utility vehicle that had silky smooth engines sourced from Mercedes sedans mated to other parts "borrowed" from considerably less refined trucks that Benz then had in production. And, as if to further complicate matters, the G-Wagen was sold as a Mercedes in Germany and most other Western European countries while it was marketed and badged as a Puch for Austrian consumption.
Hoping to appeal to Land-Rover and Toyota consumers that sought a field car that could be ordered to match their unique and specialized requirements, the Gelandewagen was made available in a wide array of options: short or long wheelbase, canvas (available on the short-wheelbase only) or hard-top, three or five doors and a variety of engine choices in both gasoline and diesel. Over the years, the G-Wagen's optional equipment expanded (eventually, 5-litre V8s and leather upholstery would be offered) and the car inevitably moved ever more up-market in spite of its utilitarian background. Nevertheless, the Gelandewagen's lineage was undeniable and its superlative engineering shone brightly in the car's performance, particularly off-road where three locking differentials made the G-Wagen virtually unstoppable. When judged on its own merits and in spite of the heavy corporate "parts bin" raiding, the Gelandewagen was a superb cross-country vehicle that had little difficulty in besting most of the competition.
One of a handful of toy manufacturers with their production facilities still located in Europe, Siku of Ludenscheid, Germany has offered a miniature Mercedes Gelandewagen for several years. Patterned after a first generation, short-wheelbase soft-top 280GE, Siku has offered this same basic casting in a number of interesting variations that include civilian, fire, police and auto club versions. Produced with a couple of different wheel types, the only disappointment with this highly accurate miniature is the attachment of sirens and beacons on some versions to what is obviously a canvas roof.
Real Toy's Gelandewagen is clearly pirated from Siku's 280GE casting. As such, it shares many of the German model's attributes yet features poorer quality construction and materials and frequently questionable paint schemes. Being a copy, Real Toy repeats all of the sins of the Siku original and also installs "equipment" to the textured soft-top. Of course, these complaints should be viewed in light of the fact that the Siku miniature can cost as much as $4 as opposed to the meager 50 cents charged for Real Toys' G-Wagen.
Originally of limited availability in the U.S. market, Matchbox's long-wheelbase 280GE had previously only been offered to Americans in the "Commando" range of models. Last year, the Matchbox G-Wagen finally made its official debut as a member of the 1-75 range some 15 years after it was first placed on sale in Europe. As American versions are unfortunately decorated with silly and/or imaginary logos, collectors may choose to opt for earlier European models that feature more realistic paint schemes. Sold in a bewildering number of variations (the G-Wagen was a favored inclusion in a number of German-themed gift sets), this model was also available in "electronic" versions that featured a battery-powered computer chip that generated sound effects and flashing lights.
Finally, Hong Kong's Playart also produced a 1:64 scale miniature of the long-wheelbase Gelandewagen for a short time during the early 1980s. On the market for only a brief time before Playart's departure from the toy manufacturing business, this model exhibited the typical qualities of this often over-looked brand and is extremely rare on today.
Thus concludes our review of Mercedes-Benz's ultimate off-road vehicles. Of course, the story has only just begun as a new Unimog has recently been introduced and the Gelandewagen has finally been added to Mercedes-Benz North America's official product roster after 23 years. Without doubt, these supremely capable 4x4s will continue to go where there are no roads and inspire more future miniatures.
References:

Taylor, James. Mercedes-Benz Since 1945: The 1980s; A Collector's Guide. Croydon, England: Motor Racing Publications, Ltd.

Allen, Jim. Classic 4x4s: Illustrated Buyer's Guide. Osceola, Wisconsin: Motor Books International.