2001 Buick Bengal



2001 Chevrolet Borrego



2000 Chevrolet SSR



2001 Cadillac Vizon

2000 Buick Lacrosse



2000 Chevrolet Traverse
Have you ever wished you had diecast models of all the General Motors (GM) Motorama cars of the mid-1950's? Only one of these dream cars has ever been produced in 1:64 scale. Johnny Lightning did the Corvette-based Nomad concept of 1954. Thanks to Maisto, collectors now have the opportunity to put a dozen examples of GM's concept cars of 2000-2001 in their collections.

Maisto has not received the credit they deserve for one of the most creative diecast series ever produced. Years from now, this series will be desirable as the most comprehensive example of American design trends of our current era.

Maisto has produced concept cars before. They have done a nice selection of Chrysler's show cars. With the GM cars, Maisto has offered the the most complete look at one company's concept cars, ever done in any scale.

It is great fun and quite educational to assemble all the models for viewing. They range from the retro Chevy SSR pick-up to the Buick Bengal roadster. Few of these models will ever be done by anyone else. The SSR has now been confirmed for production so we will likely see it from other toy car makers. The Buick Bengal was slated for production but was recently cut by GM.

The Buick Lacrosse, Oldsmobile Profile, Chevrolet Traverse and Pontiac Rev point the way for GM's future sedans. The Cadillac Vizon and Saturn CV1 are modern station wagon concepts. The Chevy Borrego and Pontiac Pirhana are sporty, cross-over models while the Buick Bengal and Oldsmobile 04 are convertibles. The GMC Terracross is an SUV with a bit of a Hummer complex.

It is curious that Maisto did not do the Cadillac Evoq in this series as it has been produced in their 1:36 scale models. Perhaps they are saving this for their 2002 line as the Evoq is also planned for real production.


Most of these GM concept models came in Maisto's Showcase Collection series. This included a hinged box featuring art of the selected model with the model sitting on a mirrored display. With the box open, the car is visable and when closed, it is protected in the display. The models received detailed paint, matching the look of the real concept cars. Each model is attached to the display with a single screw and a peg keeps it from turning. These display versions were priced just under $3 and did not seem to sell very well when the standard model could be bought for $.50. Wal-Mart put their remaining stock on sale for $1 each which is when I bought the majority of the models shown here. It will be interesting to see if Maisto continues this more expensive series. In addition to the GM concept cars, it also included regular models like the Porsche 550 Spider and '57 Chevrolet Corvette.

If you have not added Maisto's concept cars to your collection, don't wait too long. The models in their correct show colors may not be produced much longer.

2001 Oldsmobile 04



2000 Pontiac Pirhana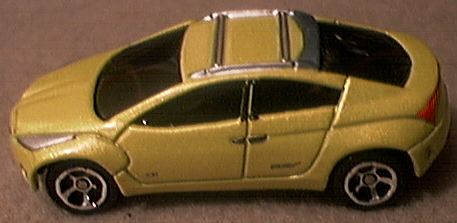 2001 Pontiac Rev



2000 Oldsmobile Profile



2000 Saturn CV1



2001 GMC Terracross