BMW Z3 Roadster #20161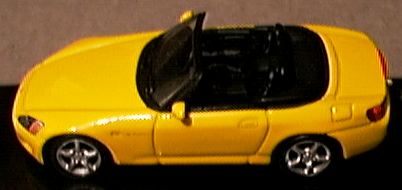 Honda S2000 #20011


Mercedes-Benz SLK AMG Roadster #20111


Porsche 996 Cabrio #20091


Porsche 993 Cabrio in the display box
Yet another well-known diecast company has moved into the 1:64 scale market. AUTOart is one of the brand names used by Gateway Global. Gateway has produced 1:12, 1:18 and 1:43 scale models in recent years but is best known for their 1:18 scale diecast. Now, under the AUTOart name, a series of 1:64 scale diecast are available. This junior line can be viewed on their Website: http://www2.autoartmodels.com/pages/oldpage/junior.htm

How good are these cars? They are impressive straight off due to the quality of the packaging. Each has a personalized display box of cardboard with a hard plastic display base and cover inside. Models are secured to the base with two screws. Hot Wheels uses a similar arrangement for their collector models, The colors and quality of the paint also contribute to the impression of quality. Colors are authentic, as they would appear on real cars and the paint is some of the best on models of this scale. Headlights, tail-lights and badging are especially realistic tampos.

All models share the same plastic wheels but that said, the wheels are very well-done and look quite realistic. Interior detail is also very good and again in real colors. The Mercedes-Benz CLK is even in two-tone. Bases are plastic but include good under-side detail as well. All are exactly 1:64 scale.

None of these models feature any opening doors, trunks or engine compartments. Do they really need to? How often do you open a door after doing it the first time out of the box, if then? These models retail at $3.99 each. This is a fair value for the level of quality. While most of these models have been done by others, the Porsche 993 Cabrio is unique in my collection. You may contact Gateway Global, Inc.for a dealer referral in your area at 714-557-7793 or you can e-mail to Ingrid@gatewayglobal-la.com.

How do these AUTOart models compare with other manufacturers? I find that they remind me of models from Hongwell, but do not have quite the same level of detail. Even without opening features, they compare well to the collector models from Johnny Lightning, Hot Wheels and Racing Champions/Ertl. They remind me of the original Schuco 1:66 scale models.

In addition to the eight models shown here, five more are soon to be available. The Chrysler PT Cruiser #20061 and the BMW Z8 #20081 are joined by three VW Beetles. The standard coupe is #20171, the RSI is #20191 and the Dune model is #20181. I hope AUTOart produces more 1:64 scale models of the same cars done in their 1:18 and 1:43 scale line. A Jaguar 'C' type and Panos Roadster would be very welcome.

Porsche 993 Cabrio #20131


Porsche 993 Coupe #20121


Chevrolet Corvette Coupe #20141


Chevrolet Corvette Coupe #20151


Porsche 993 Cabrio in the package