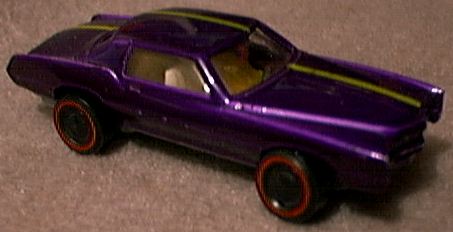 1967 Cadillac Eldorado


Jaguar 'E' type


Jeep


Ford J-Car


VW Beetle


1967 Camaro
The Louis Marx Company was one of the major players in the toy industry for decades. Best known for their plastic figures and historic playsets, Marx also attempted to take advantage of the diecast market success of Matchbox and Tootsietoy. Marx short-lived effort did provide a limited line of diecast cars, produced in the mid-1960's. In 1968, Hot Wheels exploded on the scene and Marx attempted to re-style their diecast line to compete. Their efforts failed and today, Marx diecast are just a footnote in the history of diecast. Even so, it's worth taking a look a the models from Marx.


Marx models can be separated into several categories. The first were meant to compete with Tootsietoy. These are simple castings, usually without interiors or windows. They seem to be much like Tootsietoy models produced in the same period although they have wheels that are a bit more realistic. The Porsche 904 race car shown here is a good example. Any small-scale model of the 904 is rare with Aurora's Cigarbox model being the only other casting of this car. Marx vehicles were in a smaller scale with the cars being in the 1:66 to 1:70 range. As the package indicates, Marx promoted their 'Super Speed' wheels to compete with Mattel and others. Kimmo Sahakangas provided the following information to clarify the differences in the Marx diecast line.

"Mini Marx Series with "Super Speed Wheels...models in a plastic bag. I've also seen a '64 1/2 Mustang Convertible and Wrecker Truck in this scale.

Bulldog Series...such as the Fire Pumper. I've seen the small Eldorado (as below) in this name too. Models were boxed
Mini Marx "Super Speed Car...models in a box...models have drivers...only seen the ones posted on the board...what is interesting is the Jaguar with the printed "cardboard" interior and not sure if it belongs in this series or the Super Speed Wheels Series
Mini Marx "Super Hi-Way Set...like Tootsietoy Jam Pac(the competition)...must have been sold way into the 1970's....smaller, simple models in a set...models included are the El Dorado, Wrecker Truck, Volkswagen, GMC Pickup, Jaguar, Chapparal, Jeep, Camaro and Mustang...others probably exist..."

Once Hot Wheels showed how metallic paint, custom bodies and red-line tires were what the market wanted, Marx made some major changes to their diecast line. New models were offered with interiors and windows. Low-friction wheels pioneered by Hot Wheels were copied, in some cases, right down to the red-wall tires. Perhaps most interesting, Marx cars included drivers, best seen in the Jeep model. This may have been done because Marx was so well known for their figures and wanted to add this feature to their diecast line.

Marx offered many of the same cars done by Hot Wheels and the comparison is not favorable to Marx. The '67 Camaro is a good example. The Marx casting is crude by comparison and the front grill is barely recognized as a Camaro. The paint quality is poor and over-spray or under-spray on bumpers is common. With the cost equal to better models from Matchbox or Hot Wheels it is easy to see why kids did not embrace Marx as a provider of favored toy cars.

Porsche 904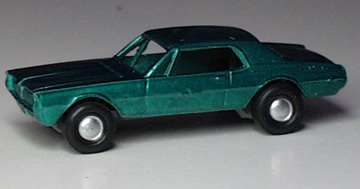 1967 Mercury Cougar


Ferrari


Jeep


Lola GT

Pick-up