Roaring Lions and Ferocious Pugs of the Postwar Era: 1:64 scale Peugeots, 1945-2002
by Brian Willoughby, images by Doug Breithaupt
---
Founded in 1889, Peugeot is not only the oldest automobile manufacturer in France, it is also one of the oldest car makers in the world. Founded by the Peugeot family as a bicycle company, it remains, to this day, one of a handful of automobile companies still controlled by a single family. Its early history was punctuated with innovative designs that easily equaled those produced by a competing (and very slightly older) company in neighboring Germany. Peugeot's prewar designs were often innovative and stylish, culminating in the impressive 402 of 1935 that exhibited a heavy echoes of American 'art deco' streamlining.
Peugeot's first postwar car, the 203 carried a fastback body style that once again showed a great deal of American influence. First available in 1948, the 203 followed the typical Peugeot practice of keeping a chassis in production for several years after its replacement appeared: the new, Pininfarina-bodied 403 arrived during 1955 yet the old school 203 remained in production until 1960. Expanding their product range, Peugeot introduced 404 for 1960 and concurrently ran it alongside the older 403 for six years. Obtaining the maximum mileage out of a chassis, the 404 continued to roll off of Pug's production lines for seven years after the new 504 made its debut in 1968. In between the big Pugs, some especially competent small, front-wheel drive Peugeots, including the 204 and 304, brightened the usually dark world of economy cars.
With its quality automotive products, Peugeot has always been able to survive when those around it failed. Over the years, Peugeot has grown into one of the world's largest auto producers. Its capacity was increased dramatically by its purchase of rival French auto maker Citroen in 1974 and was further augmented by its takeover of Chrysler Corporation's European facilities (Simca and Talbot in France and the remains of the old Rootes Group in the United Kingdom) during 1978. Seemingly, Peugeot was poised to extend its presence throughout the world; however, it was never able to muster much of a following in the one market that seems to matter the most.
The final Peugeots sold in the U.S. and Canada were the 405 and 505 and its departure during the early 1990s from North America left France without a single representative on the world's largest automobile market. Peugeot has been said to be considering a return and has even been rumored to have been seeking a potential site to build a North American production facility. A review of Peugeot's current offerings makes many new car buyers regret the brand's absence. Nonetheless, toy Peugeots are fortunately still being sold throughout the world. Let's take a look at what has been produced in 1:64 scale diecast models since the end of the Second World War.
404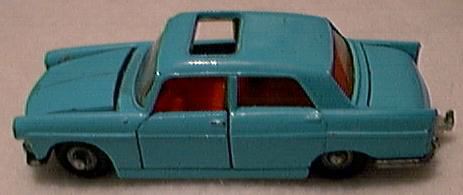 Commencing a continuing tradition of handsome and understated Pininfarina styling among Peugeot's large sedans, the 404 was a robust and solid machine that proved its metal through a highly successful rallying career throughout the 1960s. In spite of its many championships on the rally course, the 404 sedan was largely ignored in 1:64 scale and only a single miniature made its debut from an unexpected source: Lone Star's Impy range. Happily, Impy's 404 is a diecast tour de force: including an operational bonnet, front doors and boot, the only spoiling factor for this miniature are unfortunately loud color selections. Majorette followed another path with its 404 and gave the 1:64 scale diecast world its only Peugeot estate car to date. Decorated in several liveries including those of civilian, police and paramedics, Majorette's 404 wagon featured an operational tailgate in addition to the somewhat obligatory opening bonnet and front doors that had been mandated by other early models offered by this manufacturer.
204
As with a number of other small scale Peugeots, the 204 is represented by a single model produced by a French diecaster. Rarely does the word 'cute' seem appropriate when describing a model car; however, in the case of Majorette's 204 C Cabriolet, hardly a more apt description can be found. A rare and charismatic miniature, the 204 C Cabriolet features a delicate windscreen, a nicely detailed interior and opening doors. Earlier versions of this little charmer arrived with more accurate wheels and paint color choices; nonetheless, all varieties of this miniature are difficult to track down.
504
Strangely associated with the primitive road networks of former French colonies as well as North American university faculty parking lots, the 504 was the archetypical Peugeot sedan of the early 1970s. One of Peugeot's longest running models, the 504 was styled by Pininfarina yet only ranked a paltry pair of miniatures produced by Majorette and Norev. Nevertheless, the few 504 offerings made up for their meager numbers with outstanding quality and Majorette's model of the big Pug has to rate as one of the brand's all-time best miniatures while Norev's 504 perfectly captures its unique Gallic charm. Equipped with an amazing suite of operating features for a 1:64 scale model (bonnet, front doors and boot), a complete and mint example of Majorette's 504 is a rare and frequently expensive find on today's antique toy market. Likewise, Norev's miniature can present a challenge to modern collector's and while it is a much simpler casting, it makes a very worthy addition to anyone's collection of toy Peugeots.
604
Peugeot's range topping model during the late 1970s and early 1980s, the opulent 604 was initially the showcase for the new Peugeot-Renault-Volvo V6; however, a turbocharged diesel eventually augmented the choice of available power plants. Never developing into the prestigious model that Peugeot had hoped for, the 604 lingered for several seasons as painful reminder of what might have been. Following the pattern set by the 504, only Majorette and Norev tooled up to produce miniatures of the 604: Majorette's model featured an opening hood yet rode slightly too high on its suspension while presenting an incorrect rear wheel cut-out shape that was too rounded. Norev's miniaturized version of the top-of-the-line Pug was, once again, simpler and offered no operating gimmicks; nevertheless, it readily managed to present both the car's correct ride height and wheel well proportions.
305
Represented by a single 1:64 scale miniature, an elegant model of Peugeot's mid-range 305 was generated by Norev. As with most other Norev Mini Jets castings, the Peugeot 305 was a rudimentary yet highly effective toy car that reveals itself, upon close examination, to be both a highly accurate and detailed miniature of an otherwise forgotten car that other diecast manufacturers failed to bother themselves with. .
505
Although it was no surprise to find Norev offering a model of the new 505, it was curious to note that this handsome sedan also attracted the attention of Siku and Hot Wheels. By far the most engaging small scale 505 was Siku's miniature: featuring opening front doors, it simply and effectively captured the actual car's difficult to depict stance better than any of the competition. Despite its noteworthy accuracy, Norev's 505 readily appeared as dull and lackluster as any large, European family sedan could. A highly unlikely model for Hot Wheels, Mattel's Peugeot 505 illustrated that it could offer a sedate, scale model for a change; however, who could have imagined the 505 as a hopped-up hot rod to begin with?

| | | |
| --- | --- | --- |
| 505 STI - Siku #1043 | 505 - Hot Wheels | 505 SR - Norev |
205 and 205 Turbo
After allowing its range of small cars to grow somewhat dull and long-in-the-tooth, Peugeot unveiled a class-leading product with its distinctively styled 205. Setting its sights on toppling Volkswagen's Golf, the 205 proved itself to be one of the most desirable hatchbacks on the market, and, in Gti form, a 'hot hatch' to be reckoned with. Although the American automotive press begged for Peugeot to certify the 205GTi for U.S. sales, this very sporting little Pug was strangely never exported for sale there. Perhaps Peugeot would have finally found a permanent niche with this car rather than having to eventually abandon the North American market as too costly to compete upon. Fortunately, the appeal of this car was not lost on diecast car scene and a few miniatures were offered by one of the usual suspects and, at the time, a new upstart. Majorette's 205 typifies this brand of quality miniatures: well-constructed with a cast body and base, this model features detailed plastic interior molding as well as a novel opening rear hatch. Majorette also offered the cabriolet version of the 205. The CTi clearly was designed to compete with the Golf cabrio. Siku also did the CTi with their usual sturdy charm. Beginning its life under the MC Toy brand name, Maisto's 205GTi illustrated that this company was quickly evolving away from producing pirated models to generating original tools of their own design. While not a particularly engaging miniature in regard to its play value, Maisto 205 was accurate and little spunky--just like the actual car. A generic 205 in fire car trim was produced in China. Guisval of Spain produced a 205, complete with rally tampos and opening doors.

| | | |
| --- | --- | --- |
| 205 GTi -Majorette #281 | 205 CTi - Majorette # | 205 CTi - Siku #1071 |
| 205 GTi - Maisto | 205 Fire Car - generic | 205 - Guisval |
405
By the time that the 405 made its debut upon the automobile market, the diecast world had witnessed the demise of a myriad of once well-established brand names. Perhaps most notable within the world of French vehicles was Norev's discontinuation of the Mini Jet range since it had documented the French automotive industry more thoroughly than any other single brand. With the Mini Jets departure, it was up to Majorette to continue to issue miniatures of notable French cars that the rest of the diecast industry avoided like the plague. Majorette's model of the high-performance 405 MI 16 sedan depicted the fun and sporty nature of this car well while adding functional front doors to the package. Oddly, Hot Wheels also produced a 405 miniature; a static model that appeared both in stock and as a rally version. It was apparently only made available in an attempt by Mattel to further penetrate the toy market France as its overall appeal was severely limited elsewhere.
| | | |
| --- | --- | --- |
| 405 M1 16 - Majorette #218 | 405 - Hot Wheels | |
205 T16 and 405 T16
Attracting an unusual amount of attention for such a discreet automaker during the mid- to late 1980s was Peugeot's triumphant 205 T16 and 405 T16 rally cars. Based on the same chassis underpinnings, these vehicles were designed to be consistently victorious in grueling off-road rally events such as the famed Paris-Dakar. Where other diecast makers had sold miniaturized versions of the 205 Turbo production car, only Hot Wheels geared up a miniature of the 205 T16: named 'Peugeot 205 Rallye', the model's rear body was hinged and opened to reveal the car's rear-mounted, turbocharged engine. Matchbox conjured up a miniature version of the four-wheel-drive and mid-engined 205 Turbo 16 that was fitted with an opening rear body. Not a member of the North American model assortment, this toy Peugeot can be a challenge for collectors to locate today.Much more popular among toy car specialist was the 405 T16 and no less than three 1:64 scale models of this car appeared. With a rakish body that showed little relation to the production 405, the T16 was a natural subject for Majorette whose accurately shaped model of the car features a massive rear spoiler and tampo printed sponsor logos covering the body. Having never produced a Peugeot miniature before did not deter Zylmex from tooling up one of its best models of 1990s: the only detractions from Zee Toys 405 T16 are its simplistic interior molding and ugly wheels and odd colors. Finally, Maisto, in an uninspired moment, somehow presented a miniature of the T16 that appeared so tame, it would have looked at home in the parking lot of a Safeway or Piggly Wiggly. Edocar of Holland also offered the Maisto casting in their line as #23. It make the Maisto version look racy as Edocar used a stock paint color.
| | | |
| --- | --- | --- |
| 205 T16 - Hot Wheels | 205 T16 - matchbox | 405 T16 - Majorette #202 |
| 405 T16 - Zylmex #D117 | 405 T16 - Maisto | 405 T16 - Edocar #23 |
605
Less angular than its predecessor, Peugeot's new top drawer offering was named, logically enough, the 605. Drawing on the popular organic styling trends then beginning to dominate the automotive world, the 605 once again attempted to lure car buyers away from BMWs and Volvos and into a big and luxurious Peugeot; however, the 605 would prove to be as equally unsuccessful at seriously competing within this bracket as the previous 604 had been. Portugal's Novacar stepped up to present a miniature of the 605. A now defunct brand that was absorbed by Majorette, the 605 was constructed in the typical Novacar fashion with a plastic body molding and a diecast base. Guisval of Spain did a coupe version of the 605 and Yat Ming offered what appears to be a crude 605 as #815.

| | | |
| --- | --- | --- |
| 605 - Novacar - #106 | 605 Coupe - Guisval | 605 - Yat Ming #815 |
Quasar
A show car intended to highlight Peugeot's latest technological advancements, the Quasar was equipped with four-wheel drive and one of the most exotic bodies ever to grace a Pug chassis. Having rarely paid any homage to Peugeot, Matchbox opted to produce a well-detailed miniature of the Quasar prototype complete with a chromed engine and interior and bold graphics. Although it was sold in five different series and numerous color variations, the ubiquitous Quasar barely compensated for Matchbox's neglect of other Peugeot cars over the years.
309
Bread-and-butter cars are infrequently the subject of diecast miniatures since, while they are typically solid sellers to the car-buying public, they possess limited 'flash' and consequently low appeal to both children and the majority of collectors. Although the 309 hatchback clearly fell into this realm of boring family cars, its breaking with the time-honored and standard Pug nomenclature did indicate that it was a slightly different Peugeot. The '09' designation during a time when all other Peugeots were being assigned '05s' signaled that this particular car was manufactured at the old Rootes Group facility in England; Peugeot had inherited this factory when it bought out Chrysler's United Kingdom operations during 1978. Despite the fact that the 309 was largely a mundane family car outside of its rather convoluted history, Maisto still created a nicely detailed miniature of this mid-size Pug so that kids could have a toy car that looked 'just like dad's.'
406
Replacing the 405, the attractive 406 debuted during the mid-1990s and eventually superseded not only its direct predecessor yet also the elderly 505 as well. Like the 405, 504 and 505 before it, the 406 range attempts to provide something for everyone including a handsome coupe with lines drawn by Pininfarina. One of many Peugeots denied Americans over the years, the only way to own a 406 in the U.S. is to locate a miniature of the car. Seemingly also withdrawn from U.S. distribution, Majorette has created some interesting diecast 406 sedan variations that include both civilian and police versions. Yet most collectors will prefer Welly's new casting of the 406 Coupe that is just as desirable in small scale as it is in full size.
| | | |
| --- | --- | --- |
| 406 - Majorette #218 | 406 Police - Majorette #222S | |
206
To replace the widely admired and legendary 205, Peugeot had to make every effort to ensure that the 206 would be a worthy successor. Proving that Peugeot can design small hatchbacks that are as equally fun, sophisticated, stylish and desirable as Volkswagen's benchmark Golf, the new 206 seems to have easily hit its target. As might have been anticipated, Majorette, the only surviving French-based brand of 1:64 scale toy vehicles was quick to produce a thoughtfully detailed 206 that looks as good as the real car. After years of offering pirated castings copied from ancient tools and dies, it may come as a surprise to some old-time collectors to find that Welly is now making a wide range of 1:64 scale models that are both a great value in addition to being some of the best and most accurate miniatures currently on the market. For evidence, look no further than Welly's Peugeot 206s: the standard 206 hatchback rivals Majorette's and the 206 CC convertible a unique and enticing model of the type that many collectors would enjoy seeing more of.
Thus concludes our survey of small scale Peugeots. Although a rightly number of 1:64 scale Peugeots have appeared over the years, their variety in no way reflects the number of different vehicles the company produced during the same time period. For every Pug that was reproduced in miniature, two, three or more were neglected and it is doubtful that any of the currently active 1:64 scale diecast manufacturers will take the retrograde step of filling the many gapping holes in the company's history. Of Peugeot's older models, only one immediately comes to mind as something that perhaps one diecast brand might replicate: Detective Columbo's 403 Decapotable would be a most welcome and extremely worthy addition to Johnny Lightning's 'hollywood on Wheels' series.
References:
Georgano, G. N. The Complete Encyclopedia of Motorcars, 1885 to the Present. New York: E. P. Dutton and Company, Inc.
Robson, Graham. The A-Z of Works Rally Cars. Bideford, Devon, England: Bay View Books Ltd.
Ruiz, Marco. One Hundred Years of the Automobile, 1886-1986. NewYork: Gallery Books.
www.peugeot.com