Ken Tyrrell and his team were a fixture on the formula one scene from the late '60's until his retirement in 1998. Early successes with racing icon Jackie Stewart made his reputation, but Tyrrell never won another championship after the Scot's retirement. The team continued to win races however, while advancing the careers of young up-and-coming drivers including Jean Alesi and Derek Daly, as well as Americans Danny Sullivan and Eddie Cheever.
Several small-scale F1 Tyrrell cars are pictured here to enjoy: the first two are Schuco models that represent the team's earliest efforts. Tyrrell's first leap into F1 involved convincing French manufacturer Matra to sell him their chassis, mating it with the reliable and powerful Ford Cosworth V8 engine, and placing rising star Stewart in the cockpit with sponsorship from Dunlop tires and ELF petroleum. This combination proved successful with 3 wins in 1968 and their first championship in 1969. When Matra declined to furnish any more chassis to their competition, Tyrrell was forced to become his own manufacturer. The Tyrrell-Ford won Stewart's second championship in 1971. Both models are done in a somewhat correct blue color and show a good attention to detail but seem to sit too high off the ground to be entirely realistic.
The next two models are from the Champion series by Majorette. The level of detail is extraordinary for this scale. They appear to be identical except for color and decals. Tyrrell continued a close relationship with sponsors ELF and Ford, but switched to Goodyear tires. No model numbers are noted on the cars but they look like 004-5-6 Tyrrells from 1971-73. Notice the bulging sides around the driver (fuel tanks) and the large front spoiler. These are the cars that took Stewart to his last two championships.
After Stewart's retirement Tyrrell signed future world champion Jody Scheckter as number one driver. For 1974 he drove the 007 model, beautifully represented here as always by Polistil. This car appears to be very similar to a McLaren M23, another leading design of the time.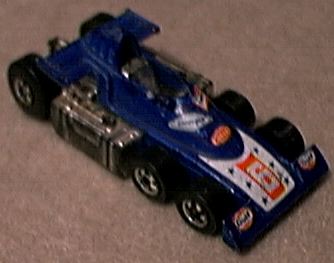 Meanwhile, team engineer Derek Gardner attempted to jump ahead of the competition with the P34 Tyrrell pictured here by Tomica, Polistil and an ELF promotional model. The object of this exercise was to lower the frontal area of the car while gaining front-end grip with more rubber on the ground. The idea worked up to a point but only one win was recorded between 1976 and 1977. Endless problems with double the amount of hardware at the front and Goodyear's reluctance to continue providing special tires spelled the end of this innovative model. Hot Wheels also did a six-wheeler in 1977 based on the Tyrrell and called the 'Lickety-Six' (above). It included an oddly-placed rear wing.
Tyrrell continued building more conventional cars like the 009 model from 1979, shown here again by Polistil. This appears to be a Lotus 79 copy after the most successful design of that time. The sponsor was Italian appliance manufacturer Candy.
The last model pictured here is the 011, third of a trio by Polistil. This car recorded Tyrrell's final two F1 victories in 1982 and 1983 with Michele Alboreto at the wheel. Italian clothing company Benneton was the sponsor.
Tyrrell stayed in the F1 game until selling out in 1998 to British American Tobacco who built today's BAR team around it for Canadian star Jacques Villeneuve. Ken Tyrrell unfortunately passed away in August of 2001 after a long career in the sport he loved.