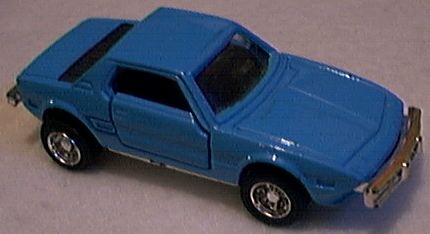 Fiat X1-9 #305


Audi 5000 Turbo #301


Jaguar XJ-S #304
The story of CF diecast cars raises several important questions. From a manufacturer's perspective, CF simply took someone elses castings, reproduced them and called them their own. From a collector's perspective, CF models added value to these castings by including new features. Who is right?

CF appeared in the late 1980's out of China. They produced only six models as far as anyone can tell. The origins of the company are not clear as is the case with many small Asian companies. They clearly admired the excellent quality of Tomica's fine diecast cars. They admired it so much that they simply copied the bodies of six Tomica models. As Tomica models were being produced in Hong Kong at the same time, it is possible that the original Tomica dies were used. CF then produced their own bases in several different versions, that were screwed onto the bodies. Each model includes full; interior and windows and like the Tomica originals, have opening doors.

The variations on the bases included a simple plastic base with free-wheeling wheels. The black plastic tires had a chromed ring, like some of the Tomica wheels. The Porsche 911 shown here is that version. The second version was much more interesting. The bases were chromed and included two-piece chromed wheels and soft, rubber tires. The addition of a tiny pull-back motor allowed the cars to zoom across the table or floor. In the early 1990's, most diecast with pull-back motors had over-sized rear wheels, distorted bases and interiors. The CF package was much better with normal wheels and correct interiors.

The addition of the pull-back motors and rubber wheels gave these models an added play-value that the original Tomica models did not have. In addition the quality of the castings and paint were at a high level, just like the Tomica models. CF models sold for about half the cost of the Tomica and were also sold in areas where Tomica were not available.

|It appears unlikely that Tomica licensed their castings for these models and as such, they are no better than the pirated Tomica castings from Welly and others. What makes the CF models different is the overall quality and the added value of the pull-back versions. If these castings were produced without Tomica's permission, it was certainly wrong. At the same time, the quality of the CF models would make them some of the best copies ever produced.

Nissan Bluebird Turbo #302


Porsche 911 Turbo #303


Toyota Corolla Levin #306