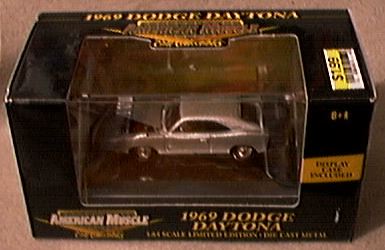 ---

1957 Chrysler 300C


1958 Plymouth Fury



1958 Plymouth Belevedere


1969 Dodge Charger Daytona


1971 Dodge Charger


1962 Pontiac Catalina Super Duty


1965 Pontiac GTO


1969 Mercury Cougar Eliminator
When Ertl was bought by Racing Champions (RC), many wondered how RC would make the most of the Ertl name. Best known for their farm-related diecast and 1:18 scale muscle cars, Ertl also had a long history of 1:64 scale diecast. Some of their older castings have recently reappeared in RC packaging with added detail (Manta and Pontiac Police Cruiser).

RC produced their own 'Mint Edition' series of 1:64 scale models for the better part of 10 years. In 2000, the Mint Edition series ended and was replaced by two programs. RC offered 'Classified Classics' using Mint Edition castings with faux classified adds. Under the Ertl name, American Muscle models were offered. These were primarily new castings, featuring opening hoods and trunks. Each model included a plastic base and a reproduction of an original ad in card form that fixed to the plastic base. Later, this series was also offered in a hard plastic display box.


Collectors quickly recognized the quality of the American Muscle (AM) series. Even at $4.99 each, these models were some of the best ever offered in small-scale. Most of the models produced were of cars seldom if ever seen in 1:64 scale. With correct wheels, interiors and motors, the AM series raised the bar for all other diecast in this scale. Many of the models took inspiration from plastic kits produced by AMT/Ertl. Some models like the Mercury Cougar Eliminator had been done in the Mint Edition series but the AM version included new detail and the opening trunk.

After just two years, the AM series was gone. RC now offers a 'Muscle and Concept' series and cars made famous from movies. Ertl will be offering a series of Corvette models in 1:64 scale for the 50th anniversary of the marque.

With a variety of GM, Ford and Chrysler models from 1957 to 1971, the AM series spanned the muscle years of American automobiles. A model of the 1957 Chrysler 300C was long overdue. The 1962 Pontiac Catalina (my favorite) was a very pleasant surprise. The '69 Dodge Charger Daytona has been done by others but never so well.

One of the curiosities from this series is the two '58 Plymouth models. The '58 Fury was made famous by the movie 'Christine' and Johnny Lightning had done the same car. The red and white Fury is a delight. The exact same casting was also offered as a 1958 Plymouth Belevedere, complete with a Belvedere display stand and card. Did Ertl decide to switch from one to the other? The Fury is far better known so perhaps this was a marketing decision. I'm sure Belevedere owners were delighted and surprised to see their car in miniature.

With their correct period colors and amazing detail, the AM series is sure to be a favorite of collectors for many years to come. If you missed any of these models, they can still be found on some store shelves, even at a discount. I bought several for $1.99. Diecast dealers also still have these in stock. I am only missing the '70 Dodge Charger in this series and should make an effort to find it.

With this new level of quality and priced at less that $5, the AM series forced Mattel, Revell and others compete. Priced at $7.99, collector Hot Wheels are no better at a much higher price. Revell has offered far fewer castings of slightly less quality, in the same price range. AUTOart, Kyosho and others are now trying to compete in this segment.

It is unlikely that these castings will be retired by RC/Ertl. They are too good and beg to be re-released in new colors. Even if they are, the original AM castings will always be some of the best ever in 1:64 scale.

1960 Ford Starliner


1963 Ford Galaxie


1964 Ford Thunderbolt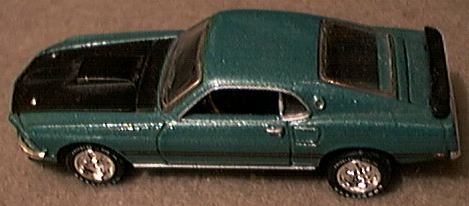 1969 Ford Mustang Mach 1


1961 Chevrolet Impala SS


1964 Chevrolet Impala SS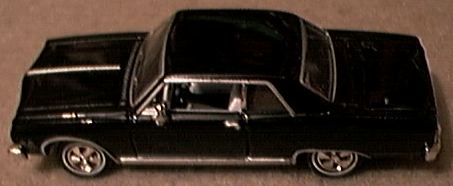 1965 Chevrolet Chevelle SS


1969 Chevrolet Nova


1970 Chevrolet Camaro Z-28