Around the turn of the century, a fortuitous event occurred for automobile connoisseurs: rather than continuing in his fatherës prosperous canned soup business, a young man who was fascinated with motorized carriages named Vincenzo Lancia decided to accept employment with the recently formed F.I.A.T. company. After a few yearsí tenure with F.I.A.T. as an inspector and driver, the ambitious Lancia felt that he had gained enough knowledge of the automobile engineering and manufacturing business to set up his own concern in 1906. From the beginning, Lancia's always displayed sophisticated technology, impressive engineering and the sublime styling that only Italian designers seem capable of generating. Rather than name the models for the horsepower the engines produced, Lancia's were assigned characters from the Greek alphabet as designations, so, in a somewhat interesting historical footnote, the first Lancia was an ìAlfaî.
Lancia not only created advanced cars: the company also provided its employees benefits that would not become commonplace until decades later if at all. Sadly, Vincenzo Lancia died in 1937, leaving his company in the capable hands of his son Gianni who saw it through several more challenging years before, during and after the Second World War. As always, Lanciaís designs pushed the envelope for automotive engineering and brilliant cars were made for all levels of the automobile market. Perhaps 1951ís Aurelia B20 GT is the most memorable pre-Fiat Lancia: elegant and thoroughly modern, the Aurelia was a success in both sales and competition.
Unable to sell its later innovative products in profitable quantities, Lancia was beset with financial woes by the mid-1960s and in 1969, Vincenzo Lanciaís former employer Fiat assumed ownership of his still proud yet ailing company. The Stratos was undoubtedly the single most important car to appear under the Lancia name after the marriage of the two companies and it benefited from the new relationship by gaining access to use the Ferrari Dino V6 engine. After being dormant for many years, Fiat resurrected the used of Greek letters for Lancia model designations and has kept the company in a continually high profile position through the championing of Lancia race and rally cars in a variety of competitive events.
In spite of Lancia's storied past, small scale die cast makers have not been overly kind to the company and its notable products. Consider that Matchbox has never produced a 1:64 scale Lancia model and that the majority of other toy companies that have included a Lancia within their range have only offered Stratos miniatures. Nevertheless, there are a few Lancia miniatures to discuss other than those of the Stratos: letís attempt to review them all.
One of Italy's most stately large cars of the 1960s, Lanciaís big Flaminia has now been almost completely forgotten outside of its native land. When launched, Corgi obviously tried to penetrate the Continental European market with its Husky range of 1:64 scale toy cars by presenting a range of models that was less ìBritishî in feel and character than arch rival Lesneyís Matchbox miniatures. European auto manufacturers honored during the early days of Husky included Mercedes-Benz, Citroen and Lancia with the brandís outstanding model of the Flaminia. Showing off an opening bonnet, the Husky miniature ranks as the only small scale Lancia saloon produced during the last 40 years.
Positioned to bridge the gap between the expensive Flaminia and the budget-priced Appia, Lancia's 1960 Flavia was a unique design exercise that was one of the companyís most forward-thinking and significant models of all time. While such a drive train layout later became something of a Lancia trademark, the Flavia was the first Lancia to feature front-wheel drive; however, it should also be mentioned that it was powered by a water-cooled, horizontally-opposed four-cylinder engine and had disc brakes mounted at each wheel. As Lancia had offered throughout its history, coach-built versions of the new Flavia were also produced with the Sport Zagato grabbing the most attention. The Sport Zagato can best be described as awkward since its space-age styling never seemed to gel into a coherent whole. Lancia sold less than seven hundred Sport Zagatos and Politoysí accurate 1:66 scale miniature of the car, a member of its ìPennyî range, is nearly as rare as the actual vehicle.
Sharing some similarities with its big brother the Flavia, Lanciaís new small car, the Fulvia of 1963, also featured front-wheel drive and disc brakes; however, its engine bay contained an overhead cam V4 rather than a Flavia-style, horizontally opposed affair. By far the most desirable Fulvia was the handsome and well-proportioned Coupe that was marketed in both base and high performance ('HF') versions. Following its long tradition of producing miniatures of cars that other die cast manufacturers had missed, Playart created an outstanding model of the Fulvia Coupe. Fully decked out with flared fenders, this gregarious model is always a favorite among both Playart and Lancia aficionados.
Supporting the notion that this Japanese company has never produced a bad or inaccurate model car, Tomicaës three distinct Stratos castings (street, rally and race) are quite simply the best 1:64 scale miniatures of these cars ever made available. Tomicaís road-going Stratos (#F27-A) is a work of art: from any angle, this is a beautiful model that is further enhanced by thoughtful details such as gold wheel centers and a correct ride height. The rally version (#F19-B) is derived from the street car miniature and it can be easily distinguished by its additional array of front lights on the nose and its wider, racing-style wheels. Finally, the turbocharged racing derivative of the Stratos was presented in miniature as #F66-A within Tomicaís lineup; differentiated by its widely flared fenders and large rear-wing spoiler, this model made Tomy by far the most prolific manufacturer of 1:64 scale Stratos.
While definitely not as aesthetically appealing or pleasing as its model of the Fulvia Coupe, Playart's Stratos is still a quality casting with a great deal of personality. Perhaps the only problem with the model is that it was among the first to suffer from the ìme tooî syndrome that seems to afflict miniatures of the Stratos. As such, Playartís Stratos is simply not different enough from the wealth of other miniature renditions of the car that almost every other die cast producer compelled themselves to sell.
An effort of surprisingly quality from a company that all too often disappointed, Zylmexës Stratos was actually one of the best castings of the car produced by anyone, anywhere. Sadly spoiled by ugly wheels and sometimes clouded window glazing, the Zylmex Stratos was clearly patterned after the street version of the car; however, it should be noted that tampos were frequently applied to the model that seemed to attempt to mimic faux sponsor logos. Resurrected recently by Redbox/Motormax, these latter day castings are preferred by most collectors since this version of the miniature features a very tasteful, unadorned, monochrome paint scheme.
Certainly worthy of searching out, the obscure brand of Galgo has offered a number of 1:64 scale race and competition cars that other manufacturers have never bothered with. While a number of other die casters had and have generated Stratos race and rally cars, Galgo's miniature is particularly well proportioned and decorated. Furthermore, it makes a very nice complement to the other members of the companyís intriguing catalogue.
With the spotty distribution that the brand has received over the years, miniatures from Spain's Guisval can be challenging to locate. A unique Stratos casting, Guisvalës model was equipped with an opening front compartment and both rally and street variants of the model were produced. The picture shown here of #36 is from their catalogue.
A rather odd selection for a current production Hot Wheels model, Mattelís recent Stratos miniature is a highly successful and, unusually, near scale model. Displaying all of the road-going Stratos' trademark styling cues, the only complaint that really can be lobbied against this toy car centers around its somewhat oversized wheels that frequently wear bright and gaudy gold trim (yes, the full-size Stratos was often shod with gold wheels, though they were much more sedate.) Nonetheless, these wheels do have one distinct advantage that is a highly accurate reflection of the actual car: just like the Stratos, they allow the model to roll around at very high speeds.
In the category of generic models, Summer, Imperial, SS, W.T./High Speed and Welly tooled up a multitude different castings that, while, unidentified, crude and simplistic, could be nothing else other than miniatures of the Stratos owing to its unmistakable profile. Unexpectedly, Summer conjured up two different Stratos castings that portrayed the car in both its street and racing guises. Imperialís miniature was more of a caricature of the Stratos and while it was readily identifiable, a number of details, such as its distinctive round tail lamps and its wheelbase were wrongly presented. Another road car model, the SS miniature of the Stratos is typical of this low-key and low-cost brand while Welly's Stratos racer is a straight ahead copy of Tomica's earlier miniature of this competition car.
After the Fiat takeover, the fears of many Lancia fans were confirmed by an ever increasing number of badge-engineered cars that seemed to culminate in the ill-fated Monte Carlo (sold in North America as the Beta Scorpion). An expansion of the Fiat X1/9, the Monte Carlo offered larger displacement engines than its more down-market sibling as well as a completely new interior and body designed by Pininfarina. In spite of its rakish good looks, the Monte Carlo was no speed demon and developmental problems forced Lancia to withdraw the car from the market until everything could be sorted out. Majorette's well-shaped miniature of this pretender sports car consistently remained in production for a number of years and provided collectors with a rare opportunity to add something other than a Stratos to their ranks of model Lancia's. it was offered in a stock yellow and with 'Tour de Corse' rally graphics (courtesy Ron Lohr).
Appearing to be a direct development from the Monte Carlo, the 037 rally car actually shared little with its production counterpart save a few common body and interior parts. So, appearance aside, the 037 was very much its own car built with a single purpose in mind: rally championships. Happily, this homologation special was not completely ignored by the die cast world and it was quite successfully depicted in small scale by a now rarely seen miniature from Hollandís Edocar.

SS sometimes does models that are a surprise and the Lancia Delta S4, #8911 is one of these. This model has not appeared from other manufacturers. While this model is crude, it can still be recognized and is a welcome addition to the few non-Stratos Lancia's available.
It is difficult to imagine what Vincenzo Lancia would think of the company that still bears his name. Hopefully, he would be pleased to see that Lancia is still an active auto maker that continues to run its vehicles with great success in competitive events. Rather than becoming part of Fiatís automotive empire, Lancia could have faded into history like so many others and, consequently, there must be some satisfaction in this fact. Although small scale die cast miniatures have not documented Lancia's history as exhaustively as they should or could have, collectors have to celebrate this marque with what has been done: there is little else to do when it comes to Lancia.
References:
De la Rive Box, Rob. Encyclopedia of Classic Cars: Saloon Cars, 1945-1975. The Netherlands: Rebo Productions b.v., 1999.
Georgano, G. N., ed. The Complete Encyclopedia of Motorcars, 1885 to the Present. New York: E. P. Dutton & Company, 1968.
Robson, Graham. The A-Z of Works Rally Cars. Bideford, Devon, England: Bay View Books Ltd., 1994.
Sedgwick, Michael, and Giles, Mark. A-Z of Cars 1945-1970. Bideford, Devon, England: Bay View Books Ltd., 1993.

Lancia Flaminia by Husky
(courtesy Mark Curtis)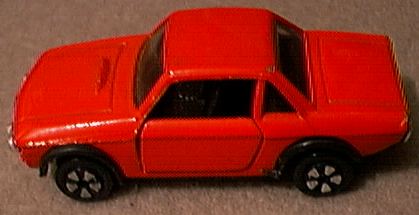 Lancia Fulvia HF by Playart


Lancia Stratos racer by Galgo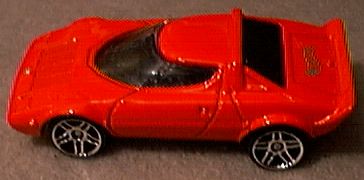 Lancia Stratos by Hot Wheels


Lancia Stratos by Playart


Lancia Stratos by Motor Max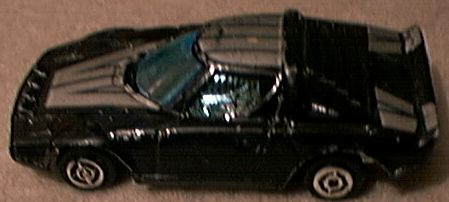 Lancia Stratos rally by SS


Lancia Stratos racer by SS


Lancia Stratos racer by Tomica


Lancia Stratos racer by Welly


Lancia Stratos by W.T./High Speed


Lancia Stratos by Zylmex


Lancia Monte Carlo by Majorette


Lancia 037 Rally by Edocar


Lancia Delta S4 by SS #8911
(courtesy Mark Foster)