WT200 Ferrari F1 (T200)


WT201 Karina 1700 (Alfa Romeo Iguana)
WT202 Corvette Chevrolet Coupe


WT203 Chevrolet De Luxe Stingray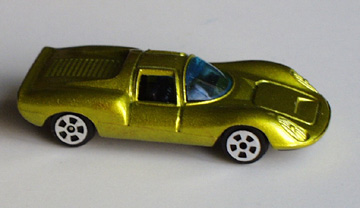 WT204 Porsche Racer


WT205 Abarth 2000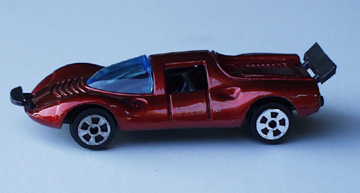 WT206 Ferrari Competizione
WT223 Matra F1 (T203)
WT224 Lotus Climax F1 (T224)
WT225 Honda F1
WT226 Ferrari F1
WT231 Rolls Royce


WT301 Isotta Fraschini,


WT302 Bugatti Royal Touring,
WT303 Rolls Royce Roadster Pll


WT304 Mercedes Benz Cabriolet Touring
WT319 Chieftain Tank
WT401 Saladin Mk II
WT402 M8
WT403 BTR 40
WT404 Daimler Mk II
WT405 BRM P160 F1
WT406 Mach Ford 721 F1 (T199)
WT407 Tyrrell Ford Racer (T202)
WT408 Lotus JPS F1 (T204)
It is unknown how this Hong Kong based company was named. One can imagine they were in the tin plate toys business. In the 1970s and 1980s, they manufactured small-scale diecast vehicles identified by a "WT" prefixed model number on the baseplate. Different Tintoys logos were used, the first appearing very much like a "W" centered on a triangle. The "T" would be two t's! Perhaps this is the use of "WT" for their numbering system. The second was titled Tins' Toys, identified by a "T" prefixed numbering system. Some castings were produced with more than one number. The majority of both "WT" and "T" models were provided with a plastic baseplate.
During the 1970s, Tintoys issued their "Die Cast Sport Car Fast Wheels" series of race cars From this manufacturer's own words on the blister card: "Die-cast Sport Car with fast-speed wheels, doll driver, chrome plated hub-caps and exhaust pipes, finished in bright colored metallic paints with adhesive markings". Some of these were also available in window boxes titled "Fast-Speed Wheels Die-Cast Mini Sedan". "Models of Classic Car" comprised of antique automobiles that are slightly larger scale than most Tintoys issued.
Military "Die-Cast Armored Car" vehicles appear to be geared toward enthusiasts demanding realism. These models are smaller in scale that other Tintoys with tan wheels. "Mini Coach", and "Bus" are two other series that were available. Several models were provided with a pencil sharpener within the casting. Tintoys even produced simple, larger scale vehicles converted to ornaments for Christmas trees. Not all "WT" models were available only under Tintoys.

Over twenty years ago, E.F.S., and Imperial Toy Company distributed these models through mass marketing in the United States. K-Mart offered this series at their department stores. "T" models were available from Kingsbury, a distributor, during this same time period.
Several "WT" models have continued production by High Speed, another Hong Kong diecast firm. These models are casted with another numbering system that is arbitrary to collectors.
Tintoys is currently in business. Large-scale models are available with faithful reproductions of actual vehicles. Several were displayed at the Western States Toy & Hobby Show in Pomona California. It is not known which firms are marketing these current offerings. Other large-scale models are available too, often with poor detailing and can be found in open displays mixed with models from other manufacturers.
To the right and left is the partial list of models produced by Tintoys with contributions from Collectors Mark Foster, Christian Falkensteiner and Tom Palfreyman..

WT501 Matra Simca 670 Racer (T316)
WT502 March 707 Can Am Racer (T315)
WT503 McLaren M8A Can Am (T314)


WT504 Porsche Audi Can Am (T313)
WT505 Gulf Mirage Can Am (T312)
WT506 Ligier J513 Racer (T311)


WT507 Ferrari


WT508 Ferrari 312P


WT511 Ferrari 512M


WT512 Howmet "TX"
WT707 March Can Am (T315)
WT710 McLaren M8A Can Am
WT713 F1 Racer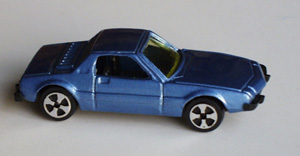 WT8101 Citroen CX
WT8102 Fiat X 1/9
WT8227-8230 Coach Variations



WT8307 Cadillac Seville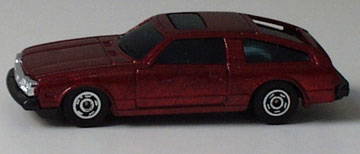 WT8308 Toyota 2000
T219-224 Truck w/ Flatbed Variations
T281 1904 Renault (larger scale)
T285 Double-Deck Bus
T286 Long Journey Bus
T287 Tourist Bus
T288 Private Touring Bus
? Refrigerator Truck (Pencil Sharpener)
? Mercedes Benz 450SL
? Toyota Celica