1936 Auburn 852 - Hot Wheels


1936 Cord Beverly Sedan - Hot Wheels


1931 Duesenberg Model J - Hot Wheels
Of all the automobiles produced in the United States, three marques stand apart as the ultimate in classic collector cars. ACD stands for Auburn - Cord - Duesenberg and for a brief period in the 1930's, these three names were gathered into one company.

Errett Lobban Cord was one of those men who always tried to be larger than life. His story is an amazing combination of Horatio Alger and P.T. Barnum. He made and lost millions in a period when many Americans were lucky to just feed and house their families. Today, he would be mostly forgotten if he had not managed to assemble three glorious automobile names into one company.

ACD cars are represented in small-scale in modest numbers. Hot Wheels recognized the importance of these cars quite early and in 1970 produced the 'Classic Cord' as a custom. Highly collectible today, this model features an opening hood and removable top. This was followed in 1976 with the '31 Doozie", a Duesenberg Model J Tourster. Fred and Augie Duesenberg had already made their name in racing when E.L. Cord added their name to the ACD empire. These amazing cars could do 100 mph in second gear and their supercharged engines were a work of art. In 1978 Hot Wheels offered the last piece of the ACD trinity, a '36 Auburn 852. These boat-tailed beauties were sold new for about $1,000 and this HW version is still in production. More recently, Hot Wheels has done the '36 Cord Beverly Sedan. Gordon Buehrig's Cord is simply stunning and the 4-door Beverly sedan is only out-shown by the sensational Sportsman Convertible.

Racing Champions has done two of the the three ACD marques and one can only hope they someday add the missing link. If I were asked to nominate my choice for the best 1:64 scale car ever produced, the 1935 Duesenberg SSJ by RC would be my choice. From the individual spokes on the wheels to the beautiful twin-cam Dusenberg engine in correct silver and green, this model is as close to art as 1:64 scale can be. The 1937 Cord is a close second. The wheels and tires are excellent with another wonderfully detailed engine. I hope RC offers more of these miniature masterpieces.

1937 Cord 810 Sportsman - Racing Champions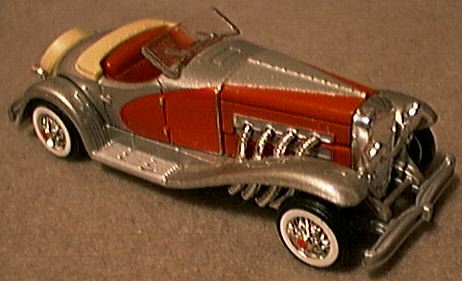 1935 Duesenberg SSJ


1937 Cord 810 (custom) - Hot Wheels