In production for more than 40 years, the original British Motor Corporation Mini was a living legend on borrowed time. Unable to meet current safety regulations in a number of markets, it only continued to be sold in many countries based on the fact that it was largely grand fathered in as a pre-existing model that had been in continuous production without significant modification to its basic structure. While BMC and its successors attempted on several occasions to replace the venerable little car, the Mini managed to outlive each in turn; however, with the markets where it could legally be sold shrinking yearly, the three-time Monte Carlo champion and customer favorite could not survive forever.
After entering into an agreement with the Japanese company to sell Honda Civic sedans in the U.K. as Triumph Acclaims during the early 1980s, Rover Group and Honda closely collaborated on most of the new models Rover introduced during the rest of the decade and into the early 1990s. Naturally, Honda was expected to be the logical and leading suitor to buy the company when British Aerospace privatized it; however, the business world, and especially Honda, was shocked to learn that a bid from expansion-hungry BMW was accepted in 1994. Despite BMW promising that Rover's products would soon be both profitable and built to its exacting Bavarian standards, Rover Group continued to loose money and its products continued to be plagued by quality control issues. After suffering through six years of embarrassment, BMW decided to bail out of Rover Group and sold off the car division (which still produced M.G. and Rover cars) to a British investment group and Land-Rover to Ford Motor Company. Yet in all of this turmoil, BMW tightly held onto a new car that it was developing to replace the classic Mini.
BMW cars are very tradition bound and for this reason, they must fit certain design criteria before they can wear the blue and white Roundel: foremost, for optimum handling characteristics, they have to be rear-wheel drive. Yet the dimensions and layout of small, economy cars typically work best when engineered around a front-wheel drive platform and thus, BMW's dilemma was born. To enter this market segment meant that the company would have to break with tradition and place a Roundel on a vehicle that was not a proper BMW; the new Mini eliminated all of these problems since the Mini brand was already an established marque as well as something that could commit what would be acts of sacrilege for a true BMW.
In the U.S., only the high performance Mini Cooper and supercharged Mini Cooper S versions of the new car are available; however, in Europe a base model is produced and is a popular alternative to other economy cars from Japan as well as Ford, Fiat and Volkswagen. The high-performance Coopers were viewed by BMW as the ideal models to re-establish the Mini brand after an absence of 33 years in the United States and so far, the plan seems to be working well. Unlike its predecessor which took model makers years to warm up to, the New Mini has already seen a groundswell of activity in 1:64 scale and undoubtedly further castings are on the drawing boards of manufacturers that have yet to produce a New Mini casting. At this point, let's begin our review of the New Mini miniature story to date. The same author reviewed 1:64 scale BMC Minis a couple of years ago and, in the interim, a couple of new models have appeared. For good measure, they have been thrown into this discussion as well.
Obviously, something went awry in the execution of Maisto's 1:64 scale miniature of the New Mini Cooper; for proof, look no further than the company's outstandingly accurate 1:24 and 1:18 scale models of the same car. The model's problems are easily observed: its overall profile is both too narrow and too tall and its rear quarters exhibit a far too vertical sweep when compared to the actual vehicle. Although this new Maisto casting features darkly tinted window glazing to hide its lack of an interior molding and silver tail lamps, it does manage to sport an accurate white roof, some finely laser-printed 'Mini' logos as well as a nicely detailed grille and set of headlamps. While Maisto constantly contends that it simply cannot offer interiors in this price range, its competitors do and often undercut Maisto's selling price, making this miniature represent yet another of Maisto's many recently missed opportunities to create a world class and affordable 1:64 scale product.
Show-casing the current disparity between its 'complementary' brands of diecast, Mattel's Hot Wheels New Mini Cooper reminds collectors of the glory days of Matchbox with it excellent proportions, detailing and quality construction. As the New Mini is manufactured in England, it would seem appropriate to debut this casting as a product of the country's most famous brand of diecast; however, a miniature of the Mini's finesse would be far too out of place alongside Matchbox's other markedly cheap products. Displaying prototypical paint applications (yellow body, black roof pillars and fender flares, silver headlamps and grille and a white roof), this model wears well-chosen, spaced and sized five-spoke wheels and exhibits a fun-loving, eager to go stance that is certain to make it a favorite with both kids and adults alike.
Selling under the Welly, Edocar and Majorette brand names, the Welly-produced New Mini Cooper has a rather large footprint in order to occasionally accommodate a friction motor for certain brands. The basic casting is outstanding and its fine details are quite noteworthy for a low-cost toy: headlamps and grille are silver, roof pillars and fender flares are black and the roof is white--as they should be. Equipped with chrome wheels shod with rubber tires, this high quality miniature is of limited availability in the U.S. yet definitely worth obtaining for a complete collection of New Minis. Also worth noting is that this model is not a member of the range of Welly models currently sold through the Walgreens drug store chain in the United States.
Entering the market as something of a boutique brand of upscale models, AutoArt products have made quite an impact upon the diecast market with their high quality yet affordably priced miniatures in several scales. While step-up model cars are nothing new to 1:43 and 1:18 scales, AutoArt's approach to its 1:64 scale lineup has been markedly different in that the miniatures have, so far, only been sold directly by the manufacturer or through specialty hobby and model shops in small, hard-plastic, display-case type packaging that would undoubtedly be seen as unfriendly to mass-merchandisers. Another difference between AutoArt's products and the high-line models offered by Hot Wheels, Matchbox and Johnny Lightning is the number of specialized parts per miniature; there is no sharing of generic wheel designs among AutoArts and each little car is unique from the others. One of the most popular miniatures in Auto Art's 1:64 scale range is their superb New Mini Cooper which features multiple paint applications to make its supremely accurate body casting match the actual car exactly. Faults with this model are difficult to find; however, the rearview mirrors are too square, something that is only exaggerated by the prototypical white paint sprayed upon them.
Suffering from years of poor distribution and product placement, Majorette has almost completely abandoned the North American marketplace while continuing to introduce, in absentia, several new and desirable castings for European consumption only. Despite presenting a distinct challenge for North American collectors to acquire, many diehard Majorette addicts have contacted European friends for help to obtain models such as the New Mini Cooper. Majorette castings possess certain familial qualities that readily identify its products before seeing the name on the base plate and the New Mini Cooper is well endowed with a heavy dose of 'Majoretteness' Featuring a somewhat unique construction, the Mini's main body is diecast; however, everything else, including the base plate, the chromed grille and headlamp insert, the interior and its transparent roof, is plastic. The roof has an application of paint on top to make it opaque and the entire result from this marriage of parts is one of the most effective solutions to the problems that this novel car creates for model makers. The downside? The dull wheels are slightly undersized and the fender flares are body color; both of these details unfortunately detract from the miniature's otherwise appealing and friendly personality.
Although the analogy may be bordering upon cliche, Motor Max has risen like a phoenix from Zylmex's ashes in the course of a short few years. With an extensive range of models in each of the well-established scales, many collectors of small-scale miniatures have been surprised by the exceptionally high quality and expanding variety of Motor Max's wide range of 1:64 scale cars and trucks. While Motor Max has recreated many vintage vehicles in other, larger scales, most of the 1:64 scale releases depict current production vehicles with the exceptions being its Austin Mini Cooper (which has been recently complemented by the release of a miniature of the New Mini Cooper) and the Mako Shark. Sadly, Motor Max's New Mini Cooper casting fails on several levels: its tracks and wheels, both front and rear, are set too far into the miniature's body and without the benefit of black highlighting on its overly thick roof pillars and fender flares, the entire model appears chunky, clumsy and heavy. The resulting model could easily be confused for an uninspired design that originated two decades ago from behind the Iron Curtain rather than from a giant, modern Anglo-German concern. Nevertheless, in its defense, the miniature does seem well suited for a rough life as a toy with its very solid, almost Soviet-style, metal construction.
Undoubtedly dictated by a rather narrow profit margin per unit, Siku's New Mini Cooper arrives with a surprisingly disjointed paint job. Although its grille, front indicator and head and tail lamps are all detailed in correct colors, the model's roof pillars and roof receive a single paint application in black. Despite its lack of a white roof, the Siku miniature incorporates two-piece tires and wheels, an accurate interior molding, black fender flares and even includes a unique feature among New Mini Cooper castings: operating doors. Unlike other models, Siku's miniature does have a metal roof, which, without doubt, will prove more robust in the hands of rambunctious children.
Addendum: More New Old Minis
One of the most interesting castings to appear in some time from Mattel's Hot Wheels, the Mini Cooper has a locking mechanism on its base that allows for the body shell to be removed from the chassis. Why this miniature incorporated this gimmick is unclear since it really accomplishes nothing; nonetheless, at least two more Hot Wheels have been introduced with the same feature. Modeled after a racing Mini, the miniature is a charmer despite loud paint schemes and some tasteless equipment such as orange window glazing and wire 'lace' wheels on some variants. With any luck, the model will eventually be decorated with a Union Jack on the roof like what so many of the prototypes it is based on wore all those years ago.
As mentioned earlier, Motor Max has produced few antique and vintage vehicles within its 1:64 scale range including the Austin Mini Cooper. While many might suspect that the Austin is simply a recycled Zylmex casting due to Motor Max's relationship with the older company, it is cast from completely new tools and is one of the best detailed small scale models of the old Mini to yet be introduced. Continuing a tradition of ridiculous decorations on Mini models, Motor Max offers a version in red with logos stating 'Pizza with Bean--Have You Tried It?' emblazoned on its flanks. Fortunately, at least two other, more sedate paint schemes are available: cream with a black roof and olive green with black roof. Although a great model on the whole, one area that needs improvement is the lifeless wheels (first seen on Zylmex castings) that have long outstayed their welcome.
Thus we end our study of the BMW New Mini; yet with the Bavarians already talking about further derivatives based on the Mini's platform, there are sure to be additional miniatures based on these new vehicles produced. What will be next? The original BMC Mini was eventually made in station wagon, van and even pick-up versions, so anything is possible based on past history. Perhaps even a new Riley Elf or Wolseley Hornet will debut as BMW continues to hold rights to both of these old, time-honored British names.
---
NEW MINI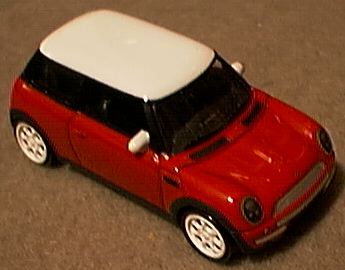 AUTOart


Hot Wheels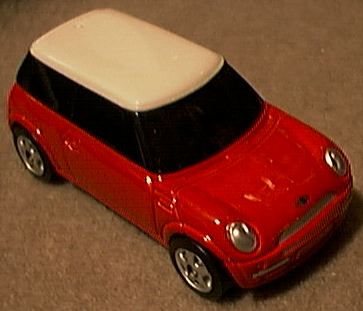 Maisto


Majorette


Majorette (Welly)


Motor Max


Siku
---
ORIGINAL MINI

Hot Wheels

Motor Max