1990 Sauber Mercedes-Benz - Minichamps


1990 Sauber Mercedes-Benz - Guisval


1990 Sauber Mercedes-Benz - Darda


1991 Jordan Peugeot - Guisval


1994 Benetton - Minichamps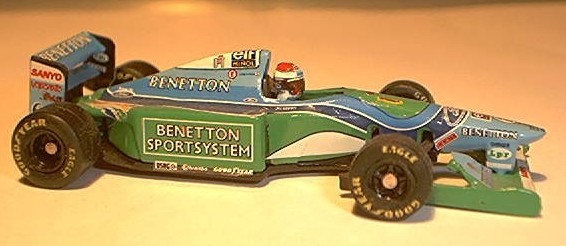 1995 Benetton - Minichamps


1995 Benetton - Guisval
What else can be said of Michael Schumacher, winner of five world championships and more races and points than any F1 driver? He has systematically broken just about every record in racing and this past season he and Ferrari have made all opponents look positively silly! For several years now he has been the worlds most highly paid athlete, ahead of Shaq, A-Rod, Sampras and all the rest.
The reasons behind his unprecedented success? Let's begin at the beginning- his parents owned a go-kart track where he and his brother Ralf honed their competitive skills from an early age. He did the prerequisite German F3 season, and was picked to be part of the Sauber sports car team. He helped Sauber win one race in 1990 as part of their world championship winning effort. Three toy cars are shown here representing Sauber-Mercedes-Benz GT cars. The Minichamps model is a beautiful miniature while the Guisval and Darda examples are mush more toy-like. Matchbox also did this car but not in correct colors.

When Eddie Jordan needed a driver to fill in at Spa in 1991, Schumacher answered the call by qualifying a stunning 7th in his first GP ever! Even though he failed to complete a lap in the race, his ability was apparent to all and he was snatched up by the Benetton team for the following several years. Guisval produced a Jordon-Peugeot from the early 1990's.
In a favorable team atmosphere, surrounded by people helping him do his best, Schumacher is tops; he won his first GP in 1992 and Benetton's only two world championships in 1994 and 1995. Minichamps again produced both the 1994 and 1995 Benetton while Guisval did the1995 car.

Ready for a new challenge (and a $25 million annual paycheck), Schumacher jumped to Ferrari for 1996. Block by block, person-by-person, Schumacher influenced the rebuilding of this most chaotically Italian team into a model of Teutonic efficiency and dominance. He earned his third championship (and Ferrari's first in over 20 years!) in 2000 and has been winning ever since. This season he accomplished what no one thought would ever be possible - equaling Fangio's record of five championships ­ and who can say he won't win more in the few years left to his already long career? Majorette gave their Ferrari F1 casting a #1 to represent the 1996 car and have revised the graphics several times in an attempt to help it look current. In 1998, Hot Wheels began producing a Ferrari F1 car. The same casting has been used for later cars like the 2000 model shown here and a driver has been added. Siku did an excellent 2000 Ferrari casting but could not secure licensing and had to use generic racing graphics. Minichamps has produced the definitive 1:64 scale Ferrari models with amazing detail.

---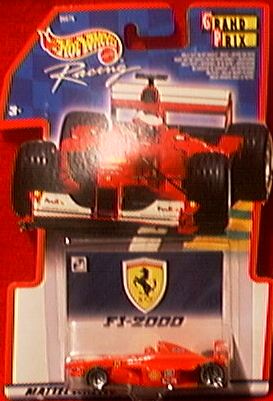 2000 Ferrari - Hot Wheels

1996 Ferrari (Shell) - Majorette


1996 Ferrari (Agip) - Majorette


1998 Ferrari - Hot Wheels


2000 Ferrari - Siku


1998 Ferrari - Minichamps


1999 Ferrari - Minichamps


2001 Ferrari - Minichamps