Hot Wheels recent release of the Trans-Am winning Ford Mustang prompts our story about Parnelli Jones, Indy 500 winner and master of many other forms of racing as well. Jones was lucky enough to have the skills and work during a time when drivers could skip around among different series. He was successful at Indy, stock cars, Trans-Am, and off-road racing.
California native Jones began his career on the usual bullring sprint and stock car tracks, winning enough to attract the attention of champ-car entrant JC Agajanian. "Aggie" put Jones behind the wheel of the #98 Watson built roadster reproduced here by Hot Wheels. Nicknamed "Old Calhoun", this model was part of a special set and the level of detail is fantastic. In 1962, Jones used it to set the first ever pole position time of over 150 MPH at Indy. He won with it the following year despite a leaking oil reservoir near the end of the race. Jones almost won again in 1967 driving one of Andy Granatelli's turbine cars, but a $5 part failed with 3 laps to go!
Jones retired from open-wheel racing after that and focused on other racing series including stock cars like the one pictured here. His business interests included a large chain of Firestone tire stores. Then, in partnership with Ford dealer Vel Miletich, he formed an Indy-car "super team" for drivers Mario Andretti and Al Unser. The Vels-Parnelli team and Al Unser won Indy in 1970 & 1971 in a "Johnny Lightning Special" sponsored of course by JL and pictured here in 1/64th scale. It's part of JL's Indy winner and pace car series. Was this the first and only Indy winner sponsored by a toy company?
Parnelli continued to race in Trans Am sedans and won the championship in 1970 driving the Mustang shown here by Hot Wheels. Later, both of his sons became involved in racing, against his wishes. Elder son PJ Jones made it to the CART series driving for Dan Gurney's Eagle-Toyota team. Younger son Paige was unfortunately involved in a massive sprint car accident and suffered a head injury that affects him to this day.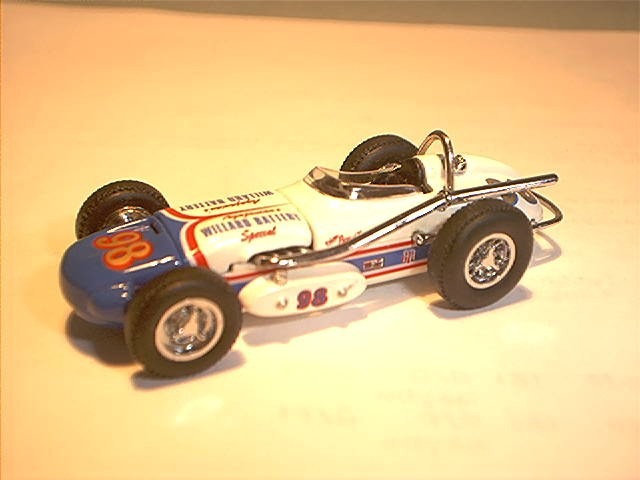 1963 Watson Roadster, Indy 500 - Hot Wheels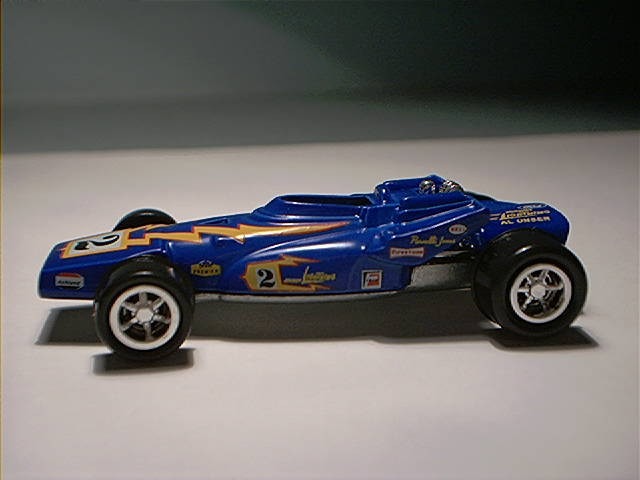 1970 Vels-Parnelli Johnny Lightning Special - Johnny Lightning


1970 Trans-Am Mustang - Hot Wheels