Ambulance


Two-Door Coupe


Fire Truck


Pick-Up Truck


Four-Door Sedan


Tanker Truck


Military Truck
Efsi of Holland may have the record for the most variations on a single casting. The 1919 Ford Model T has been produced in a wonderful assortment of body styles. Many of these mirror the actual uses of Henry Ford's vehicle for the masses.

While these are simple models without windows, they are at the same time in the spirit of the simple Model T. Different tire and wheels colors are used to fit with the body color or simply make the model look more authentic. Orange wheels are used to simulate the look of wood. The six images on the left are models from my collection while the images above, below and on the right are from the collections of Mark Foster and Kimmo.
I particularly like the Castrol and Harrods vans. The Harrods Van appears to be all-metal and the Ambulance Van is as well. This same Delivery Van casting was also used for the Autotron Van and Fire Truck but with a ladder and tire attached to the roof. The following list of models comes from Douglas Kelly's excellent toy car book but it does not seem to included several of the variations such as the open-bed delivery truck shown right.

EF-101.0 - 1919 Ford Model T Pickup
EF-102.0 - 1919 Ford Model T Tanker
EF-103.0 - 1919 Ford Model T Breakdown
EF-104.0 - 1919 Ford Model T Delivery
EF-105.0 - 1919 Ford Model T Coupe
EF-106.0 - 1919 Ford Model T Sedan
EF-107.0 - 1919 Ford Model T Advert/Ambulance


According to Kimmo, the Efsi Model T was sold in the U.S. in small numbers but were more common in Europe and the U.K. I have received some of my Efsi models in trade with European collectors and found others at local toy shows. The Fire Truck includes markings for the New York Fire Department so perhaps some of these models were designed for the U.S. market. They are not priced very high when found, usually a dollar or two.

It is not clear if Efsi is still producing any of these models. As they are not focusing on 1:64 scale these days, it is unlikely. Considering the opportunities to use of this casting for promotional models, perhaps Efsi should bring the Model T back. A convertible or touring car version would also be fun.

Considering how few vehicles of this vintage are to be found in 1:64 scale, it is a treat to come across these great examples of the Model T. It is also interesting to see these model come from a company in Holland!

| | |
| --- | --- |
| Two Dutch delivery trucks show | how this is a great promo model |
Postscript

This story was all but completed when a mystery package arrived in the mail from the Netherlands. The return address indicated it came from TofTC contributor and Siku specialist, Remco Natrop. While I have traded with Remco in the past, I was not expecting anything as I have not found any interesting Siku models for him of late. What was in side turned out to be seven of the Efsi models pictured here. The Tow Truck, Taxi and Military variations were joined by four models with Dutch connections; the Red Cross Van, Open-bed Truck and the two delivery trucks shown above. I immediately took images of these new arrivals and updated this story. My Efsi 1919 Model T collection has now more than doubled, thanks to Remco and this story has the addition of several more great models.

Autotron Van


Castrol Advert Van


Royal Mail


Service Truck


Taxi


Breakdown Truck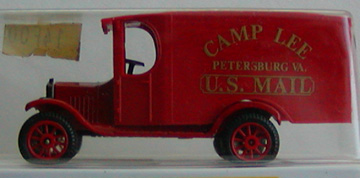 Mail Delivery Van


Advert Van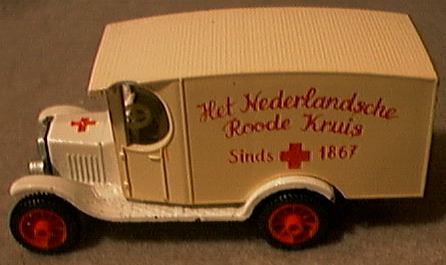 Dutch Red Cross Van