1954 Nomad - Johnny Lightning


1957 SR2 - Hot Wheels


1961 Sting Ray - Hot Wheels


1961 Mako Shark - Motor Max


1962 Grand Sport - Matchbox


1962 Grand Sport - Johnny Lightning


1965 Sting Ray II - Johnny Lightning


1965 Sting Ray II - Johnny Lightning (Topper)

The Corvette was first introduced in 1953, 50 years ago. Throughout those 50 years, five generations of body styles have been produced. TofTC has reviewed each of these in past issue and will provide an updated C3 review soon.

What is presented here is the history of the variety of Corvette concept cars and racing specials as represented in 1:64 scale. Most of these have been produced in the past ten years.

The first non-production Corvette is the '54 Nomad concept car that was part of the GM Motorama cars. This model by Johnny Lightning could also be seen as part of the Chevrolet Nomad history as it combines the two models.

Hot Wheels provides the next two cars beginning with the 1957 SR2. This historic racer was short lived and had moderate success. It is offered in correct colors with this 2002 first edition. The SR2 was followed by the Corvette SS racer which was moth-balled by GM's withdrawal from racing. Bill Mitchell used the SS chassis as the starting point for his 1961 Sting Ray concept car, also done by Hot Wheels for their 2003 line.

Motor Max offers the next Corvette concept. The Mako Shark of 1961 was a further development of the Sting Ray concept. It reflects many of the styling cues used in the production '63-'67 Corvette C2 models. From 1962, are the Corvette Grand Sport models. They were used by privateers at Sebring and other races and are still active in vintage racing today. Matchbox. and Johnny Lightning have offered the Grand Sport.

In 1965, a new Sting Ray II concept was produced. This model carried styling ideas that would be seen on the C3 Corvette of 1968. Topper offered a custom Sting Ray II in it's original Johnny Lightning line and Playing Mantis reproduced it. A new and far more accurate model of the Sting Ray II was later done by Johnny Lightning.

In 1966, Chevrolet produced the Astro I concept on a Corvair platform. As the Corvair had already been axed by GM by this time, the Astro I was seen as more of a Corvette concept and indeed the Astro II and Astro III were Corvette concepts. Yat Ming produced a very decent example of the Astro I.

By the 1970's Corvette was looking at both mid-engine and rotary powered concepts for future production. While neither happened, the Aerovette of 1973 has both (although it received V8 power in 1974). This Johnny Lightning model, with rotary engine, is part of their extensive Corvette series. JL also offered two recent Corvette concepts. The Indy of 1986 is a mid-engined model that would have put Corvette into the supercar leagues. Motor Max also offers an nice example of the Indy. The Sting Ray III of 1991 is a more traditional Corvette approach with front-engine power. In addition to JL and Motor Max, Matchbox and Hot Wheels produced Sting Ray III models. The Hot Wheels version was originally produced as one of a series of cars for the Sly Stallone movie, Demolition Man, with that version shown here. It was later offered in the regular line. Many expected the C5 to look like the Sting Ray III.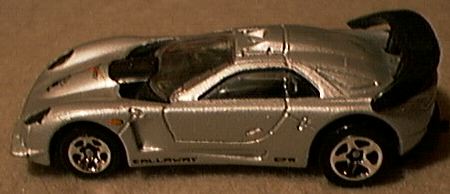 Our last model is also from Hot Wheels. It is the Calloway C7R, a Corvette C5-based creation of Reeves Calloway that was produced in limited numbers. It ran at LeMans in the late-1990's. The example shown here is the first edition and it has now appeared in racing colors as well.

This trend of producing Corvette concepts and race specials is likely to continue and there are many more to do, such as the recent Daytona 24 Hour winning racers. With the 50th anniversary and a new Corvette C6 not far off, interest in Chevrolet's sports car is sure to remain strong.

1966 Corvair Astro I - Yat Ming


1973 Aerovette 4-Rotor - Johnny Lightning


1986 Corvette Indy - Motor Max


1986 Indy - Johnny Lightning


1991 Sting Ray III - Johnny Lightning


1991 Sting Ray III - Motor Max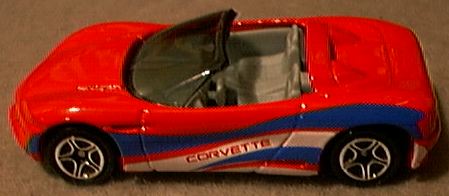 1991 Sting Ray III - Matchbox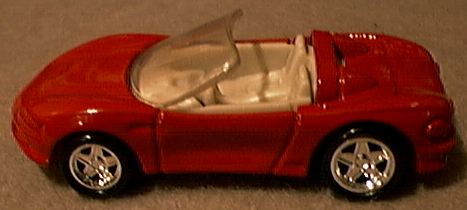 1991 Sting Ray III - Hot Wheels