Ford GT TO, sic. (GT 70)


Vauxhall Guildsman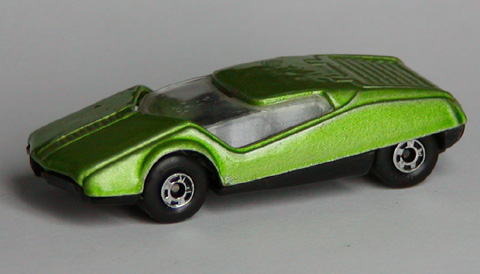 Datsun 126X


Siva Spider


Monte Carlo Special (Marcos GT)
This lesser known brand was available over twenty years ago. Wheeler was a series of approximately 1:66 scale exotic sport cars. The castings average about 2 inches in length and are mounted with black plastic baseplates. The information provided on the baseplate includes the name of the car, brand and "Made in Hong Kong". These simple castings were provided with basic color schemes. It appears only one paint scheme for each model was available. No graphics were applied. Interiors include only seats and window glazing reveals the rear axle in some models. The wheels were provided with recognizable silver hubs.

Some of the models were based on popular Matchbox Superfast, Tomica or Corgi Juniors from the 1970s. It appears that Wheeler produced their castings either using the original Matchbox, Corgi or Tomica model as 'inspiration' or perhaps even preparing their dies from the donor car, a common practice at the time that results in a slightly smaller model, hence the 1:66 scale. The Le Mans Racer resembles the Monteverdi Hai and misrepresents the brand as "Wheller". The Chevrolet Corvette is actually a Dodge Charger Mk III. The Monte Carlo Special is the Marcos GT. Images of ten Wheeler models are provided with this story. The name provided for each is what is identified on the baseplate. It would be interesting to know if others exist.

One known distributor of Wheeler models was Graco Toys. Their series was titled "Fastwheel". The card stated "really fast diecast", "heavy duty" and "finest details". Sold in twin packs, they were about one dollar per set. The quality of these models would be common to those found today in assortments of 25 models that typically are available for five to ten dollars. It is thought that Wheeler models may have been manufactured by Universal.

Evidence of another series comprised of different, larger castings, identifies "W" in a circle, imprinted on chromed plastic baseplates. Some of these were issued in "Road Aces" blistercards identifying the Wheeler name. These same models were available in a series including many Universal castings by at least two distributors: AMSI and Gordy. Myco was another distributor of "W" models. Information devoted solely to the "W" models will be part of another story.

Toyota 2000 GT


Toyota EX7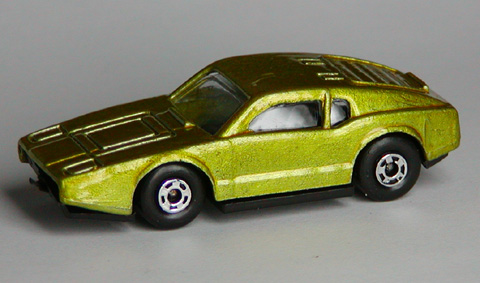 Saab Sonnet

Le Mans Racer (Monteverdi Hai)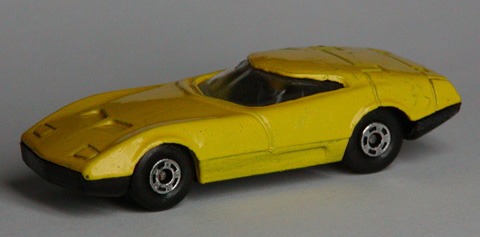 Chevrolet Corvette (Dodge Charger Mk III)