1952 300SL Mexico - Schuco


1954 W196 F1 - Busch


1954 W196 F1 - Schuco Piccolo


1989 Sauber Le Mans - Guisval


1989 Sauber Le Mans - Minichamps


1989 Sauber Le Mans - Matchbox


1989 Sauber Le Mans - Darda


1995 McLaren F1 - Guisval


1998 McLaren (McDonalds) - Hot Wheels



1998 McLaren F1 - Hot Wheels (special ed.)


2000 McLaren F1 - Siku


Sauber F1 - Minichamps
The story of Mercedes-Benz racecars is practically the story of automobile racing itself since Mr. Benz is credited by many as the builder of the first practical internal combustion engine. For the record, the earliest mention of MB in auto racing was in a Paris to Vienna marathon in 1902. Grand Prix racing in the 1930s was usually a three-way contest between MB, German rival Auto-Union and Italian Alfa Romeo.
Post-WWII, Mercedes decided that participation in racing could demonstrate that Germany was once again part of the European and world community. They began with sports car racing, building and racing the 300SL, pictured here by Schuco. This is an absolutely beautiful model in 1/72 scale, carefully packaged and presented. This car won both the 1952 LeMans 24-Hours and the Carrera Pan Americana in Mexico. A more developed version of this car, the 300SLR, won the World Sports car Championship in 1955.
Early success with sports cars naturally led MB to attempt Grand Prix racing. For the new 2.5 liter Formula One in 1954 the company built the W196, pictured here in 1/87 scale by Busch of Germany. For the very small scale used, this is an amazingly accurate model. The Schuco Piccolo version is somewhat less correct but still fun. The team was staffed with the best talent available and maestro Juan Manuel Fangio was F1 champion for MB in both 1954 & 1955.
An infamous accident involving the 300SLR sports car occurred in 1955 when one rear-ended another car at LeMans that year and launched itself into the crowd, killing the driver and over 80 people. This incident had a huge effect on racing worldwide and caused Mercedes to leave motor sport for almost 30 years.
When Mercedes decided to return to racing in the mid-1980's it was in a more tentative way, supporting Swiss entrant Peter Sauber in his efforts to build a prototype sports car using Mercedes power. Eventually Sauber's efforts bore fruit and with full factory backing Sauber-Mercedes won LeMans in 1989 and the Sports Car World Championship in 1990. The driving staff included some of the best endurance racing talent of the day and a "B" team was a training ground for, among others, current F1 champion Michael Schumacher. Four versions of this car are pictured here by Guisval, Minichamps, Matchbox and even a Darda wind-up car!
As before, sports car success led to F1 aspirations and in 1992 Sauber was pointed in this direction. The Minichamps version of the Sauber F1 pictured here is as usual a very correct one. Mercedes decided to contract out the engine building to the Illmor Company, founded by 2 ex-Cosworth engineers with Roger Penske money. They were already engaged in building Indy Car power plants for Penske and others labeled as Chevrolets. Mercedes eventually bought out Chevy's part, had the engines re-named for themselves and won the 1994 Indy 500 powering a Penske similar to the one pictured here by Racing Champions.
But F1 victories proved elusive and Mercedes became impatient with Sauber. They took their Illmor-developed F1 power plant to McLaren in 1995 and by 1997 won their first F1 race. Guisval produced the 1995 F1 car. Hot Wheels has done three different versions. The first was given out as a McDonald's promotion and the ' Mika' and sponsor stick-on decals had to be applied. The second version is pictured in the package and represents the 2000 car. The tampos are not stick-on and it includes a driver. The best Hot Wheels version of this car is a special edition model and one of the best I have seen in this scale. It came as part of a set of two (Hakkinen and Coulthard). Siku produced a generic version of the 2000 McLaren. The casting is excellent but Siku declined to pay the cost of presenting the car in correct racing tampos. The colors of black and silver clearly identify McLaren. McLaren Mercedes won 2 F1 world championships for Mika Hakkinen in 1998 and 1999. In 2000, the championship went down to the wire but Schumacher eventually prevailed for Ferrari. McLaren Mercedes remains an F1 force today, being one of the two teams presently capable of challenging Schumacher's Ferrari.
Mercedes had not forgotten sports car racing either, entering the CLK-GTR for the revised LeMans rules. A flaw was unfortunately discovered in this model, however, when it somehow got too much air underneath the chassis at high speed and flipped the whole car many feet up in the air over the Mulsanne straight. Since this happened more than once, the cars were withdrawn and Mercedes has not returned. The Maisto, Majorette, and Hot Wheels versions of this star-crossed racecar are all very well done.

Rallying is not as closely tied to Mercedes-Benz as it is to other automakers. Private rally teams have converted Mercedes models into rally cars. Just such a car, a 350SL by Buby of Argentina is pictured here. A much cruder version of the same car is done in racing trim by Soma. Guisval offered a 450SEL in racing colors and Zylmex did a 300 SE but it is not known if these models had a real racing history.
Mercedes has always supported touring car racing, especially the German series. Many of the cars pictured here are from privateer teams while some have semi-factory engineering and sponsorship. Both Majorette and Yat Ming did ETC versions of the 190E. Maisto, Matchbox, Real Toy and Hot Wheels have all done diecast versions of the AMG C-Class ETC/GTC car from the mid 1990's.
The Silver Star looks set to remain in F1 racing for the long term and may return to big-time sports car racing as opportunities present themselves. Racing success is an important component of the Mercedes image supporting those large price tags for their streetcars!

Penske Indy Car - Racing Champions


CLK-GTR - Maisto



CLK-GTR - Majorette


CLK-GTR - Hot Wheels


350SLC Rally - Buby


350SLC - Soma


450 SEL - Guisval


300 CE - Zylmex (Motor Max)


190 European Touring Car - Majorette


190 European Touring Car - Yat Ming


European Touring Car - Maisto


European Touring Car - Matchbox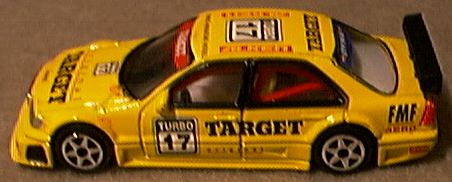 European Touring Car - Real Toy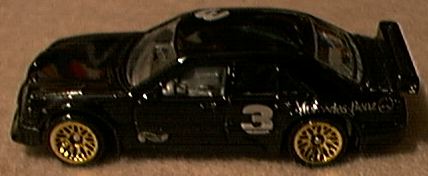 European Touring Car - Hot Wheels