New Cosmo Sport (#16-A) - Tomica


RX500 experimental (#34-A) - Tomica

Savanna RX-7 (#50-C) - Tomica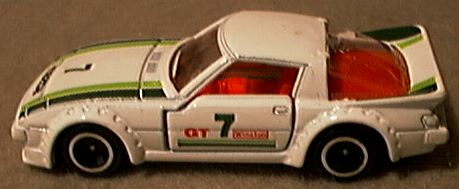 Savanna RX-7 Racing (#74-C) - Tomica


787B Le Mans (#34-E) - Tomica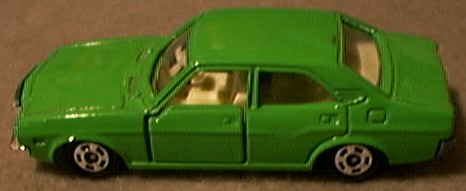 Luce AP Custom GRII (#99-B) - Tomica


Familia 1500XG Turbo (#4-E) - Tomica


Savanna RX-7 (#94-E) - Tomica


Savanna RX-7 (#50-D) - Tomica


Eunos (Miata) Roadster (#111-C)


Miata MX-5 - Johnny Lightning

Cosmo Coupe - Playart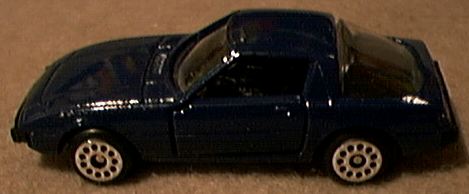 RX-7 - Zylmex


RX-7 Racing - Zylmex


Miata MX-5 - Zylmex


Miata MX-5 - Motor Max


RX-7 - Motor Max


Miata MX-5 - Road Champs


RX-7 - Welly


RX-7 - Tootsietoy (Welly casting)


RX-7 - Maisto


RX500 concept - Matchbox


RX-7 - Matchbox


RX-7 IMSA - Matchbox


RX-7 - Matchbox (Premier Edition)


RX-7 - Majorette


RX-7 - Kidco


RX-7 IMSA - W.T.


RX-7 - Yat Ming


RX-7 Yat Ming


RX-7 - Ertl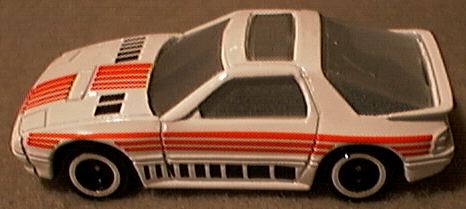 RX-7 - Ertl (Speed Strips)


Miata MX-5 - Hot Wheels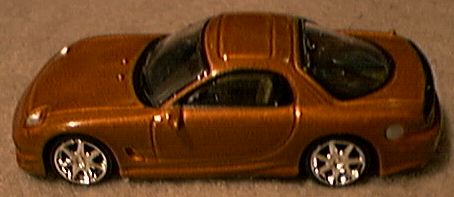 RX-7 - Racing Champions


RX-7 custom - Racing Champions
Like so many Japanese automobile companies, Hiroshima-based Mazda turned its attention to motor vehicles rather late in its history. Founded in 1920 as Toyo Cork Kogyo, it initially, as its original name suggests, processed cork before venturing into manufacturing various products for machining metal. Eventually, the Cork was dropped from the corporate name and by 1930 Toyo Kogyo was producing motorcycles which were followed a year later by rickshaw-type trucks. Production of these sorts of sub-automotive type vehicles was maintained until World War II intervened and refocused manufacturing on armaments and other goods for the Japanese military. In spite of what the plant was churning out, there was nothing it could do to defend itself from the American nuclear strike of 1945 and Mazda's home base was severely damaged. Nevertheless, it somehow managed to rebuild its factory sufficiently to resume peace-time production of its little trucks soon after the war's end.
Although Mazda had completed some preliminary work on a passenger automobile design prior to the outbreak of the war, Toyo Kogyo would not build and sell its first car, the diminutive R-360 micro car, until 1960. The R-360 was so popular that profits earned through its sales were reinvested into new, larger cars that debuted throughout the 1960s until Mazda had firmly established itself as one of Japan's major auto makers. However, Mazda was without an identifying feature that would differentiate it among the other Japanese car manufacturers it was struggling to distinguish itself from. As Subaru did some years later with its unique, horizontally opposed engines, Mazda would advance a certain German engine design its calling card: the rotary.
Dr. Felix Wankel had devised the revolutionary power plant for NSU and the automotive world collectively saw immense potential in the largely unproven design. Soon after making its first appearances, auto makers throughout the world lined up at NSU's office to acquire manufacturing licenses; during 1961, one such applicant and license grantee was Toyo Kogyo. Apparently, the licensing agreement was a mere formality to avoid accusations of patent infringement as Mazda immediately began development work on a rotary engine of its own design long before any blueprints or sample engines arrived from Germany.
Early rotary engine designs were noteworthy only for the brevity of their life spans and Mazda's early production efforts followed suit with most of the engines requiring a complete overhaul by 30,000 miles. The problem was the seals at the tips of the triangular rotor itself and where NSU, Citroen, Daimler-Benz and a variety of others tested and soon thereafter abandoned the design, Mazda's engineering team continued to experiment with new alloys until one with long-wearing properties was found after years of research and development. While Mazda initially installed its rotary engines only in prestige and sports models such as the Cosmo, within a few years, it was powering even such lowly vehicles as trucks with them and many automotive observers during the early 1970s can remember the tailgates of Mazda pickups proudly emblazoned with the words 'rotary power.î Yet during the better part of the decade, Mazdas could frequently be seen on racks in mechanic's garages and at the dealerships having work performed on their exotic and incredibly vibration free yet troublesome power plants. Finally, with their breakthrough rotor seal alloy, the determined and steadfast Japanese company made the much ballyhooed rotary dream a reliable and lasting reality and by 1978, it was ready to step into the spotlight.
Although not Mazda's first sports car, the original RX-7 of 1978 is perhaps its best remembered. Based partially on a thoroughly mundane sedan chassis to allow parts sharing and thus keep costs low, the twin-rotor RX-7 exhibited very sporting handling characteristics and proved surprisingly powerful for a car displacing only 1.1 litres. (Please note that a formula exists to calculate an equivalent displacement for a reciprocating piston engine since rotaries produce more power despite their often lesser displacements.) The RX-7 was an instant success and soon became the new must-have, moderately-priced sports car just like the earlier Datsun 240Z. Its popularity was not difficult to understand: it was a sleek, uncluttered and classic design that still pleases the eye today.
Nonetheless, the rotary did have one fatal flaw that even Mazda was unable to solve: high fuel consumption. To date, rotaries seem incapable of achieving much more than around 25 miles per gallon of gasoline and the engine's inefficiency led Mazda to drop its use in most of its models except the RX-7 and certain home-market cars like the Luce. Still, buoyed up by its profitable range of piston-powered economy and family sedans and wagons, Mazda continued to develop its beloved rotary and eventually introduced two more, completely new RX-7s. Yet there were problems: the final RX-7 was one of the purest sports cars of its day and, quite simply a beautiful and fluid design; however, in creating this ultimate sporting machine, Mazda had pushed the model so far up market in order to compete with the Nissan 300ZX that it priced itself out of the reach of most loyal RX-7 customers. So while an engineering and stylistic triumph, the third generation RX-7 was a sales disaster.
To this day, Mazda still firmly believes in the rotary and while it has to know that the design has no hope of ever being considered as a viable replacement for the reciprocating piston engine, it has proceeded onward and has recently introduced a new, hopefully more affordable rotary-powered sports car called the RX-8. Now controlled by the Ford Motor Company, Mazda is a powerful force to be reckoned with in the automotive world and its tendency to build distinctively innovative products that often break ranks with the competition seems to ensure the company's future success. Now that we have briefly reviewed Toyo Kogyo's historical background, let's turn our attention to the many die cast miniatures of its products that toy makers have offered of the years.
In the world of miniature Mazdas, no one can even attempt to claim as many different models and castings as Japan's Tomica with its current total of over two dozen. Where other manufacturers have concentrated merely on Mazda's high profile sports cars, Tomica has produced 1:64 scale versions of not only the RX-7 and Miata though also its economy cars, commercial vehicles, prototypes, race cars and executive sedans. Although not a crippling issue, Tomica's policy of always following Mazda's Japanese market nomenclature does occasionally cause some degree of confusion among toy car aficionados; obviously, descriptions of vehicles such as the Familia and the Savanna GT will be accompanied by their frequently more familiar international market identities--323 and RX-3, respectively.
Collectors familiar with Tomica will remember that its very first models were cast and assembled in Hong Kong before the company relocated all production to Japan. Among these extremely rare Hong Kong Tomicas is the company's first Mazda miniature: a small scale rendering of the Capella Rotary Coupe (#12-A) that is next to impossible to find anywhere at any price. Unlike some other castings whose manufacture was resumed in Japan, the Capella Rotary Coupe was discontinued, thus making the Hong Kong models the only examples to exist. Tomica's next Mazda issuance was a model of the New Cosmo Sport (#16-A) that captured the actual car's long front and rear decks and other-worldly styling perfectly. Although many would argue that the first generation RX-7 was the archetypical Mazda, others find this strikingly competent early effort on par with other monumental Japanese products of the same period such as the Toyota 2000GT and Datsun 240Z. While the standard Cosmo Sport is exceedingly challenging to find today, keep in mind when die cast hunting that the Japanese police patrol version (#45-A) is rarer and that the MAT variant (#75-A), which was inspired by an animated Japanese television show, is even rarer still.
Although making their debuts many years apart, the Savanna GT (#80-A and known as the RX-3 outside of Japan), the Savanna RX-7 (#50-C and known simply as the RX-7 elsewhere) and the Familia 1500XG (#4-D and sold as the 323 in other markets) all share a common history and production life. The commonality among these models was Tomy's somewhat unique practice of coaxing a bit more life out of a pre-existing casting by altering them into new variations and, for that matter, castings. All three of these Mazda models were slightly retooled to create a new miniatures: the Savanna GT became the Savanna GT Rally (#80-B), the Familia 1500XG grew fender flares to make the Familia 1500XG Turbo (#4-E), and, after serving out it useful life in stock form, the first generation Savanna RX-7 mutated into a winged warrior identified as the Savanna RX-7 Racing (#74-C).
While Mazda has shown many intriguing concept vehicles and raced any number of world champion competition cars, models of them, especially in 1:64 scale, have been slow in coming. As might be anticipated, Tomica has made more miniatures of these cars than anyone else beginning with the wildly colored RX500 experimental test bed and show car (#34-A). Next came the Sigma MC74, a successful race car with quite distinctive styling (#105-A) that was followed by a model of Mazda's crowning achievement: the Le Mans winning 787B (#34-E). Expensive yet not excessively difficult to find, the RX500 is a superior casting to Matchbox's clumsy and gimmicky effort, while the Sigma MC74 is now scarce and the 787B is still widely available and by far the easiest of the three to obtain.
Growing into what American automobile manufacturers like to describe as personal luxury coupes, the later day Cosmos reminded most people of smaller versions of the Chevrolet Monte Carlo, Chrysler Cordoba and Ford Thunderbird equipped with rotary engines. Gone was the unmistakable styling of the original Cosmo Sport, replaced with bland, trans-Pacific cues on the Cosmo L Limited and Cosmo AP Limited. Rendered in miniature at about the same time, Tomica offered several versions of these cars: the stock Cosmo L Limited (#38-C), the stock Cosmo AP Limited (#55-B), a Japanese police patrol AP (#45-B) and a race official AP (#74-B). Unfortunately, the one thing that these otherwise less-than-noteworthy Cosmo castings do share with their unforgettable predecessor is scarcity.
The rapid paced development and frequent introductions of new Japanese cars has meant that Tomica has fired out two subsequent RX-7 castings since its initial offering to match the current production models as well as a cute miniature of the Eunos Roadster (more commonly known as the MX-5 Miata.) The second generation RX-7 was a subdued design that improved upon the previous model in innumerable ways; Tomica replaced its first RX-7 casting with a new one patterned after the new car (#50-D). When the second generation RX-7 was superseded with the stunningly beautiful third generation car, Tomica again promoted this engineering masterpiece in miniature with two variations: a handsome road car (#94-E) and a Japanese police patrol car that a few lucky officers were assigned in real life (#117-C). With many of its vehicles, Mazda proved itself to be a risk taker and no bigger gamble was ever taken in the automotive world than by the introduction of the MX-5 Miata during a time when the automotive pundits had declared that the roadster was officially dead. The Miata proved these self-described experts wrong and when the car arrived in the U.S., dealers were able to sell them far in excess of the car's list price and while the demand has tapered off during the intervening years, the Miata continues to be one of Mazda's strongest sellers. Tomica also realized the car's popularity and its Eunos Roadster (#111-C) quickly became one of its best selling miniatures.
Despite the fact that Mazda's sedans and wagons receive little attention alongside its rakish sports cars, Tomica has found room within its range to feature at least two family-oriented cars over the years. The Luce AP Custom GRII was a large sedan seldom seen outside of its native land; echoing the actual car's marketing, Tomica never included its miniature of the Luce within its export assortments, making this Japan-only issue (#99-B) a choice find today. Continuing its highlighting of lower profile Mazdas, one of Tomica's latest releases is a model of the new Atenza wagon (#16) which can be purchased from a number of independent importers in the U.S. or directly from dealers in Japan.
Borrowing a page from the Volkswagen Microbus book, Mazda produced the happily named Bongo Friendee which was fitted with a sleeping compartment within its raising roof--just like the old Westphalia campers. Tomica's novel miniature of the Bongo Friendee (#23-E) was equipped with a prototypical roof panel that operated like the actual vehicle. Earlier, Tomica sold a miniature of another Mazda utility vehicle in its model of the Light Bus (#46-A). More van than bus, passenger vehicles such as the Light Bus were popular in Japan and elsewhere in the Orient long before the mini-van craze swept throughout the North American automotive market during the early 1980s.
To date, Johnny Lightning has offered miniatures of few Japanese cars and only one Mazda with its second generation Miata. As with most Johnny Lightning castings, the Miata has appeared in a number of differently themed series; yet, its awkward proportions and undersized wheels serve only to spoil what could have otherwise been a nicely detailed miniature.
Hong Kong-based Playart produced miniatures of several cars that were largely overlooked by other manufacturers at the time and are now long forgotten by the car-buying public in general. One such offering was a model that often displayed two curiously different names inside and outside of its packaging: while its base plate proclaimed it as the Yamada Super Discmatic Rotary Coupe, blister cards and window boxes identified it as the Mazda Super Discmatic Rotary Coupe. Whichever name a 1:64 scale collector selects, this stylish model will prove to be, as with most early Playart castings, a challenge to find. Playart's later, second generation Cosmo Coupe is somewhat more abundant than the Discmatic; however, this miniature fails to capture the spirit of its predecessor due to its cheapened construction, its overly narrow stance and its disproportionate wheels. Finally, Playart gave the world of 1:64 scale die cast its only Mazda pickup to date. Marketed in a variety of color schemes (some of which, such as the U.S. Army variants, seemed rather far-fetched) and as both a standard pickup and wrecker, this casting is probably the most common of all the Playart Mazdas due to its long production run and frequent inclusion in gift sets.
An intriguing model with an unclear history is Hongwell's 1:64 scale casting of the first generation RX-7. Recently appearing in a gift set with three other late-1970s vintage car castings and a tractor-trailer type car hauler, the RX-7's construction consists of a simple body shell and base plate featuring black window glazing and no interior molding completed with four wheels and two axles all held together with two small screws. Since this model (and the others included in this gift set) are of a different scale than recent Hongwell products and seemingly unrelated in their age, design and execution, it would seem logical that these accurately shaped castings were inherited from another manufacturer that was doing business during the late 1970s.
Viewed with disdain as an off-brand for years, Zylmex models are finally beginning to receive some of the respect and attention that they always deserved. Always eager to promote the shining stars of the Japanese automotive industry, Zylmex produced three separate Mazda models during the 1970s and 1980s: the nicely done first generation RX-7 (easily Zylmex's best Mazda casting), the rather crude second generation RX-7 (available until rather recently) and the equally crude and largely lifeless Miata. Picking up where Zylmex left off, Motormax has quickly become something of a major player in the field of 1:64 scale die cast cars largely through word of mouth and sporadic appearances and mentions on internet news groups. Although not always readily available, Motormax's range of high quality 1:64 scale cars and trucks offers something to appeal to almost everyone who collects toy vehicles. Of special note is the line's inclusion of some Japanese cars that most other die casters will never bother with such as the Toyota Corolla and Camry, the third generation Mazda RX-7 and the first generation MX-5 Miata. While the RX-7 is a striking miniature rendition of this elegantly styled sports car, the Miata is sadly not quite its equal due to old (and ugly) Zylmex-era wheels and an overly thick and cumbersome windscreen frame.
Now widely known for its extensive range of 1:43 scale police cars, Road Champs actually first established its presence within the die cast market through a line of crude 1:64 scale cars that were marketed as inexpensive toys. Among the generic offerings was an unmarked however immediately identifiable Mazda MX-5 Miata. Painted in more reserved colors than most toy cars, this uninspired model is really only a necessity for Mazda fanatics who must have one representative of each Mazda castings in their collections. Likewise, an even cruder Miata was produced by Summer, a die cast manufacturer that has based its entire reputation on its cheap, distorted and often comical models. Summer's MX-5 Miata is only notable for having its convertible roof raised (a somewhat unusual feature since most 1:64 scale Miatas have their roofs folded down) and almost nothing else and therefore is recommended for completists only. Adding yet another simplistic miniature to the mix is the beloved old brand of Tootsietoy with its second generation RX-7, which, like the models from Road Champs and Summer, leaves a lot to be desired and is actually a Welly casting copied from Tomica. Finally, before producing its current range of high quality, original castings, Welly sold many pirated models including a first generation RX-7 that bore more than a passing resemblance to a similar Tomica miniature. Of better quality than the aforementioned models, Welly's RX-7 is nonetheless cheaply made and decorated with unflattering graphics printed across its body casting.
Strangely for a company that has launched such an aggressive drive to penetrate every sector the world's die cast market, Thailand-based Maisto has only produced a single Mazda model: a 1:64 scale, second generation RX-7. A well-proportioned and nicely detailed miniature, Maisto's RX-7 often wore oversized graphics that at least were applied in colors that somewhat matched or complemented the main body color. An anomaly in the Maisto range, the RX-7 leads collectors to question why the company has failed to deliver any other Mazda models throughout the variety of scales it produces.
The first Matchbox Mazda casting, a miniature of the RX500 show car, was made in England by Lesney Products and Co. Ltd. Equipped with an opening engine compartment, the Matchbox RX500 was an adequate model of this vehicle; however, in a side-by-side comparison with Tomica's version of the same car, the sad decline of Lesney's models during the Superfast period becomes painfully clear. By the early 1980s, Lesney's dire financial situation forced it to farm out production of many of its models to the Far East with several models being produced by Universal in its Hong Kong facilities. Seemingly to confuse matters only more, yet another country of origin was added to the growing list of England and Hong Kong with the appearance of four new castings of Japanese cars that were initially only made and marketed in Japan. A rare variation today, the Japanese-made version of Matchbox's first generation RX-7 was part of a set of four cars that also included a Toyota Celica, a Mitsubishi Galant Sigma and a Nissan Fairlady Z. Later, these same dies migrated to Hong Kong where production of all four miniatures continued for some time while distribution of the models was expanded to all regions where the Matchbox brand was sold.
After the financial failure of Lesney Products, Hong Kong-based Universal acquired the revered old English trademark and continued production of Matchbox models in Hong Kong and later Macau, Thailand and China. While a number of Lesney's old tools were recycled by Universal, one that was not was the original first generation RX-7 die that had begun its life in Japan. Instead, new tools were cut and a second and completely new RX-7 casting appeared that, while similar, was subtly different in detail and execution. Modified from this casting, another RX-7, the IMSA competition version was produced; featuring widely flared fenders and racing graphics, it would be the final RX-7 from Matchbox until the arrival of a third generation model.
By the time that Mazda introduced its third-generation RX-7, the Matchbox brand name was under the control of Tyco Toys--a company whose ideas of improving the range of models harshly clashed with the brand's traditional values. Vividly driving this point home was the new RX-7 casting, which, although highly accurate, was repeatedly decorated with some of the most hideous paint schemes and ugliest wheels ever to disgrace a model car. Fortunately, the casting was also made available in a more expensive, limited edition World Class version that thankfully featured more sedate colors as well as nicely detailed wheels with separate rubber tires. Yet Tyco couldn't resist at least one inappropriate distraction and to this end inserted chromed window glazing. Fortunately, this model was later offered in the Premier Edition series without the chromed windows and in decent colors. The history of this casting is a true shame since it is quite possibly the best miniature of this particular car to be yet produced.
In the one-offs department, several Mazdas have appeared over the years with many contributions from manufacturers that are now defunct. One exception to this rule is Majorette, a company that is, despite many ups and downs and no current U.S. importer, very much still with us. Majorette's single Mazda, was, as might be expected, a toyish yet overall acceptable model of the first generation RX-7 that is a scarce find today. Other one-timers include the long-departed Kidco with its first generation RX-7 that featured an opening engine compartment and Universal's pre-Matchbox RX-7 Turbo. W.T. of Hong Kong also produced a crude first generation RX-7 that like all models from this company, carries a solid back window. This casting still appears on occasion under different names. Fortunately, most of these RX-7s compensate for their lack of further Mazda companions with accurate proportions and delicate detailing.

While collectors would have expected more Mazda activity from Hong Kong-based Yatming after its production of models of several lesser-known Japanese cars, it has only produced two models with its late 1970s miniature of the first generation RX-7 and a recent version of the second generation RX-7 that includes curious rear-window struts.
Although many collectors expect die cast manufacturers to produce models that reflect their base of operations, an Iowa company far better known for its toy tractors produced two different Mazda RX-7 castings. Ertl's first generation RX-7 miniature is moderately successful: while its body shape is, in side profile, spot-on, its wheels are too large and it suffers from overly narrow tracks. On the other hand, the second generation RX-7 from Ertl was offered in a childish 'Speed Stripes' version which failed to live up to the scale-model accuracy that the earlier casting strove for. Nevertheless, both models are interesting examples of a short-lived yet fondly remembered range of 1:64 scale cars that never fully gained wide-spread acceptance.

Most recently, Racing Champions has released a series of models from popular 'The Fast and Furious' movie. Included are two third generation RX-7 models from the same casting. One looks basically stock while the other sports fancy wheels, splashy paint and a rear spoiler. The quality of these models is quite good and they are currently available.
Finally, Mattel's Hot Wheels is another American-based company that has produced only a handful of Japanese miniatures, especially when considering the longevity of the brand. While there are a few Toyotas and Nissans, Hot Wheels has offered only a single Mazda to date: the Miata. A heavy casting with a die cast body and base, this miniature has often been marred by poor paint color choices, a simplistic interior molding and ugly wheels. With its haphazard approach to its Miata model, it is perhaps just as well that Hot Wheels has done so few Japanese miniatures.
Thus we conclude our review of 1:64 scale Mazdas. Nonetheless, this is a continuing story as the new RX-8 is certain to spawn several new castings and undoubtedly at least Tomica will produce models of some of the other Mazdas that are viewed as less exciting. Stay tuned: it's sure to be a fun ride!
---
References:

Long, Brian. Mazda MX-5 Miata: Renaissance Sportscar. Dorchester, England: Veloce Publishing PLC, 1998.

Matras, John. Mazda RX-7. Osceola, Wisconsin: Motorbooks International, 1994.

Ruiz, Marco. The Complete History of the Japanese Car, 1907 to Present. New York: Portland House, 1986.