Polistil is Back

The Italian Polistil brand which had faded away many years ago has now been reborn. BBurago has purchased the rights to use the name (I believe from Hasbro), and at Nuremberg Toyfair they presented a whole new range of diecast models under this name, including a small-scale series. However, this is not quite as good as it sounds, for the models are neither made in Italy nor are they unique castings. They come from China, and my impression is that all or at least most of them are actually by Realtoy. Here are some of the more interesting examples (images courtesy of Polistil).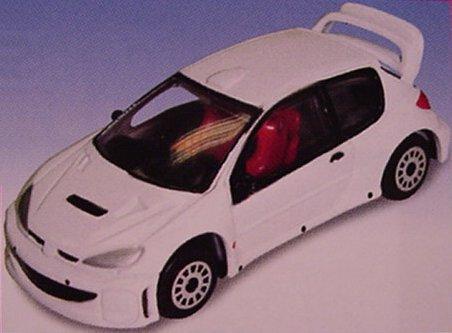 .
First yet another Peugeot 206 WRC (beside those by Majorette and Guisval - there may be one by Norev too). And second a set of two Alfa Romeo 156 police cars in their packaging.


---
1/72 scale diecast - competition for Hongwell
For quite some time Hongwell has been the sole company offering detailed 1/72 scale diecast models of passenger cars. Their models have appeared under various brand names, in various packaging types and even with different names cast on their bases (most notably Schuco), but essentially it was always the same range of products. Now their success has made some other companies step up to compete against them. For example, I wonder if anyone of you has ever heard of a company called JoyCity. It is another Hong Kong enterprise, and its products look very much like Hongwell in every way. I have encountered them for the first time at Nuremberg Toyfair. Here is an example of a JoyCity model: Initially they are offering the following castings in 1/72 scale (image courtesy of Joy City).
BMW M3
BMW X5
BMW Z8
Mercedes-Benz C-Class
Mercedes-Benz S-Class
Mini Cooper
Mitsubishi Pajero

A representative of the company told me that - just like Hongwell - these models are offered to various retail chains with the option of being packaged in different styles and with different brand names. Another brand name used by JoyCity themselves is Automaxx. (I take it if JoyCity corresponds to Hongwell, Automaxx corresponds to Cararama.) It will soon be difficult to determine who actually made certain 1/72 models you see in the stores!
And there is more. Yat Ming has extended its "collectibles" range called Road Signature (previously only known for 1/43 scale models) by a series of 1/72 scale models which yet again look very much like Hongwell products. Their baseplates feature an "RS" logo. Yat Ming's "toy" line called Road Tough is still being made, but these models are very different. The following castings were shown at Nuremberg:
Alfa Romeo 156
Audi RS4 Avant
BMW M3 Convertible
Jaguar X Type
Lexus SC 430
Mini Cooper S
Nissan 350 Z
VW W12 Nardo
Finally a word on Hongwell themselves: Although they still have a stall at Nuremberg, it is getting more and more difficult (for a humble collector like me) to communicate with them. I think it is perhaps a good thing that they now have some competition. Most of Hongwell's new castings are Mercedes roadster models: 190 SL / W 121 II, 300 SL / W 198 II, 280 SL / W 113 and 560 SL / W 107, all four of them available with open top, closed soft top and hard top. Besides there is a Ford F-150 Pickup and a 1950s Chevrolet 3100 Pickup.
---
Majorette series 200 - news for 2003
Luckily Majorette is still with us, but at Nuremberg Toyfair it was obvious that something had changed, for instead of their previous big prestigious stall in hall 12 (now used as a secondary location by Mattel) they now occupied a much smaller stall in hall 7 and shared it with Solido - the two brands still belong together. The biggest part of the Majorette display was taken up by a new range of fantasy vehicles appropriately called "Fiction", described as innovative designs with bodies composed of diecast metal as well as "soft parts". The only models actually shown at Toyfair were the three casting variations of 217B/C/D, called "1946 Chevrolet" on their baseplates.As apparently the bulk of resources was needed to develop this range, there is not very much new in the traditional small-scale series 200, but here are the catalog pictures of the new castings (images courtesy of Majorette)

---
Siku news for 2003
The majority of new items as shown by Siku at Nuremberg Toyfair are farm vehicles and trucks, including an all new range of 1/87 scale trucks, which are distinguished from their stablemates Wiking by being diecast metal. Most of the new passenger car models are heavily biased on just one car manufacturer, Mercedes-Benz, but there is also something which reminds me of a certain Matchbox model from four years ago. And finally, here is something for the model radar trap collector. (images courtesy of Siku)

---
Welly small-scale news for 2003
Since apparently they do not have it on their website yet, here is a list of new small-scale castings announced by Welly for 2003. As this is based on my hand-written notes made at Toyfair, I am not sure if it is 100% accurate.
2223 1970 Ford Mustang
2224 VW Microbus
2233 Peugeot 406 Coupe
2238 Dodge Viper RT/10
2239 Toyota Celica
2240 Lotus Elise
2241 Subaru Impreza WRX
2242 BMW Z4
2244 2002 Chevrolet Camaro SS
2245 Peugeot 206 CC
2248 1970 Buick GSX
2250 GMC Yukon
2251 Mercedes SL 500
2252 Lamborghini Murcielago
2253 Audi A4 Cabriolet
2254 VW Passat Variant
2255 Honda Integra Type R
2256 Toyota MR2
2257 BMW 745i
---
Guisval news for 2003"
As with Majorette, I am happy to report that Guisval is still with us as well, although they keep a rather low profile at present. I was told that right now they do not have any distributors for Germany or Austria. They keep on looking for interested parties, but as it seems with not much success. For 2003 there is just one new casting (in both 1/43 and 1/58 scales), a very attractive Peugeot 206 WRC, to be issued in several liveries. Here is an example of the small-scale version. (image courtesy of Guisval)


---
Small-scale Norev news"
Like every year I visited the Norev stall at Nuremberg Toyfair yesterday, but unlike previous years this time I had anticipated to see a display of their new small-scale diecast models there. Unfortunately though there were none on display at all - just lots of 1/43 scale models and some H0 scale plastic items. I was told the reason of the small-scale models being kept secret from the trade is the fact that they are produced exclusively for the car manufacturers, i.e. Peugeot, Citroen and Renault. Those models are not for sale anywhere else but at car dealerships, so it is not deemed necessary to show them to the toy trade. According to product manager Nicolas Urien, who I had the pleasure to talk to, the company is presently considering offering these models to retail stores, but no final decision has been made as yet. If they do it, it will happen in six months' time at the earliest. However, they are working on further models for this range, including the Citroen C3 Pluriel, Xsara WRC, Jumper van and others. Let us keep our fingers crossed that we will see more of this stuff in the future, and that the models will become more easily accessible eventually.
---
News from Nuremberg - other small-scale brands"
Apart from those covered in separate threads, here are a few words about other brands of small-scale diecast models seen (or not seen) at Nuremberg Toyfair:
At the Maisto stall I was unable to spot any new castings. It seems they have now adopted Mattel's policy of not showing their new castings at Toyfair anymore - unless they really have none? Unfortunately the small catalog given out includes only the larger scales.
Gateway a.k.a. AutoArt seem to concentrate mostly on their larger scale models. The small-scale range was on display, but with no new castings, only a few recolors.
The Japanese Kyosho company showed a range of 1/64 scale models similar in style to AutoArt. Apparently the models offered are only various generations of Honda NSX, Mazda RX-7 and Nissan Skyline.
Edocar is continuing its policy of combining castings made by several other companies to build its own range. It is not easy to tell which is which, but I think most of the new ones are by Golden Wheel.
Golden Wheel themselves as well as Red Box/Motormax and Realtoy had their own stalls at Nuremberg, but it was not easy to tell any new castings from old ones as they tend to not set them apart from each other at all (and I tend not to know them well enough). As mentioned in another thread, Realtoy models are now also offered by BBurago under the Polistil name.
Kintoy a.k.a. Kinsmart showed a quite respectable product range, and it seems they are now ready to offer assortments containing a selection of different models, which they did not do in the past. I am not quite sure what is new and what is not, but a 1965 Mustang notchback and a 1955 Thunderbird with hardtop caught my eye.
Revell and Racing Champions did show some small-scale models at their respective stalls, but only as a sideline to their larger-scale models which they clearly put the emphasis on.
Racing Champions of course carries the heritage of Ertl as well as Britains, both of which used to have big stalls of their own at Nuremberg in the past. Now all that is left of them are very small sections of the small Racing Champions stall.
Like last year, Summer was not to be found at Toyfair anymore, and sadly the same applies to Tomica. The big Tomy company never displayed any diecast models at Nuremberg, and the Dutch company Replicars, which used to show some Tomica in the past, is now concentrating solely on 1/43 scale models.
Brands such as Jada Toys and Tiger Wheels and also Code 3 were shown by a few independent companies importing different models from the USA. Boley, on the other hand, had their own stall, I believe for the first time.
Completely absent, like before: Johnny Lightning. What can we do to persuade them to come to Europe?
---
Editor's Note: It is a pleasure to welcome Christian to our distinguished list of contributing writers. His report on the Nuremberg Toy Fair is a great addition to our regular reports. Christian is an active collector of Matchbox and Citroen models. To visit his Web site, click here: http://www.mboxcommunity.com/cfalkens.