Like so many other car manufacturers founded during the late 1800s, Adam Opel can easily trace its lineage back to the Industrial Revolution when it was founded to produce mechanical although not yet motorized devices such as bicycles. Opel entered automobile manufacture by first producing vehicles of outside design and then later switching to importation and distribution of French-made Darraqs before finally introducing its first original design in 1902. The first true Opels were popular enough in Germany to allow the upstart car company to survive while others around it quickly faded. In fact, Opel even managed to emerge from World War I as one of Germany's foremost automakers.
While no one would ever accuse Adam Opel of being innovative, the company, at times, could be rather progressive. As proof, consider that during 1924 it became the first German automobile manufacturer to install a moving assembly line, patterned mostly after Ford, in its Russelsheim factory. Although this markedly enhanced Opel's production efficiency, the cost savings introduced by these changes were not enough to protect it from the imminent downturn in the world economy that hit Germany, still attempting to recover from World War I. In order to survive economic ruin, the previously family-owned Adam Opel went public via a stock offering in 1928. It was at this time that General Motors, eager to expand its European operations and market share, stepped in and assumed control. The pairing of the two companies was a good match: although Opel's vehicles were hardly cutting-edge designs, its products did represent solid, reliable transportation that was value priced--much like a German version of its new parent company's best-selling Chevrolets.
Under the auspices of General Motors, Opel continued to supply its customers with robust, entry-level German-made cars and trucks that had little viable competition on the domestic market save for the Cologne-built Fords. However, a governmental regime change would forever alter Opel's fortunes: not only did the Nazi party seize Opel from General Motors and nationalize it, the Third Reich also sponsored what would eventually become the company's fiercest competitor--the Volkswagen. Under Nazi control, Opel produced goods for the war effort with perhaps its best remembered contribution being the Blitz trucks that seem destined to be seen for all eternity in World War II movies. In the aftermath of the war and prior to General Motors restoring its control over its former German branch, the Soviet army managed to take from Russelsheim, as war reparations, everything necessary to set up a Russian factory to produce the Opel Kadett in Moscow. Although redesigned several times during the intervening years, the current Moskvitch product line still owes considerably to the pre-war Opel design, marking one of the few times Opel was truly an originator.
Once returned to the General Motors fold, Opel followed a similar route to GM's English subsidiary Vauxhall. Throughout the 1950s and 1960s: both built high volumes of relatively high quality yet unsophisticated models that could exhibit concurrently all the grace and complete lack of taste that Detroit styling could offer. Needless to say, what looked ugly on a big Chevy, Pontiac or Oldsmobile did not translate well onto the smaller Opel and Vauxhall body shells and despite a great deal of attention paid to making the cars suit their markets, they always came across as little more than downsized American cars. Together with another American tradition of deriving as many models from a common platform as possible, the perception of Opel and its products has not significantly changed over the years and its vehicles are frequently held in rather low esteem compared to its competitors made in Munich, Stuttgart and even Wolfsburg.
While BMW, Audi and Mercedes have always produced more accomplished and technologically advanced designs, the level of engineering prowess displayed by these companies simply cannot be cost-effectively offered within the significant market segment that Opel occupies. For this reason, automotive consumers continue to clamor for the simple and reliable types of transportation that Russelsheim is so consistently able to produce. Absent from the American market for almost three decades, Opel has not been forgotten here, either and there remains a stoic group of loyalists that have continued to enjoy their stylish Mantas and slinky GTs.
While it has depicted a considerable number of Vauxhalls within its 1-75 miniature range, Matchbox has also given some attention to GM's other European brand, Opel. The first Opel model produced by Matchbox was a handsome model of the first generation Chevy 327 V8-powered Diplomat that featured an opening hood. Early issues were equipped with regular wheels; however, the Diplomat was one of the Matchbox models that made the transition to the new Superfast wheel types when they were introduced and this variant is somewhat scarcer than the earlier version. Almost two decades would pass before Matchbox would offer another Opel and even when it did, the model was obviously an afterthought: originally labeled as a Vauxhall Astra, the model belatedly acquired the additional name of Opel Kadett on its base plate as well. A less than engaging model of an even less engaging economy car, this double-duty Matchbox was decorated in civilian, racing and police guises. The Opel Vectra/Vauxhall Cavalier was another dual model from Matchbox. This is an excellent casting of a car not done by other toy car makers. One of the most heavily badge-engineered passenger cars ever, the Isuzu Rodeo has been marketed under a wide variety of other marque names including Honda, Holden, Vauxhall and Opel. Once again providing collectors with several variants of the same basic casting, Matchbox has sold their miniature as both the Vauxhall and Opel Frontera in Europe while settling on the simpler Isuzu Rodeo name for American consumption. Another badge-engineered vehicle that Most recently, Matchbox generated a well-proportioned and neatly detailed miniature of the successful Calibra race car; early versions are orange with racing sponsor graphics while later models promoted the World Cup Soccer Championship.
Often relegated the 'junk car' pile by kids due to the brand's lack of slick advertising, Zylmex is still rarely given the attention it deserves for its many outstanding and accurate models. One of the best miniatures ever produced by Zylmex was its rendition of the Opel Commodore Coupe (#D51): its stance and proportions were spot-on and even the bright colors the model was painted in were authentic to the actual cars. Sadly, this early Zylmex casting is a challenge to find today although many of the company's lesser efforts are still quite abundant. Receiving considerable attention of late, Hong Kong-based Playart made two Opels: a particularly nice miniature of the GT and later a stately Commodore. Unfortunately, both of these miniatures are rare today with the Commodore either being sold for a very short period or perhaps never in the U.S. Another Far Eastern Opel one-off, Hong Kong-based Yatming tooled up a miniature of Opel's big Admiral executive sedan. Accurate yet in the end a quite dull model, the Yatming Admiral occasionally surfaces on today's antique toy market and typically at very reasonable prices.
Not widely known or distributed outside of its native Spain, Guisval has, so far, produced two somewhat curious Opel miniatures. While most diecast makers seem to favor offering miniatures of a car maker's most high-profile vehicles, Guisval made a rather unconventional move and generated toy versions of Opel's bottom-of-the-range economy cars: the Corsa and the Kadett. Although both cars were competent enough for their intended purpose, it was all Guisval could do to make the models of them appealing to both kids and adult collectors and to this end they were decorated with simulated racing graphics.
With only DAF to carry the banner of home-grown automobiles, it is probably not surprising the most of the Best Box range of models concentrated upon cars produced by Holland's neighboring countries. Two such miniatures were the now rarely seen #2512 Opel Rekord and #2515 Opel Rekord 1900; similar to Matchbox models of the same period, locating specimens will undoubtedly require a long search.
By far the most prolific maker of miniature Opels is Germany's Siku with nearly two dozen to its credit. Early Sikus were produced in a heavy, thick plastic yet in spite of their inherent ruggedness, obtaining examples of the first Siku moldings can be a daunting and costly task. Although somewhat beyond the intended scope of this discussion, it is worth noting that the following Opels were made by Siku in plastic since few other miniatures of these cars are available from any other company in any other scale: V7 Rekord (1953 version), V8 Kapitan (1954 version) V9 Caravan (1953 version), V83 Rekord (1958 version), V143 1200, V147 Caravan (1960 version), V148 Kapitan (1960 version) and V171 Rekord (1960 version).
After switching over to metal castings, Siku continued to honor Opel with several more now rare miniatures including V204, the early 1960s Kadett, V223, 1963's Rekord, V226 the 1963 model of the Caravan 1500, V252, 1964's new Kapitan, V271, an attractive Rekord Coupe, V272, the curvaceous Rekord Caravan of the late 1960s and V286, the only Olympia offered by Siku. In later years, Siku's Opel production was reduced to only a couple of models during the 1980s that covered the low and high ends of the company's range. At the bottom was the lifeless Kadett SR (#1047) that was equipped with an opening rear hatch while the top was covered by the big Senator 3.0CD (#1040).
Most often viewed as a miniaturized German Corvette, the GT remains one of Opel's most readily recognizable and beloved efforts. Built atop a Kadett chassis, the GT offered high style and better than average performance in a neatly proportioned and well-made package that proved highly popular in both Germany and abroad. As might be expected, Siku was quick to produce a miniature of the car that, while a noteworthy model with several elegant touches, proved just how difficult the car's lines were to reproduce in scale. Equipped with operating doors, the Opel GT is, like most contemporary Siku models of the period, difficult and costly to obtain on today's antique toy market in either of the catalogue numbers it appeared under: V304 and 1018.
The 1990s witnessed a revival of the Siku and Opel relationship and some unique models began to appear again by the middle of the decade. All too frequently overlooked, Siku paid some much deserved attention to two hard working station wagons with its miniatures of the Astra Caravan (#1036) and the Omega Caravan 2.0 16V (#1054). Equipped with operational tailgates, both of these Opels have apparently been recently deleted from Siku's catalogues. An Isuzu Amigo in everything except name, Siku offered a small-scale version of the popular Frontera Sport SUV (#1027) that arrived complete with a removable rear roof.
Despite being a short-lived range of miniatures, those made in 1:66 scale by Schuco during the early 1970s have rarely been bettered. The first Opel to make its debut within this exceedingly accurate line of models was #811, the Commodore Coupe. With a slightly different paint scheme, this model was reintroduced as #822, the Commodore GS Rallye Coupe. Showing off markedly better proportions than Siku's competitor, Schuco's Opel GT was its second Russelsheim offering and assigned the number of 814; later it appeared with black stripes as the GTJ (#848). Featuring perhaps the most delicately cast opening doors up to that point, both variants are in high demand among GT aficionados. Even though range topping models are often the first to be immortalized in diecast, the barge-sized Admiral with its overtly American styling would become the third Schuco Opel at #819. In a surprisingly move, this casting was only issued as the Admiral although it could have been easily painted another color (like many other Schuco models) and called a Diplomat.
A stylish and successful car for Opel, the Ascona based Manta directly took on Ford's sporty Capri as well as several other cars with more solid sporting credentials. Strangely, the Capri inspired a vast array of miniatures while the Manta only scored two, both produced by Schuco. The miniatures were both Manta Srs, the main difference being #839's matte black hood and racing stripes and #848's monotone paint scheme. Another singular Opel for Schuco, the Ascona Voyage (#846) was the only station wagon offered in the 1:66 scale range and one of the few castings not marketed under two different catalogue numbers. The final Opel casting to appear from Schuco prior to its terminal financial difficulties, the Rekord II (#856) was well-proportioned miniature of this rather conventional family sedan. Reflecting Schuco's long standing tradition of coaxing as much mileage out of a single casting as possible, the Rekord II became the Commodore (#857) when its roof was painted black to simulate vinyl.

Corgi did produce one Opel in their Junior line. The base-level Corsa features an Opel logo on the top and the name 'Opel' is blazed across the hood. perhaps that is to counteract the base that reads "Vauxhall Nova". Herpa is better known for 1:87 scale cars but they did produce a few 1:66 scale models. Some of these were made in Russia, including a very nice Corsa from the 1990's.
Recently, China-based companies have begun to execute a few Opel models that garner a mention. In its earlier range of largely pirated castings that were distributed by Walgreens drug stores at two for $1, Welly sold what appeared to be an Opel Commodore (although it might have actually been intended to be a Vauxhall.) Another generic albeit obviously Opel casting was Real Toy's Calibra that was decorated with imaginary racing sponsor logos.
And now we conclude our review of most of the significant small-scale Opel models. A producer of solid, family-oriented cars that somehow seem to lack any degree of pizzazz, the disregard Opel has been shown may change with the startling new Speedster sports car, a 2003 Matchbox release. Whatever happens, Opel has been with us for over a century and it is improbable that it or its parent General Motors has any desire to see the brand go the way of Oldsmobile.
References: Georgano, G. N. The Complete Encyclopedia of Motorcars, 1885 to the Present, Third Edition. London: Ebury Press, 1982.

Diplomat - Matchbox


Kadett GSi - Matchbox


Vectra - Matchbox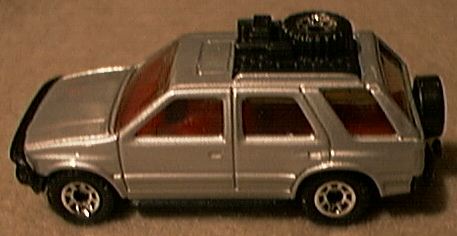 Frontera - Matchbox


Calibra DTC racer - Matchbox


Admiral - Yat Ming


Corsa - Guisval


Kadett - Guisval


Senator - Siku (Hungary)


GT - Siku


Astra Caravan - Siku


Omega Caravan - Siku


Frontera Sport - Siku


Manta - Schuco


Corsa - Corgi


Corsa - Herpa (Russian-made)


Calibra DTC racer - Real Toy