Mitsubishi Eclipse X25 concept - Zylmex
---
Generation I - 1990-94
---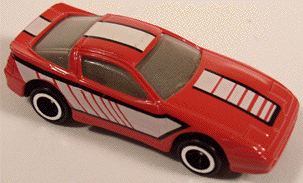 Mitsubishi Eclipse 1990-94 - Ertl (Speed Strips)


Mitsubishi Eclipse 1990-94 - Ertl (Speed Strips)


Mitsubishi Eclipse 1990-94 - Ertl (Speed Strips)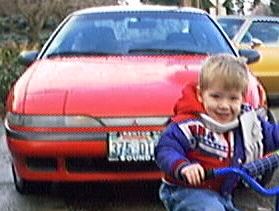 Our very own '91 Eclipse GS 16V
Mitsubishi and Chrysler created Diamond Star Motors (DSM) in the late 1980's. A U.S. factory was dedicated to the production of a new 'pony/GT' car. The Mitsubishi Eclipse appeared in 1990 along with the Plymouth Lazer and Eagle Talon. Re-badged versions of the same basic car, these three models sold well for several years. They included turbo-charged and all-wheel-drive models and all but the base level offerings had a lovely DOHC 2.0 litre, 16 valve motor.
The three DSM siblings were active in rallying and club racing. In 1995, the Eagle and Plymouth versions were cut but the Mitsubishi Eclipse continued with a new body style. The styling was not as well-received as the first-generation cars and sales dropped. In 1999, a new body style appeared that is still in production. Sales have improved. Recent popularity of 'The Fast and the Furious' movie cars has provided renewed interest in the Eclipse as a 'tuner' model.

Small-scale Eclipse models actually start with the X25 concept car on which the first- generation Eclipse was based. Zylmex did a model of the 2-seater roadster and Red Box still offers it in their Motor Max line. While the production car was done as a hatchback 2+2, the basic shape of the Eclipse can be seen in the X25.

Considering the success of the 1990-94 Eclipse, it is curious that only Ertl did a small-scale model in their short-lived Speed Strips series. Speed Strips featured a view able comic strip inside the cars. Images of this hard-to-find casting are provided courtesy of Jeff Koch, I'm still looking for one to go with my real 1991 Eclipse GS 16V (shown left with a happy 3-year old).

With 'tuners cars' the rage in diecast today, three companies have now produced second generation Eclipse models. XConcepts, Racing Champions and Revell currently offer quality castings in the $2-4 range. All of these examples are modified but not to excess. Opening hoods show the transverse 2.0 litre motor.

The third generation Eclipse came as part of a Mattel/McDonalds promotion. It is a simple but decent casting of the current Eclipse model. Examples have become quite scarce as current Eclipse owners want these little cars. I get regular requests for this model but only have the one that came with my Happy Meal.
Hot Wheels has a new 'tuner' Eclipse in it's '03 line (image right). Jada has just released a new Eclipse model in their Dub City line (image courtesy of Jada).

A fourth-generation Eclipse is in the works so this story will continue. For now at least, all generations of the Eclipse are covered.
---
Generation II - 1995-98
---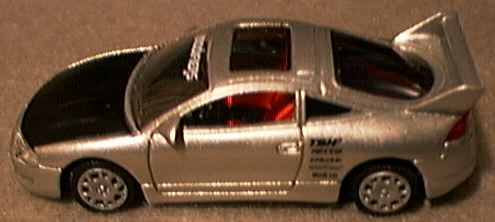 Mitsubishi Eclipse 1995-98 - XConcepts


Mitsubishi Eclipse 1995-98 - Racing Champions


Mitsubishi Eclipse 1995-98 - Revell
---
Generation III - 1999-2003
---

Mitsubishi Eclipse 1999-2003 - Mattel/McDonalds


Mitsubishi Eclipse 1999-2003 - Jada