Few automobile names have remained in continuous production for a century, especially in the United Kingdom where some of its most widely known and fondly remembered automobile brands, such as Sunbeam, Riley, Alvis and Triumph, ended their runs more than two decades ago. Elsewhere, only a handful of car makes have survived to reach this pivotal milestone and even then, it has not necessarily secured their futures; however, one British car has proven its resilience: Vauxhall, which built its first automobile one hundred years ago in 1903. As might be expected from a company with such a long-standing tenure, Vauxhall has had a very storied history.
As its name implies, the Vauxhall Ironworks Ltd. was initially headquartered in Vauxhall Gardens where it specialized in manufacturing propulsion products for an emerging marine industry that was hurriedly switching from sails to other forms of motive power. After failing financially during the last decade of the 19th Century, it was decided that the company could investigate the production of automobiles as a sideline to generate much needed capital. After developing a viable chassis and power train during the intervening years, the first Vauxhall car left the works during 1903 and like most of its contemporaries, it was intended to be a plaything and source of amusement for those wealthy enough to afford it. In time and with several noteworthy competition successes, Vauxhalls came to be recognized as highly desirable sporting machines that were easily the equal of those wearing the name of Rolls-Royce.
By 1907, the car manufacturing side of the business was performing so well that the old shops could no longer suffice, leading Vauxhall to depart the Gardens for more spacious quarters at Luton--the town that the company has called home ever since. Hoping to stay ahead of the game and attract ever more customers, Vauxhall applied many noteworthy albeit costly (hydraulic brakes when most cars still relied on mechanical systems) or unproven technologies (such as the infamous sleeve valve engines) to its cars that cost more to implement than could ever hope to be recovered. Sadly, Vauxhall found that while its automobiles were widely coveted and held in the highest of regard by both their owners and the general public alike, their high-profile/low volume vehicles could not be profitably produced. Over time, this weakened Vauxhall to the point that it began struggling to remain a viable manufacturer and eventually led it to becoming the victim of an early corporate buyout.
Aggressively seeking to compete with its rival Ford and expand its operations beyond the United States, General Motors' 1925 purchase of Vauxhall signaled the end of the marque as one of Britain's elite prestige brands. Representing GM's first overseas venture, Vauxhall would aid this American master of mass production in its penetration of three critical markets: Britain itself, Britain's colonial holdings throughout its empire and continental Europe. In order to accomplish its new parent company's goals, Vauxhall was reshaped into something of a British Chevrolet that would appeal to a larger and considerably more profitable buyer base than previous Luton products. The strategy worked and within just a few years, Vauxhall was poised to become one of Britain's largest auto producers; nonetheless, its new standing came at the price of it being viewed by the typical Briton as a 'foreign car' despite its very British nature and qualities.
Under GM's auspices, Vauxhall traded off its former image as a maker of expensive and exclusive sports cars for one that saw it become a pioneering force in the use of new automotive technologies that an average person could afford. Vauxhalls remained stylish yet less flamboyant as GM rather wisely directed the company's automotive endeavors and even set up a highly successful truck manufacturing division known as Bedford. Although many felt that Vauxhalls and British Fords were complimentary, such an attitude was largely superficial since Vauxhall, especially during the late 1930s, often stood at forefront of British automotive technology with its use of new engineering principles that the conservative Ford would never think of placing into series production. Luton's cars were undeniably better vehicles than Dagenham's: Vauxhall built the first British unibody car, equipped its cars with hydraulic brakes and fitted overhead valve engines while Ford soldered on with antiquated designs that were only competitive due to their low prices.
Until 1939, Vauxhall had enjoyed a highly successful and profitable run, reversing its once dismal fortunes via the mass market; however, with the German invasion of Poland, private car production was soon halted to allow Luton to concentrate upon the manufacture of Churchill tanks for the war effort. After the end of the hostilities and seven long years without any new cars, Britons were eager to replace their old motors with new ones and Vauxhall responded by resuming production of its pre-war designs until an all-new range of post-war models could be designed and properly developed. Despite Vauxhall's golden age during the Edwardian period, the post-war years must rank highly among the most memorable time spans in the company's history with its Transatlantic styling themes and two-tone pastel paint schemes coupled with solid engineering. During this time, both Vauxhall and Opel were autonomous, yet, like Ford, GM found that producing two completely separate lines of cars in Europe was rapidly growing uneconomical. By the 1970s, and much to the dismay of died-in-the-wool Luton fans, Vauxhalls went 'continental' and began to share platforms with Opel that were identical except for the badging and the side of the car that the driver sat on.
As with any automobile company with such a long and eventful history, it should be expected that Vauxhall's most significant moments have been documented by die cast car manufacturers. While this is largely true, it is curious that, with only a few exceptions, Matchbox can be viewed as Vauxhall's exclusive 1:64 scale model producer. Irrespective of who made them, miniature Vauxhalls represent a lot of what constitutes the classic mystique of British die cast toys; let's review some of the best examples.
Although the most famous Vauxhall miniature of all time is probably the Prince Henry offered by Matchbox as a member of its Models of Yesteryear lineup, it was not produced in small scale until Zylmex tooled up what appeared to be a miniaturized version of Lesney's original miniature. Best described as simply a 'cute' model, the Zylmex Prince Henry was not endowed with a great deal of detail and to make things worse, it was invariably equipped with less than suitable wheels. Becoming increasingly scarce, perhaps owing to its somewhat delicate construction, this model can now prove a challenge to locate. Also worth noting is a crude, generic casting that again obviously takes its inspiration from the earlier Lesney casting except for its absurdly extended front wings. Although nameless, this Chinese-made Prince Henry has been widely distributed during recent years along with several other miniatures that likewise belie their originality with all the telltale hallmarks of copying and piracy.
Early in the history of Matchbox miniatures, the toys' creators felt that their customers desired models only of commercial vehicles and it was not until the firm had generated 20 such models that it finally turned it attention to passenger cars. As most Matchbox fans are aware, the first 'road car' miniature offered by Lesney was the sprightly MG Midget Sports Car which was followed after two more interceding commercials by #22-A, a Vauxhall Cresta. While perhaps something of a surprising choice due to the common British viewpoint of Vauxhall being a 'foreign' car, the Cresta pushed then existing die casting technology and equipment to its limits with its delicate, shrunken Chevrolet body shape and its adventurous two-tone color scheme. A charming piece, this now 47 year-old model is quite rare and, consequently, very costly to obtain in mint-boxed condition.
Showing typical British reserve, Vauxhall never embraced the more outrageous aspects of late 1950s American automotive design and when its new Cresta debuted for 1957, it clearly indicated that less Transatlantic styling was truly more. While undeniably a product that conformed to the expected norms of the time, the new Cresta, when compared to American cars, was almost devoid of bright work and its modest tailfins were considerably less obtrusive than those festooned onto models produced by both Mercedes-Benz and Ferrari. Appearing in a wide variety of stylish late 1950s color schemes that ranged from solid coppers to two-tone pinks and blues, the #22-B Cresta provides an engaging glimpse of Lesney and its miniature cars at their peak.
Although GM's German Opel division as well as Ford's British and German branches were all guilty of imposing popular American styling themes upon their smaller European offerings, perhaps no one single car epitomized such trends as succinctly as the Vauxhall Victor F. Appearing as something of a condensed and homogenized mixture of contemporary Chevrolet, Pontiac and Oldsmobile themes, the Victor F conveys a rather disjointed stance to onlookers; however, Lesney's #45-A somehow managed to balance out the design and create a classic Matchbox miniature. Seemingly forever painted in a pale yellow (an extremely rare red variant has been documented), early examples of the Matchbox Victor were produced without window glazing, a feature that was later added with or without green tinting.
After producing two Crestas and a Victor saloon that showcased the British interpretation of highly derivative American styling, Lesney's second Victor was a refreshing change of pace in that it was an estate car and largely discarded the worst elements (and poorest translations) of Detroit-inspired themes. While some considered the new Victor to be bland and dull in full scale, the Matchbox miniature of the car (#38-B) exhibited all the outstanding features that Lesney's models had become world famous for: a full interior molding, window glazing and even an opening rear hatch. As with most Matchbox castings, several minor variations exist; however, although expensive, none of them has yet reached the stratosphere in regard to typical asking prices.
By the late 1960s, Vauxhall was widely recognized in Britain as a manufacturer of solid and efficient albeit boring family cars and its credentials were rather strained when it came to producing sporting machines. In an attempt shed its staid and conservative image, Vauxhall created a striking show car that it hoped would outshine Ford's and British Leyland's efforts as well as inject a bit of sparkle into its production cars. The Guildsman was a typical show car in that its flashy design features were largely impractical for actual manufacture; however, Lesney decided to place the handsome vehicle into series production in a slightly smaller size than the original. Lesney's first Vauxhall since its Victor Estate, it continued the Matchbox tradition of decorating its Luton miniatures in garish colors: the Guildsman was initially offered in hot pink with green window glazing although a considerably more tasteful version later appeared in a more sedate red. Reinforcing the sincerest form of flattery, Wheeler pirated a blatant imitation of the Lesney casting; sadly, it failed to capture the finesse or quality of the English-made product and such Hong Kong-produced copies seemed to be quite prone to literally falling apart due to weak rivets.
After the Guildsman, the interceding years brought a complete absence of Vauxhalls; in fact, Lesney would never produce another miniature of a Luton product before it ceased trading during the early 1980s. Seizing an opportunity to acquire a valuable and instantly recognizable trademark, Hong Kong-based Universal assumed production of toys under the Matchbox banner after Lesney's bankruptcy and in 1986, a new Vauxhall casting finally made its appearance. Even though some might contend that the casting was always intended to serve dual roles as both a Vauxhall and an Opel, the #48-F Astra GTE originally wore only the Vauxhall name on its base plate (the Opel Kadett name was a later addition/alteration) and the model was always fitted with a right-hand-drive interior molding. Strangely, even models issued under the #8-G catalogue number as the Vauxhall Astra GTE/Opel Kadett GSi Police Car used the same right-hand-drive molding--even when they were decorated as German Polizei vehicles!
A few years later, another Vauxhall debuted in the Matchbox range as #22-G, the elegant Vectra Cavalier 2000 GSi. Tasteful and accurate, this classy miniature serves as a showcase for all the qualities that the Matchbox brand had been known for. Unfortunately, it can lead to collectors longing for a return to the days of scale model miniatures when compared to the brand's current crop of offerings. Nevertheless, a couple of Vauxhall models do still figure in Matchbox's now toyish range: the badge-engineered Vauxhall Frontera (which is nothing more than an Isuzu Rodeo wearing Vauxhall name plates) and the rakish new Vauxhall VX220 (which is known in other markets as the Opel Speedster).
Oddly, Corgi paid little attention to Vauxhall over the years, particularly within its Husky and Corgi Juniors lines of small-scale die cast models. In fact, only a single Vauxhall was ever produced and even it had to wear dual personalities as both the Vauxhall Nova and the Opel Corsa. While not a particularly inspired miniature, this Corgi casting does at least add one more unique Vauxhall to the rosters that no one else troubled themselves with.
Since the Opel Manta was largely a sports coupe variant of the Opel Kadett and because the Vauxhall Firenza was based on Viva HB mechanicals and due to the Viva's heavy reliance upon the engineering platform drawn up for the Kadett, the Firenza has always been viewed as a British rendition of the popular Manta. Despite its convoluted lineage, the Firenza always maintained a very distinct personality from its German siblings. While Schuco provided collectors with a couple of different Manta miniatures, only a single Firenza was produced by Lone Star as a member of its Flyers range. Where most of the Flyers models were based on modified Impy castings fitted with frictionless wheels, the Firenza was a completely new casting and it is now perhaps the rarest of these early 1970s Lone Star miniatures. Sporadically available on the collector market at high prices, this model is considerably more difficult to obtain than all except the scarcest of the Lesney castings described above.
Here we conclude our review of Vauxhall's first century and the toy cars that have followed. Still a dominant player in the domestic British car market, it would appear that Vauxhall's next century will be secure with it continuing to produce cars that are popular with families and perhaps a few models, such as the VX220, that will also entice enthusiasts to give the brand a second look. What a fascinating 100 years it has been and to top it all off and complete your collection, Zylmex and later Redbox have both sold a miniature of the Vauxhall-built Churchill tank.
References:
Dymock, Eric. The Vauxhall File. Sutton Veny, Wiltshire: Dove Publishing, 1999.
Georgano, G. N. The Complete Encyclopedia of Motorcars, 1885 to the Present, Third Edition. London: Ebury Press, 1982.
Mack, Charlie. Lesney's Matchbox Toys: Regular Wheel Years, 1947-1969. Atglen, Pennsylvania: Schiffer Publishing Ltd., 1992.

1914 Prince Henry - Zlymex


Cresta - Matchbox


1958 Cresta - Matchbox


Victor - Matchbox


Victor Estate - Matchbox


Guildsman concept - Matchbox


Guildsman concept - Wheeler
(image courtesy of Kimmo Sahakangas)


Astra GTE - Matchbox


Cavalier 2000GSi - Matchbox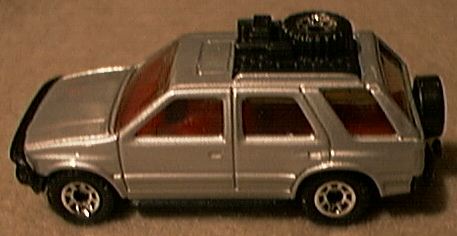 Frontera - Matchbox


VX2200 (Opel Speedster) - Matchbox


Vauxhall Nova/Opel Corsa - Corgi


Firenza - Impy Lone Star