In the annals of British automotive history, few events can compete with the significance of the formation of British Leyland Motor Corporation in 1968 and the subsequent demise over the next two decades of the entire nation's automobile industry. Under this uncontrollably large umbrella were no less than 11 active car brands, not to mention Land-Rover, various commercial makes and even a division committed to building agricultural tractors. Somewhere in this nightmarish mix was Rover, a make that could trace its lineage back to the late nineteenth century and had long been a favorite automotive choice of upper class Britons. While the imminent end of British Leyland could be seen long in advance, the ability of Rover to survive the BL morass and continue in production to the present day is rather remarkable.
Stemming from a sewing machine producer turned bicycle manufacturer, Rover's earliest 'cars' were little more than motorized tricycles yet with the arrival of the '8' in 1904, Rovers, unlike the vehicles sold by its many competing contemporaries, were engineered from the beginning to be automobiles rather than being former horse-drawn carriages or tricycles converted to self propulsion. Rover consistently employed new technology and built cars with shaft drive, hemispherical combustion chambers and overhead camshafts years before many companies had even heard of such things. With its sophisticated technology and robust platforms, Rover quickly established itself as one of Britain's premier car manufacturers, a lofty and esteemed role that it would cultivate for years to come.
Perhaps the most damaging event in Rover's history was Britain's entry into World War Two: while orders for munitions kept the production lines rolling, all work on peace-time projects was suspended, leaving Rover with dated, pre-war designs to attempt to sell once the hostilities ended. The pre-war platforms were finally displaced by the P3 of 1948; however, although Rover had injected a considerable amount of new technology beneath the surface, the cars had to soldier on with late 1930s styling inherited from the earlier cars. That same year saw the debut of the Land-Rover, an off-road field car that was intended for use primarily by farmers; its popularity caught Rover off guard and demand was so strong that what had originally been viewed as a stop-gap grew into one of the most recognizable SUV brands on the market today. With the success of the Land-Rover, funding once more became available to field an all-new replacement for the P3 and after barely two model years, the P3 was superceded by the new P4 in 1949. A bold model for such a conservative company, early P4s were christened 'Cyclops' Rovers due to their unusual center-mounted headlamp while the chassis itself was of a sound enough layout to remain in production for 15 years.
With styling inspired by contemporary Studebakers, the distinctive P4 could not be confused with any other British car and it remains to this day a benchmark of early post-war British designs. Also worth noting is Rover's experiments with gas turbine engines: Rover actually laid the groundwork and developed the earliest British gas turbines during the war before the government handed the program over to Rolls-Royce. Despite the false start in aero engines, Rover continued development work on gas turbines for many years and even installed such an engine in a modified P4 chassis known as 'Jet 1' to become the first car maker in the world to produced a road-going jet powered car. Eventually, plans were devised to use gas turbines in later Rover production cars; however, much like Chrysler and other manufacturers that were experimenting with them found, the demand for and supposed advantages of such engines never came to fruition.
For 1958, Rover introduced its second all-new postwar car, the larger and decidedly elegant P5. Initially powered by a three-liter, inlet-over-exhaust valve straight six, the P5 underwent a remarkable transition and dramatic change in character when, for 1967, Rover's new 3.5 liter all-aluminum V8 was made available. Originally a General Motors design, Rover had secured the rights to manufacture the engine under license from the American giant not long after it had phased the engine out of production in favor of less advanced, and therefore cheaper to build, cast-iron designs. This discarded American engine served Rover well and, rather amazingly, developed forms of this same engine continue to be used in the Land Rover Discovery to this very day.
Throwing aside convention, Rover introduced another all-new yet smaller car in 1963 known, rather logically, as the P6. A radical design by anyone's measure, Rover went to great lengths to ensure that the P6 was truly a state-of-the-art automobile by equipping it with an overhead camshaft engine, a unique suspension system built around an artful de Dion rear axle and four-wheel disc brakes. Apart from the Viking ship badge that it wore in the center of its grille, the P6 was unlike anything Rover had ever attempted before and the company was rewarded with a European 'Car of the Year' award and solid sales. At first, the P6 was available only with a single-carbureted, two liter engine yet over time, the solitary 2000 was supplemented by the more powerful 2000TC (with twin carburetors) and eventually the 3500 which made use of the aluminum V8. Displacement of the four-cylinder cars was increased for 1973 and the models became known as either the 2200SC or 2200TC depending on the number of carburetors; these two models alongside the V8 powered 'Three-thousand Five' saw out the P6 until the end of its run after fourteen years in 1977.
While the P6 represented the grand old companyís final development as an independent manufacturer, Rover's true designing swansong was the SD1 of 1976. The SD1 was a British Leyland rationalization project that hoped to consolidate the separate and unrelated models being built by Triumph and Rover into a single, one-size-fits-all motorcar. Although spearheaded by BL, the SD1 was essentially a Rover from its very inception: most of the design team were former Rover engineers, much of the company's pre-existing outlines for a P6 replacement were employed and it was decided early on that the new car would use Solihull's trademark light-alloy V8. A rather large car, the SD1 hid much of its bulk with its handsome, hatchback body and crisp handling that silenced complaints about certain specifications, such as a front disc/rear drum braking system and a rigid rear axle, that were clearly less advanced than those of the old P6. Updated continually throughout its 10 year production life, the SD1 was actually a lot better car than it was given credit for; sadly, terminal build quality killed off any good will the car had otherwise generated.
After the SD1, British Leyland and, by default, Rover entered an alliance with the Japanese Honda company and future Rovers became little more than English-made, badge-engineered Honda products that steadfastly maintained the long-standing BL tradition of non-existent quality control practices. The Rover-Honda marriage came to an abrupt and acrimonious end when British Aerospace, by then the owner of the Rover Group, sold the company to BMW in 1994 before any offer to sell was floated past the Japanese. In retrospect, Honda probably was the victor: despite monumental efforts to improve quality and rehabilitate Rover into a company capable of building products that could rival those made in Germany, BMW lost so much money on the venture that it simply pulled the plug and walked away, reportedly selling the car division to a group of investors for a token amount. This is where Rover stands today: wounded and recovering yet a far cry from its glory years during the postwar era. For the moment, let's try to relive the good times by reviewing some small scale Rover saloons.
The archetypical car of the British upper middle classes during the 1950s, the P4 chassis is almost universally known by the affectionate nickname of 'Auntie Rover'. Despite being rather frumpy and dowdy in its appearance, the Aunties were superbly engineered, respectfully appointed and built to extremely high standards for discriminating owners, a combination of virtues that set Rover in a rather enviable position that readily compared to Buick's placement within the American market. Although some of its models where unquestionably Lesney knock-offs, Budgieís #19 Rover 105 Rovermatic was an entirely original casting of a car that was never produced in the Matchbox series. Capturing Auntie's essence perfectly, the Budgie P4 easily emulates rival Lesney's products of the same period even though it provided somewhat less variety with its two variations: the aforementioned #19 that invariably appeared in a rather dull green with hand-painted details and #60, the 105 Rovermatic Squad Car, that was always sprayed a lifeless red. Since these increasingly rare and high quality miniatures are the only small scale diecast P4s that were once relatively abundant, their current prices have been adjusted to reflect the level of difficulty collectors will face locating mint examples for their collections.
Considered by many fans of the marque as the final, true Rover, the P6 chassis fared no better than previous models within the world of diecast toys and, likewise, ranked an extremely limited number of contemporary miniatures. Although rumors and sporadic photographs abound, it remains unclear whether the Mini Dinky model of the P6 ever actually made the transition from prototype to production. While it has been long claimed that certain Mini Dinkys were supposedly more readily available in markets outside North America, many sources state that the handsome little P6 was never produced and its extreme rarity cannot be explained simply by the old Mini Dinky plague of metal fatigue. Another Hong Kong produced model of limited availability, Playart's #7151 Rover 2000TC is one of the scarcest miniatures ever offered by the firm. Where early versions had smaller, more appropriately scaled wheels, later models were equipped with Playart's trademark five-spoke speed wheels of an overly large diameter that made the car look as if it might have been testing an off-road drive train for the Land-Rover side of the company. Rare today, examples of the Playart 2000TC with its delicate bumpers and sometimes loud paint schemes command steep prices.
A last gasp for the moribund Lesney, #8-I in the Matchbox 1-75 series was a miniature of the recently introduced Rover 3500. A fitting tribute to earlier Lesney designs and achievements, the Matchbox SD1 was fitted with a cast rather than plastic baseplate and included both an operational sunroof (something rarely seen in this small scale where stationary roof panels are the norm) and a tow hook.. Pictured as a new introduction in the 1981 North American catalogue, this model, in spite of the actual car being sold Stateside, was never made available in the American assortment. Add to this its severely limited British production run and collectors have the makings of miniature that sometimes can continue to be elusive even after years of searching.
After Lesney succumbed to bankruptcy, production of the #8 Rover 3500 was continued for a short time before the miniature's tools were altered and it reappeared as a police car under the same catalogue number. Produced by new Matchbox owner Universal at the old English factory for a brief period, later castings took advantage of lower production costs in Macau. Still a high quality miniature, the police variant was fitted with blue-tinted window glazing and a light bar yet curiously retained its largely unnecessary tow hook. As with the earlier Lesney-made civilian Matchbox SD1, this model was again unavailable on the U.S. market and although in production for approximately three years, it is not especially easy to find today.
A lithe and handsome model, Corgi Juniorsí #8-D Rover 3500 is, nevertheless, an inferior miniature to the more heavily constructed Matchbox model. Equipped with an opening rear hatch that apparently left the factory in both glazed and unglazed forms as well as a tow hook, this SD1 was ready to loaded up for a family vacation to Blackpool. Initially marketed in the U.S. in unique 'Best of British' boxes emblazoned with a photo of the Rover atop a bright Union Jack, such packaging is very scarce and prized today. Otherwise, the SD1 can still be found for reasonable prices so long as a collector is willing to settle for the less desirable blister card.
Decorated in a multitude of colorful albeit somewhat generic liveries, Corgi Juniorsí #17-C Rover 3500 Police Car attempted to replicate in miniature the wide popularity the car enjoyed with constabularies throughout the United Kingdom. Of course, it helped that the SD1 was well suited for such a role with its precise handling, speed, refinement and a spacious interior that provided a high level of comfort even after spending innumerable hours within it. For a truly obscure variant of this casting, keep a watch out for Kiko's 'Fire Chief' version which was produced in Brazil after Corgi retired the tools from active duty in its native Wales.
Sometimes mistakenly confused for the similarly profiled Chevrolet Citation, the crude Summer Rover 3500 fails to even be immediately recognizable as an SD1 or anything else for that matter. A curious miniature, it features four round headlamps as would an American-market 3500 while Summer apparently improved the car's aerodynamics by smoothing away all detail from both its front and rear ends. Once frequently seen in those infamous '25-cars for $5' assortments, copies of the Summer 3500 that have not been mutilated by rambunctious children are becoming increasingly difficult to obtain.
Sharing its platform with the much lauded, first generation Acura Legend, the Rover 825SL Sterling at least superficially maintained the marque's time-honored prestige and even saw some use in a traditional role as a police car. While advertised as a vehicle that combined the best British automotive hallmarks and Japanese engineering, the 825 suffered from an almost complete absence of meaningful quality control and despite its gracefulness, the new Rover made few friends. Desiring to distance itself from the problems that had typified earlier Rovers offered in the U.S., the 825 was sold as simply a 'Sterling'; nonetheless, this was all for naught as the old ghosts returned and the car continually ranked near the bottom of customer satisfaction poles. Promoted as a shining star of British automobile manufacturing, it should not be surprising that the 825 became a popular subject for diecast manufacturers with Corgi offering a 1:36 scale version and Matchbox a 1:64 scale model. Accurate yet ultimately uninspired, the Matchbox Rover Sterling failed to contain a single novelty feature and was overlooked by children in favor of more interesting castings. Although out of production for close to ten years, this casting is currently perhaps the most abundant Rover casting on the antique toy market.
Unfortunately, this ends our review of small scale Rovers; if a collector is seeking, for instance, a P5, he will have to look in other scales and all Rover fans can only hope that future miniatures adorned with the famous Viking ship will be forthcoming as Rover restructures itself and introduces new vehicles. Although the original Rover Company Limited essentially faded away over 30 decades ago, Rover automobiles, both old and new, remain. After BMW's divestiture, Rover, along with its remaining active companion make of M.G., once again emerged as an independent company; however, the manufacturer's survival and future is ultimately one of much question and speculation. Without its consistently profitable Land-Rover division (sold off by BMW to Ford Motor Company) to subsidize the entire concern, Rover needs to return to the philosophies that guided it during the 1950s and 1960s and produce desirable, well-engineered, high quality machines that are affordably priced. So far, the desirability factor is in place with Rover's (and M.G.'s) striking new offerings and hopefully this grand old car maker will once again be able to rightfully resurrect its motto of being 'One of Britain's Fine Cars.'
References:
Bobbitt, Malcolm. Rover P4: 60, 75, 80, 90, 95, 100, 105, 110. Godmanstone, Dorset, England: Veloce Publishing PLC, 1994.
Georgano, G. N. The Complete Encyclopedia of Motorcars, 1885 to the Present, Third Edition. London: Ebury Press, 1982.
Taylor, James. Classic Rovers 1945-1986. Pitlake, Croydon, England: Motor Racing Publications, 1996.
Rover P4 105 Rovermatic - Budgie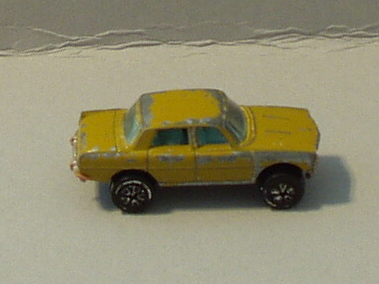 Rover P6 - Playart

Rover SD1 - Matchbox

Rover SD1 - Corgi

Rover SD1 Police - Corgi

Rover SD12 Fire Chief - Kiko

Rover SD1 - Summer

Rover Sterling - Matchbox