The Pocket Tootsies
Nearly forty years ago, Tootsietoy introduced a series of HO scale diecast cars titled the "Pocket Series" (1). These were slightly smaller than Matchbox cars from that time. The castings were mounted with metal baseplates and were provided with black plastic wheels. Each axle appears to be one-piece with the wheels. The cars feature two-tone paint schemes and painted rear lights. A tow hook is another feature. The series comprised of a Cadillac 62 Sedan, Ford Sunliner, Rambler, Metro van, school bus, Ford dump truck, Ford tow truck, farm tractor, utility trailer (also known as U-Haul trailer), and boat with trailer. The trailers were probably sold with a car in a set. The Cadillac included another variation with clear plastic window glazing, perhaps more recent than the non-glazed version. The Ford is a convertible with a one-piece casting of the body and interiors. The Rambler is a station wagon with a rear interior pillar to support the roof to the baseplate. The boat is made of plastic. The "Pocket Series" must have been popular with model railroad enthusiasts and are presently not too difficult to find.




---

1960 Cadillac Sedan de Ville


1960 Ford Convertible with boat


1960 Rambler Wagon with U-Haul trailer



Tow Truck with Cadillac
Zima
It was over twenty years ago that a series of small-scale diecast models were available called Zima. The origin of the word "Zima" is unknown to me although it may have an Eastern European or Asian origin. The models appear to be very scarce with only limited distribution in the United States. Manufacturing was located in Hong Kong by Zima Products Limited. The series comprised of a limited number of cars and trucks representing examples that are historically typical for the time. Cars included a Firebird Trans Am, Datsun 300ZX, Mazda RX-7, and Porsche 928. Trucks can be divided into pickup trucks and big rigs. Wheel designs are characteristically "speed" type with a design not used by other diecast manufacturers. The castings are mounted with metal baseplates identifying Zima and the year 1981. These were available titled "Muscle Wheels" in singles and gift sets. A trademark, Toysville, is also identified on the packaging and were distributed by a retail firm called Zayre Corporation of Framingham Massachusetts. A gift set titled "14 Piece Deluxe Car N' Truck Set" was offered in their department stores. Zima Products Limited also issued HO scale convoy rigs and a larger, possibly 1:18 scale, highly detailed Rolls Royce convertible.
---

Datsun 280ZX


Mazda RX-7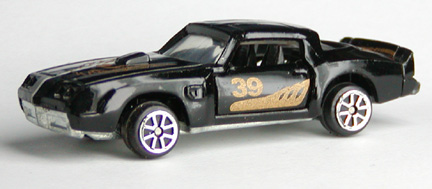 Pontiac Firebird


Porsche 928