1966 Honda F1 car #73 - Tomica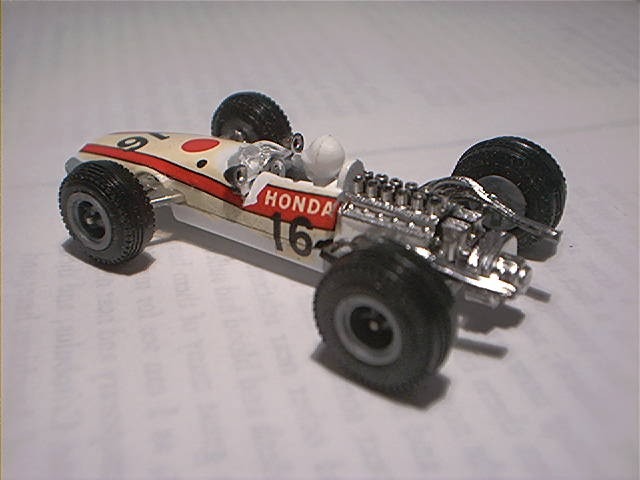 1968 Honda RA301 - Champion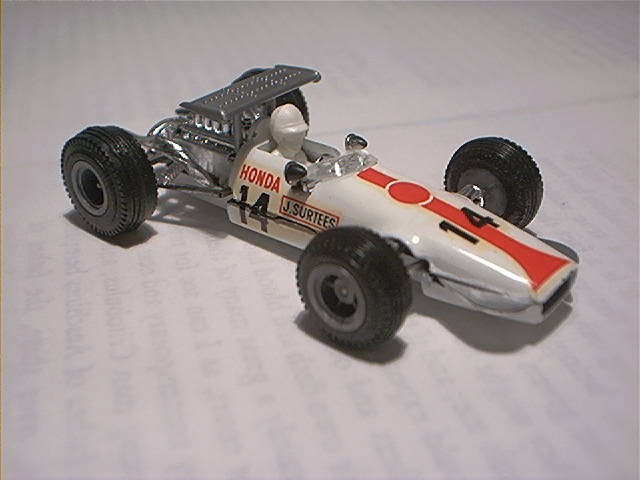 1968 Honda RA301 - Champion


1986-87 Williams FW11 - Tomica


1986-87 Williams FW11 - Real Toy


1988-91 Lotus Honda 99t - Tomica


Target Team Ganassi car, Alex Zanardi, 1998
Honda became involved in international racing in the mid-1960's once their export sales began to grow and foreign markets became more important. Company founder Soichiro Honda was always behind these efforts, having built several homemade racing specials on his own at a young age.
They entered Formula 1 with an amazingly complex transverse-mounted V12 car that managed to win one race, the 1965 Mexican GP, with American Richie Ginther at the wheel.
For the new 3-liter Formula 1 in 1966, Honda did what many smart entrants do; they hired some design talent from England. Eric Broadley of Lola was brought in and penned a chassis loosely based on his Indy car designs. Tomica produced a nice version of the 1966 car, a difficult and expensive model to find today. Pictured here by Champion of France are two versions of the 1968 Honda RA301; the wing was added in mid-season. In spite of everyone's best efforts Honda only managed one further win, the Italian GP in 1967 at the hands of Ferrari refugee John Surtees. They dropped out of F1 after the 1968 season and stayed out of big-time international racing for over 15 years.
But the lessons learned in the 1960's were applied when Honda decided to return to F1; they stuck to building engines only and supplied the best British chassis manufacturers to carry their engineering creations. They began with Team Williams in 1984 and won their first GP in 1985. The team became regular winners and took their first Manufacturers Championship in 1986 and the World Championship for Nelson Piquet in 1987. Tomica made this very nice model of the Williams FW11 from 1986-87. Real Toy did a generic version of this same Williams model.
With the dominant F1 engine, Honda could now pick and choose their team and drivers. They dropped Williams for McLaren and the super-team driver combination of Alain Prost and Ayrton Senna. This package won the next four World Championships, 1988 through 1991. Team Lotus were also given Honda engines in exchange for employing Japanese driver Satoru Nakajima. The Lotus Honda 99t is pictured here by Tomica, as well as a McLaren Honda MP4/4. Majorette of France very cleverly made their McLaren Honda MP4/5 with each driver's names on opposite sides. Guisval of Spain also did the MP4/5 although the model used is a generic F1 car with McLaren/Honda graphics. High Speed also produced a generic version of this same car although the Honda logo is clearly visible.
Having proved their point in Formula 1, Honda dropped out again after 1992. But they kept their eye on racing in their biggest market, the USA. The CART Indy car series was at its peak and Honda entered as an engine supplier against competition from Chevrolet, Mercedes and Ford. In their usual thorough manner, they powered the championship winning cars from 1996 through 2001. Shown here by Racing Champions is the Target Team Ganassi car of Alex Zanardi from 1998.
Honda remains in Indy car racing having jumped to the IRL but they have chosen Illmor Engineering of England to build and maintain these engines. At this point they are second to Toyota as viewers of this year's Indy 500 could see. Honda also returned to Formula 1 in 2000, at one point supplying both BAR and Jordan teams. No small-scale versions of the BAR team cars have been done.

Three versions of the Jordan-Honda have been produced. Siku of Germany did a generic version but with a quality casting. Hot Wheels did two versions. the first was offered through McDonalds in 2000 and came with Jordan-Honda stickers that are quite accurate for the real car, reflecting Jordan's 'Buzzin Hornets' graphics. The 2001 Jordan-Honda was also produced by Hot Wheels with 'Bitten Heros' graphics pad-printed in place and the addition of a driver.

Only mediocre results have been achieved here though much was expected of champion caliber driver Jacques Villeneuve. Many now say that Honda is not trying hard enough at its racing efforts and is losing its edge in passenger car design as well.

Honda's NSX super car has also seen considerable racing activity but these models were covered in a recent story on Honda production models.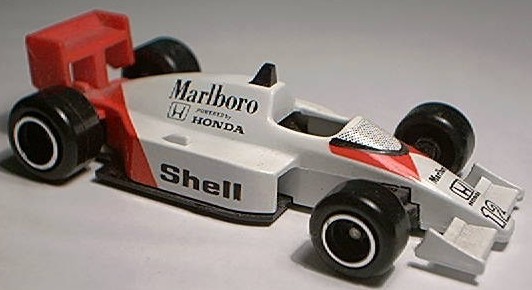 McLaren Honda MP4/4 - Tomica


McLaren Honda MP4/5 - Majorette


McLaren Honda MP4/5 - Majorette


McLaren Honda MP4/5 - Guisval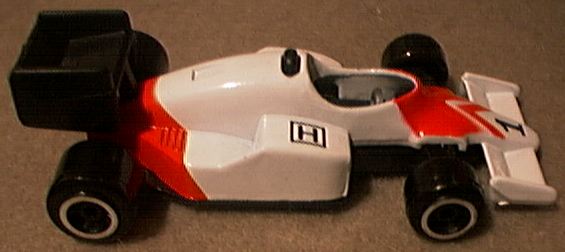 McLaren Honda MP4/5 - High Speed


Jordan-Honda - Siku


2000 Jordan-Honda - Hot Wheels



2001 Jordan-Honda - Hot Wheels