VW Dune Buggy - Hot Wheels


1965 Shelby Cobra 427 - Hot Wheels


1968 Honda S600 - Tomica


1973 Mazda Cosmos - Playart


1967 Toyota 2000GT - Playart


1969 Mercury Cougar - Johnny Lightning
Every 20 year old has a special desire to own the most exciting car in the neighborhood. If you came of age as a member of the Baby-boom generation, the vehicles of choice were the hot rods, sports cars, dune buggies and muscle cars of that period. For the children of the baby-boomers, these choices have changed.

The theme here is a variation of the 'then and now' reviews, so often featured (because I like them so much) in this publication. The goal was to find examples of toy cars from manufacturer that would have been the highly desired in the 1960's and '70's and compare them to cars from the same manufacturers that are popular with 20-somethings today. To add a visual twist, cars of the same basic color were required. Toy cars from six manufacturer were found.

VOLKSWAGEN - What was more fun than a dune buggy in 1970? This Hot Wheel 'Rock Buster' model has been detailed with new paint and a VW logo. Most dune buggies were powered by VW motors as they were cheap, simple and plentiful. The tuned VW Jetta by Racing Champions would be the choice de jour. At least with the Jetta, a couple more friends can ride in the back.

FORD - The Shelby Cobra is one of the most popular classic cars and to own one when young was a dream seldom realized. The Hot Wheels Cobra looks good in HW racing colors and has proved to be an evergreen model for over 20 years. One of the newest Fords from HW is the Focus and it has been done with some extreme styling touches. The HW racing colors were offered in one of the collector editions.

HONDA - A sporty Honda S600 would have been a great college car when luggage space was not needed but style and fuel economy were. Tomica provided this great example of the S600. Honda is much more popular today and the Acura Integra is high on the list desired rides. XConcepts offers a very nice Integra with mild custom touches and the same yellow and black colors.

MAZDA - Perhaps the early '70's Mazda Cosmos is a bit of a stretch as a desired car but they were quite sporty for their day. Playart produced this apple green version. HW has just offered a tuned version of the last Mazda RX-7 in the same color.

TOYOTA - Few had an opportunity to sample the amazing Toyota 2000GT due to low production and high prices. Even today, they are rarely seen and very collectible. Playart again provides an example, this time with early wheels. The Toyota Celica is one of the most popular models for tuning and HW has also done it in red.

MERCURY - A 1969 Cougar XR-7 Eliminator was hot stuff 30 years ago. Johnny Lightning did a white one from their initial muscle car castings. The last Cougar from Mercury was done by HW in 2002 and offered in regular and collector form. The collector version is much better and offers decent wheels and paint.

Check you age first and then ask yourself if you would rather have the olde school or new skool models. I wonder which will be more popular 30 years from now?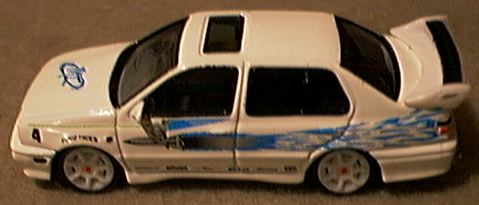 1995 VW Jetta - Racing Champions


2000 Ford Focus - Hot Wheels


1998 Acura (Honda) Integra - XConcepts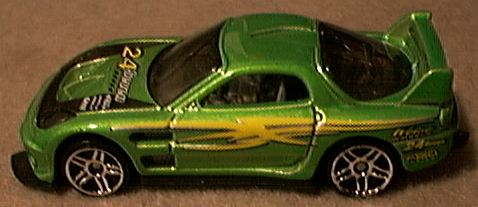 1995 Mazda RX-7 - Hot Wheels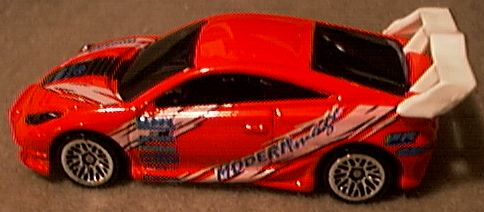 1995 Toyota Celica - Hot Wheels


1999 Mercury Cougar - Hot Wheels