Ferrari 250 GTO - Maisto


Bizzarini GT - Guisval



Iso Grifo - Matchbox


Maserati 3500GT - Penny


BMW 2800CS - Siku
Summer is the time for vintage racing. World-wide, the interest in putting vintage race cars back on the track has grown dramatically over the past 15 years. While everything from Formula 1 cars to off-road racers are being collected and put into vintage competitions, the most popular cars are the sport/GT cars of the early 1960's. These usually form the largest grids at vintage races and are best loved by the public.

The reason for this popularity relates to these cars being the last where the owner could take their car to the track, switch tires and do basic race prep, be competitive and then switch back into a road car for the drive home. From the late 1960's on, purpose-built race cars and factory teams left little opportunity for the 'gentleman racer'. This twilight of the gentleman racer came at the same time that many sport/GT cars were moving to mid-engine layouts. As a result, this period is also represents the decline of serious competition from front-engine cars on the track.

Ten gentleman racers are represented here in small-scale. While many more could be selected, these are some of the favorites of the vintage racing and collector crowd today.


Ferrari 250 GTO - Maisto - This fine casting needs to be offered in racing colors with proper wheels. Still, it's a winner.
Bizzarini GT - Guisval - Guisval's first 1:64 scale model is a bit crude but represent the Le Mans racing model.
Iso Grifo - Matchbox - Italian style and Chevrolet power made a strong combination, including racing success.
Maserati 3500GT - Penny - This favorite from Penny represents Maserati's most successful road car at the time and a race winner.
BMW 2800CS - Siku - This coupe was the most successful BMW on the track since the pre-war 328, continuing to win as the 3.0CS.
Chevrolet Corvette GS - Johnny Lightning - Just a handful were produced but they made a splash. JL's casting is one of the best.
Shelby Cobra Daytona - Hot Wheels - These 'ultimate' Cobras were racing legends and this HW version is a gem.
Jaguar 'E' type - Zylmex - Few racing 'E' types have been done in 1:64. This early Zylmex is one example.
Lotus Super 7 - Matchbox - Low price, high speed and amazing fun made the Super 7 popular. Matchbox did the only one in 1:64.
Toyota 2000GT - Yat Ming - Raced at Le Mans, this first Japanese exotic sports car has only been done in racing colors by Yat Ming.

Chevrolet Corvette GS - Johnny Lightning


Shelby Cobra Daytona - Hot Wheels


Jaguar 'E' type - Zylmex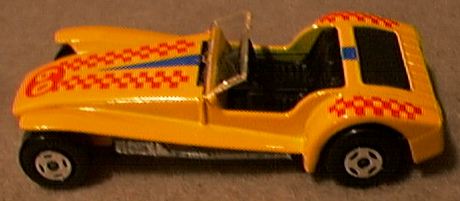 Lotus Super 7 - Matchbox


Toyota 2000GT - Yat Ming