Shortly after the purchase of the Ertl Company by Racing Champions, a new series of 1:64 scale diecast models were introduced under the Ertl name. Ertl had produced many small-scale vehicles since the early 1970's. These included the well-known and now re-released 'Dukes of Hazzard' models. What set this new series apart was the level of detail and authentic colors. Ertl's successful 1:18 scale 'American Muscle' series provided the inspiration and name for the junior scale models. In fact, many of the models offered in 1:64 had previously been done by Ertl in 1:18 scale.


The new models at first glance appeared to simply be a continuation of Racing Champion's Mint Edition series, then being concluded. Closer inspection showed that while some castings like the Mercury Cougar and Dodge Charger Daytona were re-used by Ertl, they received new features, detail and opening trunks. None of the RC Mint Edition models had opening trunks but almost all of the Ertl models included this feature. Correct factory wheels were also offered on each model. At $5 each, these models were still an excellent value.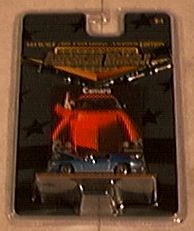 Heat-sealed plastic blisters featured each model with a plastic display base and card showing an original ad for the car. The blisters proved a chore to open but once removed, the plastic stand and card made for a nice display. Some models also appeared in clear boxes or in multi-car sets. Most recently, RC has introduced a twin pack of a 'Fast and Furious' tuner model and an 'American Muscle' model attributed to Ertl. The Ertl model I have seen so far (1969 Pontiac GTO 'Judge') is in fact a re-release of earlier RC Mint Edition casting without an opening trunk. As such, one might question if it is indeed a continuation of the 'American Muscle' series in anything but name.


The models offered in the 'American Muscle' line came primarily in two color variations although at least one boxed set offers a third color option for the 'Class of 1969'. The Cougar, Charger and Mustang models in this set had new colors not used in the single blisters. As I only found this one 3-car set, I do not know if others were produced.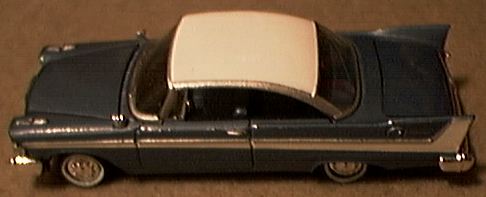 All models were of American cars produced between 1957 and 1971. The most curious inclusion was of a 1958 Plymouth Belvedere. The car is clearly identified on the base and plastic display as a Belvedere. Including the Belvedere as an muscle car might be considered a bit of a stretch. It appears that Ertl came to the same conclusion as the exact same casting appeared quite soon badged as a Plymouth Fury in traditional red and white colors. The Belvedere in blue and white is especially nice and could become the most interesting model of the series for future collectors.