---
---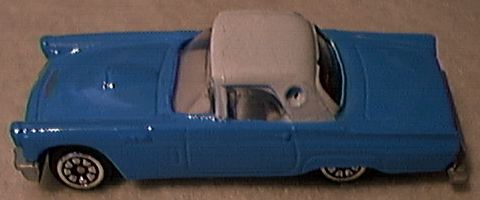 ---
---
---
The package proudly states these are the '10 Most Wanted Cars' but it never says by whom. In 1984, this 10 car set was produced as a promotion by Valvoline, the well-known oil products manufacturer. It appears that the set could be ordered from the company although the price and exact nature of the offer is not identified on the packaging.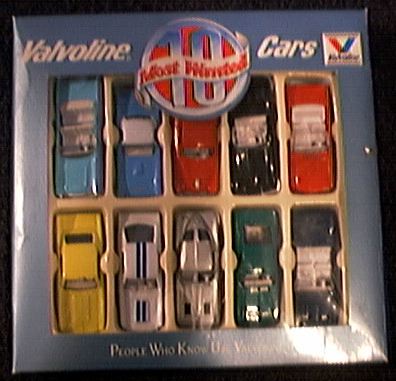 Selecting these 10 cars as the 'Most Wanted' is clearly limited to the American market and even then, could be cause for some head-scratching. The most interesting car of the set is also the most curious inclusion. While the 1949 Oldsmobile Futuramic 98 Holiday Coupe is certainly an interesting collector car, it is seldom in any top 10 list. The new OHV V8 was an impressive motor and the Olds was successful as a stock car and road racer. Still, it cannot be seriously considered as collectible as the other nine cars in this set. This said, it is the best casting of the set and represents a car seldom seen in small-scale.

The 1957 Ford Thunderbird and Chevy Bel Air Convertible are reasonable to include but the castings are only average. The '63 Chevy Corvette is a much better casting and another car that has a fair claim to top 10 status.

The 1964 Pontiac GTO Convertible was a unique example of this car until more recent efforts from Johnny Lightning and others. The oversized windshield on this and all the convertibles in the series does not help the look of the car. Speaking of looks, the 1965 Shelby GT350 is a rather sad example of this car. The standard 1965 Mustang Convertible is much better except for the windshield. Including two '65 Mustangs in the top 10 seems a bit of overkill.

Three 1967 models are included. The Camaro looks decent from the side but the front grill is quite crude. The Mustang GT is better than the Shelby but the Corvette Convertible is another odd shape. Including the '67 Corvette when the '63 is already on the list also seems strange.

None of these castings have ever appeared in other variations and the actual manufacturer is not identified. Some have guessed that Yat Ming or Welly may have been responsible. For the mid-1980's, this set included cars that had not been overdone and as such, it is an interesting early effort to appeal to adult collectors rather than children.
---
---
---
---
---