50 Years of Mercedes-Benz SL boxed set - Hongwell


1952 300 SL - Hongwell


1954 300 SL - Hongwell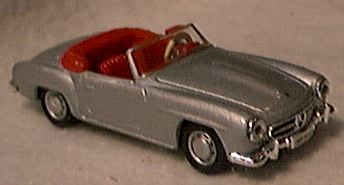 1955 190 SL - Hongwell


1957 300 SL Roadster - Hongwell


1968 280SL - Hongwell


1985 500 SL - Hongwell
On rare occasions, toy car makers produce boxed sets that become the definitive example representing the history of a specific make or model. Hongwell has done just that with their six car set representing 50 years of the Mercedes-Benz SL from 1952-1989. Even with my limited math skills, that time span is actually 37 years but I expect the '50 Years' refers to the release date for this set being 2002 or later and as such, representing a 50 year period.

This set is even more impressive in that all six models are in German racing silver and sport red interiors. This has become the best known exterior/interior combination for SL models and was first offered with the original 300 SL. While this set is in 1/72 scale, the level of detail is amazing and would be accepted for expensive 1/43 scale models.

For comparison, I went through my Mercedes-Benz collection and pulled all the silver SL models with red interiors. While I love the Siku 280 SL and the Tomica 300 SL, neither is at the level of quality of the same model by Hongwell.

Look closely at the Hongwell models and the detail jumps out. All the wheels/hubcaps are correct. The steering wheels are ivory colored like the real Bakelite versions. The yellow and clear headlights are a perfect example of that extra touch that does so much for a model. The 300 SL Roadster actually has a chromed muffler and tail-pipe on the base of the car. The interior color does not look plastic like the Novacar example. Rather, it almost looks like leather. The 300 SL models even have detailed luggage behind the seats.

The six car set was found for me in France at a Mercedes-Benz dealership. I expect this same set is available in other countries. Like Norev, Hongwell has realized that working directly with the auto dealers is a good idea. I hope this is just the first in a series.

The lack of an SL model from the 1990's or the new SL for 2004 is the only drawback. Perhaps these models will become available on an individual basis from Hongwell. If so I hope they are offered in the same silver/red combination.

Several other boxed set ideas come to mind when I look at the Hongwell models. Here are some of them with the color theme I would suggest:
40 years of Porsche 911 (silver/black)
50 years of Jaguar sports cars (green/tan)
50 years of Corvette (white/red)
50 years of Maserati sports cars (white/blue)
50 years of Aston Martin sports cars (silver/green)
40 years of Lamborghini sports cars (yellow/black)
35 years of Nissan Z cars (orange/black)
50 years of French GT cars (blue/tan) - Talbot, Facel Vega, Alpine-Renault, Citroen and Matra
70 years of Bentley (green/black) A real dream!

I enjoy creating these auto retrospectives from my own collection. When someone like Hongwell joins in the fun, that's even better.

1954 300 SL - Tomica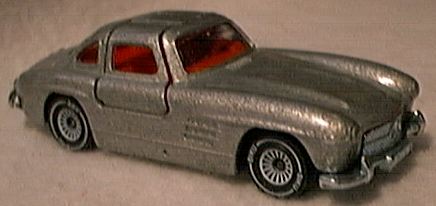 1954 300 SL - Siku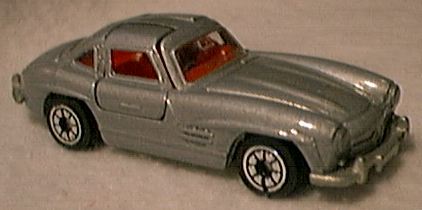 1954 300 SL - Corgi


1965 230 SL - Matchbox (Hungary)


1968 280 SL - Siku


1975 350 SL - Majorette


1990 500 SL - Novacar