Mercedes-Benz W196 - Schuco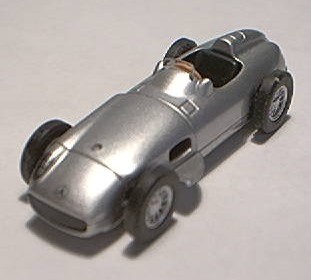 Mercedes-Benz W196 - Busch
Doug and I have decided to dig back in the archives and drag out our Formula One models from ancient times back when dinosaurs walked the earth!
We've started with the period of 1954 through 1960 when the FIA regulations for Formula one dictated 2.5 liter engines. We have just a few models from this time but they reflect the political and economic circumstances that European countries faced at the time. Mercedes Benz saw the new Formula One regulations for 1954 onward as a chance to show the world that Germany was back in the economic mainstream as a manufacturing power by producing a range of open-wheel racing challengers to go up against the Italian powerhouse teams of Ferrari, Lancia and Maserati. By hiring the best drivers of the day, including Juan Fangio and Stirling Moss, and providing the highest level of engineering support, Mercedes dominated the 1954 and 1955 F1 seasons and then withdrew while at the top of their game.
Shuco made two small-scale models from this period, as pictured here, an open-wheel 2.5 Mercedes as well as a full-bodied F1 model from the 1954 season. Both of these are Shuco Piccolo models in approximately 1/87 scale and are fair representations of the real thing. For a really accurate rendering of this famous F1 car, check out the 1/87 scale model by Busch of Germany ­ an amazing feat in this extremely small scale!
Once Mercedes withdrew from competition, much of the rest of the F1 decade became an Italian walkover. For the record, Fangio won World Championships in '54 & '55 for Mercedes, '56 for Ferrari and '57 for Maserati. Englishman Mike Hawthorn followed up in '58 for Ferrari again. Slight changes in the sporting regulations for 1959-1960 gave an advantage to smaller and lighter rear-engined cars like the F1 Cooper pictured her in a fair rendition by Best Box of Holland. Jack Brabham won back-to-back championships driving these innovative models. The Aston-Martin pictured here by Matchbox was an also-ran during the 1959 season.
This F1 period saw much innovation due to changes in the regulations but safety considerations caused the FIA to radically alter the formula for the next five years. So many brave men died or were injured during this time that changes were almost forced upon the sport.

Mercedes-Benz F1 1954 - Schuco


Cooper-Maserati - Best Box


Aston Martin DBR5 - Matchbox