Rover P4 105 Rovermatic - Budgie


Rover P6 - Playart


BMC1800 concept - Matchbox


Rover 3500 - Gisima
Rover has much more history than the number of small-scale toy cars would suggest. After building their first electric car in 1888, Rover waited until 1904 to offer a gas-powered model. Many interesting models were produced by Rover before WWII but none exist in 1:64 scale as far as I know.

The first little Rover shown here is the 1950-64 P4 model by Budgie of England. The P4 came in 4 and 6 cylinder versions and the 105 Rovermatic was a six.

The Rover P5 3 litre of 1959-67 is not represented although it should have been done by Matchbox or Corgi.

The Rover P6 arrived in 1963 and continued until 1977. It is a mystery how only Playart came to offer this model. It is quite small for a Playart and the standard wheels look too big but at least it exists. This car was quite popular and sold well with it's 4 cylinder or V8 power.

In 1967 Rover became part of Leyland Motors which became the ill-fated BLMC in 1968. The BMC 1800 concept was by Pininfarina of Italy. While this model is not strictly speaking a Rover concept, it did influence the David Bache design for the 3500 SD1, as well as the Citroen CX.

The P6 2000TC was finally replaced by the 3500 SD1 in 1976 and this car did catch the interest of toy car makers with both Matchbox and Corgi producing examples. Giodi, Gisima and Summer also did their versions of the 3500. Matchbox and Corgi also offered police versions of this model. The SD1 even saw limited racing in the British Touring Car series of the early 1980's.

By the late 1980's, Rover was offering re-badged Honda models. One of these became the Sterling and was offered with little success in the U.S. and elsewhere. Matchbox produced a nice example of the Sterling.

While cars from Rover began to disappear, Land Rover and Range Rover models continued to find success. The remains of Rover were bought by BMW and then sold, with Land Rover going to Ford. Rover/MG is now an independent company based in England and Rovers continue to be produced.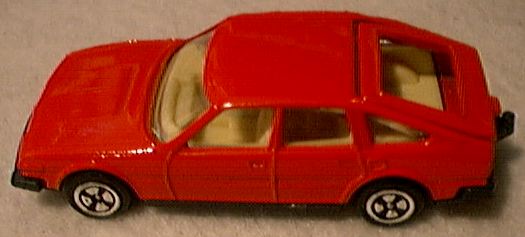 Rover 3500 - Corgi


Rover 3500 - Matchbox


Rover 3500 - Summer


Rover Sterling - Matchbox