---
1951 Ferrari 375F1
1951 Ferrari 375F1
1951 Ferrari 375F1
---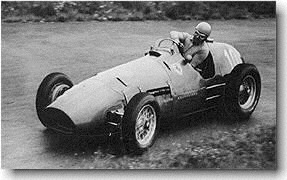 ---
1952 Ferrari 500 F1
1952 Ferrari 500 F1
1952 Ferrari 500 F1

Four Ferrari F1 models for the 1950's


---
The Kyosho Company of Japan is known mainly for its 1/43rd scale and larger models as well as other motorized toys. Recently, however, it has entered the small-scale market in a big way. One offering is a group of "supercar" sport sedans from Ferrari and Lamborghini as noted in a previous article here. Another batch of small-scale Ferrari F1 cars were used as prizes in a canned coffee drink promotion in Japan.

There are two significant things about these F1 models: first, the collection is a virtually complete set of every important Ferrari F1 car since the beginning of world championship racing in 1950. All the great champions are here plus many other cars that, while not world-beaters, represent technological innovations or other important aspects of the history of Ferrari and F1 ­ twin stories closely intertwined, since Ferrari is the only team to have contested each season since the inception of the world championship.

Second, these models reach a new standard of detail and quality for small-scale models. These have to be seen with your own eyes to believe the level of quality attained ­ my pictures can give only an indication. The paint finish, the markings, the wheels, the tire treads ­ they are all about as perfect and correct as you could get on anything in this scale. As such, these models represent a sort of "holy grail" for the collector of small-scale racing cars.

Since there are 20 models, I have divided them up by decades ­ 50's, 60's, 70's, 80's, 90's and 00's.

The first model is the 375 F1 from 1951. (375cc x 12cyl = 4.5 liter engine capacity) This car almost won the 1951 drivers championship, winning 3 out of the 7 races against the might of the Alfa-Romeo superteam. Only Ferrari's poor tire choice in the last race of the season gave Alfa the edge.

After Alfa had won the first two championships in 1950 and 1951, they decided to withdraw from racing. For 1952,the race organizers and sporting authorities realized that there would not actually be much competition in the F1 category so it was decided to run the championship for Formula 2 cars until the advent of a new set of regulations in 1954. In reality, it didn't matter since Ferrari was the only team with a modern F2 car ready. The 4cyl 500 model (500cc x 4cyl = 2 liter engine capacity) swept the boards for the 1952 and 1953 seasons, winning all but the last race of the 1953 season and making Alberto Ascari a two-time Ferrari world champion.

In 1954, new F1 specifications brought Mercedes and Lancia to the championship arena. Mercedes rolled over the opposition, winning the title in 1954 and 1955. Ferrari tried to develop its 2-liter 4-cyl engine to the new 2.5-liter formula without success. It was never a match for Mercedes 8-cyl power. Lancia dithered away all of the 1954 season with testing. Its number one driver, Ascari, whom they had hired away from Ferrari, was killed in a testing accident early in 1955. Despite some promising results, this incident, along with other financial problems, caused them to totally lose their enthusiasm for racing. The Lancia management, in an emotional moment like something out of an Italian opera, decided to give all of their F1 cars to Ferrari to develop and uphold Italian honor in 1956.

Thus was born the "Ferrari-Lancia" D50; Ferrari designers and mechanics did modify the chassis considerably but kept the powerful Lancia V8 engine. At the same time Ferrari was able to sign ace driver Juan Fangio who was at loose ends after Mercedes had withdrawn from racing. This combination allowed Ferrari to win five of the seven world championship races in 1956 against limited opposition.

The final car from the 1950's is the "Dino" 246F1. Dino was Enzo Ferrari's son who unfortunately died of leukemia at a young age. Many V-6 engines were named after him. (246 = 2.4-liter V6 engine) This car was just good enough to propel Brit Mike Hawthorn to the 1958 world championship by 1 point over his rival. It was the last front-engine car to win a championship.
---
1956 Ferrari-Lancia D50
1956 Ferrari-Lancia D50
1956 Ferrari-Lancia D50
---
---
1958 Ferrari Dino 246 F1
1958 Ferrari Dino 246 F1
1958 Ferrari Dino 246 F1