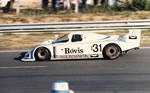 Since inception, Hot Wheels have offered many toy cars that have been inspired by real cars but without identifying the source of the inspiration. Small details are often changed so that the model in question may carry just a passing resemblance to the original car. Hot Wheels usually makes up a clever name for these models, sometimes offering a clue to the real car. While this practice may simply have started as a way to avoid licensing issues, it has become part of the Hot Wheels tradition.

There are hundreds of models that fit into this category. Current models like the 'High IQ' (Smart Roadster) or classic Redlines like 'Sir Rodney Roadster' (MGTD), represent the variety and span of these 'near-miss castings' by Hot Wheels. A recent discussion in the Matchbox Collector's Community Hall discussed many of these models. In that discussion, one model was mentioned that took me by surprise.

For years, I have thought the Sol-Aire CX4 was a sort of generic Group C sports prototype based on a bit of Porsche and perhaps a sprinkle of Jaguar or Mercedes-Benz. It turns out that this model is actually closest to a far less common Group C racer, the Aston-Martin Nimrod.


The unfortunately named Nimrod (I can find no clue as to why this name was selected), appeared in 1982 and was produced by AM dealer Robin Hamilton and Aston Martin. Five cars were built with the chassis produced by Eric Broadley of Lola fame. The most successful car was campaigned as a private entry by Lord Downes. The Nimrods continued to run in 1983 and 1984 with some success including a 7th overall and 4th in class at Le Mans in 1982. The Nimrod led to the 1989 Aston Martin AMR1, which has been done in miniature by Guisval. While the Nimrod has appeared in 1:43 scale (right), no clearly identified small-scale version has been produced.

The Nimrod was powered by a 570 bhp Aston Martin V8 and saw speeds of 213 mph. Several Nimrods are still active in historic racing and one will run in a Group C race preceding the 2005 24
Heures de Le Mans.

The Hot Wheels model dates from the correct period and the AM Nimrod did run in the IMSA series in the U.S. so it may well have inspired a HW designer. The shape is very close, especially around the greenhouse and tail. The biggest difference is that the HW model clearly sports a V12 engine. One of the delights of this model is that it has reverse-opening rear body work which reveals the engine. The metal body and base-plate, along with excellent aero-dynamics, make this model a winner in gravity-track racing. The name 'Sol-Aire' is certainly easier on the English-speaking ear than Nimrod and perhaps that entered in to it's selection for this model. As the selection of models below show, the Sol-Aire has sported a variety of colors. One example with HW racing graphics even included a Chevrolet bow-tie on the nose! If we could just convince HW to offer an example with the 'Bovis' sponsorship colors, this would ideal.