1964 Porsche 901 #V234 (changed to 911)


1968 Porsche 906 Carrera #V285


1970 Porsche 911E Targa #V234/1010


1970 VW Porsche 914/6 #V312/1026


1976 Porsche 917 #1045/1329


1979 Porsche 928 #1037


1985 Porsche 911 Turbo #1059 (John Player)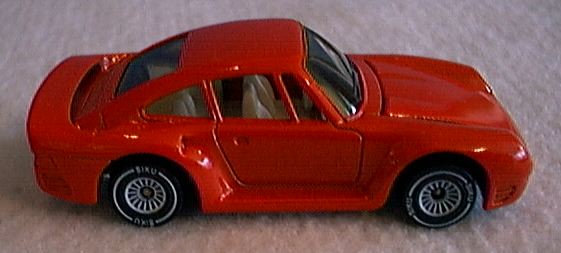 1987 Porsche 959 #1068


1987 Porsche 911 Cabriolet #1067/0837


1998 Porsche Boxter #0849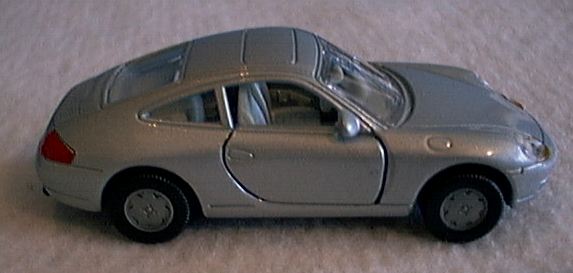 1999 Porsche 911 Carrera, #1093


1999 Porsche 911 Cabriolet #0854


2003 Porsche Cayenne Turbo #1062


2005 Porsche Carrera GT #1001
Siku's Splendid Porsches
The History of the Porsche as told by Siku
story by Doug Breithaupt
Editor's note: This story was first published in 1999. In the five years that have followed, three new Porsche models have been produced by Siku. We are now bringing the story up to date.
Porsche has always built sport/GT cars and Siku has always built Porsches. The two just seem to go like beer and bratwurst. other diecast manufacturers have done many Porsche models. Other diecast manufacturers have done Porsche models not done by Siku. However, no other diecast manufacturer has done as many Porsche models in small-scale. In addition, Siku has been producing a continuous series of Porsche models for over 40 years, almost as long as Porsches have been produced.

For collectors not familiar with Siku, a few general remarks are in order. This German firm is one of the few survivors in the world of diecast cars. They started in the 1950's with plastic cars and switched to diecast in 1964. For an excellent review of the plastic years, see Remco Natrop's fine story in a previous issue (click here). Even in the plastic years, Siku made Porsches, a 356 and Spyder model. They also made a rare example of Porsches 1962 Grand Prix race car, #V181. Our story however, really begins with Siku's first diecast models.

The first thing you notice about Siku cars are their weight and quality. These are perhaps the strongest and best-made toy cars in small-scale. They will never challenge Hot Wheels for speed and may not equal the charm of Matchbox or Tomica, but they are well-engineered. It's not surprising that Siku's best cars are the famous German models from Porsche, BMW and Mercedes-Benz. Who better to build German toy cars than Siku?
The first diecast Porsche from Siku is appropriately the first Porsche 911. The most interesting feature of this car is that it is not labeled as a 911, rather as a 901. Porscheophiles will know that 901 was the original choice for the car's name but Peugeot was able to pressure Porsche to change it to 911 as Peugeot laid claim to all the blank-0-blank number designations. It is clear that Siku offered this model before the 901 name was changed, It was first offered in 1964 as #V234 and continued until 1969. As with many Siku Porsches, a police version was also done. The 901 has an opening luggage compartment up front, gem-like headlights and orange, plastic tail-lights. It is clearly the earliest of any 911 Porsches to be produced in 1:64 scale.

The second diecast Porsche was the wonderful Carrera 906 race car, offered as #V285/1013 in 1968. Siku cars were given a new four digit number in the mid-1970's, hence the two model numbers. Bowing to the success of Hot Wheels, Siku also joined most of the diecast world at this time in offering their version of speed wheels. Siku chose to do these wheels with a white-wall/white letter combination, spelling out the Siku name. The engine canopy opens to reveal the racing 6-cylinder motor. This was one of the most successful GT racing cars of the 1960's with many victories world-wide. Another Siku trademark on this car is yellow, tinted windows.

The third Porsche from Siku is the 911E Targa, #V234/1010 of 1970. The 911E Targa is one of the few Porsche Targa models ever done in this scale. The doors open on this little charmer and it is simply one of the nicest early 911 models ever done. It was continued in the Siku line until 1987.
Also offered in 1970, Siku introduced the VW/Porsche 914/6., #V312/1026. A car rarely done and much coveted today in this scale, the 914/6 is a difficult find for many collectors. Again, the doors open and yellow, tinted windows are provided. The 914/6 was produced by Siku until 1980.

In 1976, Siku produced their version of the Porsche 917 CanAm racing car. From this point on, Most new Siku models moved from 1:64 scale to 1:55, where they remain today. The larger scale set Siku apart from the competition and allowed for better detail. The car is actually labeled as a Porsche 917/10 Turbo-Lader and carries both the 1045 and 1329 numbers. It also introduces another Siku feature, car specifications molded onto the base. While they are in German, the translation is not difficult. The 917/10 reads;

12 Zylinder, Hubraum (engine configuration)
5,000 ccm (cc)
1,200 ps (hp)
Spitze 350 km/h (top speed)

In any language, the 917 was one fast car. Siku continued to produce the 917 until 1992.

Siku's last Porsche from the 1970's was the 928, #1037. Issued in 1979, the 928 represents Porsches radical departure to a front-engined, water-cooled, V-8 GT car. It has opening doors and red, plastic tail-lights.

By 1985, the 911E in Siku's line was looking quite dated and it was replaced with a new 911 Turbo, #1059. The Turbo features the huge whale-tail and has opening doors. A 'John Player Team' rally version was offered in 1986.

The Porsche 959 of 1987 represented Porsches super-car of the late 1980's. Offered as #1068, it has an opening luggage compartment like the 901. It was offered until 1994.

Also offered in 1987 was the Porsche 911 Cabriolet, #1067/0837. The '08' series represent a plastic-based series offered in the mid-1990's. Few 911 Cabriolet models have been done as toy cars so this is a nice addition. It is still in production.

Siku kept Porsche lovers waiting for 10 years before a new model was introduced. In 1988, the Porsche Boxter, #0849 was offered. Available in both top up and top down versions, the Boxter from Siku was one of the first examples of this car done in small-scale. Realistic looking wheels, a true rarity in small-scale are now offered on all Siku models.

1999 has brought yet another new Porsche from Siku. The new 911 Carrera, #1093 brings the Siku 911 story up to date and represents the 11th diecast Porsche done since the original 901 in 1964. Opening doors are back and authentic headlight covers really add to the look of the car.

It is curious that Siku missed several Porsche models over the years. The 924/944 range is absent as are the many racing Porsches of the 1980's and 199's. The 1998 Le Mans winning 911 GT1 would have been a good choice, although Matchbox did the car. Siku has never followed the lead of other toy car makers. They still market primarily to children and have not focused on the collector market. They continue to produce from the same molds for many years, saving money and offering plenty of time to pick up new models. Best of all, the quality has remained high over the years while prices are still in the $2-3 range.

Values for Siku models of the 1960's in mint condition often run in the $20-40 range. Speed wheel cars from the 1970's are $8-10 while more recent models run less than $5. Siku does have a U.S. distributor but retail outlets can be hard to find. Try the better hobby stores or some of the sources on the Internet. Siku has a Web site at http://www.Siku.de.

The best source for information on Siku models is the German-text, Siku-Sammlerkatalog Rawe 1997, ISBN# 3-9802941-3-7. It includes black/white photos of every Siku produced and was a reference for this article. It is a worthwhile resource, even for non-German speakers.

With new Porsche models due out soon, including their first SUV, more Siku Porsches won't be far behind. Siku is likely to continue their focus on German cars and for all toy car and Porsche collectors, splendid little Porsche models will be the result.

The story continues...

When this story first ran in 1999, we anticipated that Siku would continue to offer the latest Porsche models. In five years, three new cars have been introduced. The first was the 911 Cabriolet, #0854. Shown with the top up, this model offered a nice companion piece to the 911 Carrera, #1093. The play value of this model may not be up to Siku's usual sturdy standards. It appears thet the windshield could easily be broken without any diecast support as provided on the earlier 911 Cabriolet, #1067. The top could also be easily lost.

While many sports car lovers were dismayed at the idea of an SUV from Porsche, the Cayenne arrived none the less. Not only was this the first Porsche to be designed as a 'vehicle' and not a sports car, it was also the first Porsche with more than two doors. Siku offered the Cayenne in their somewhat curious chromed paint. This metallic look is not a favorite of collectors as it does not reflect a real production color or paint finish. The front doors open and appropriatly, the Catenne sports a tow hook. The wheels are quite accurate with rubber-like tires and the head/tail-light detail is a nice touch.

The most recent Porsche to be offered in the Siku line is the beautiful Carrera GT supercar. While the real cars have been on the roads for some time, this is the first licensed model offered in small-scale. Pioneer did an un-licensed version which drew the notice of Porsche and their lawyers. This model is of very high quality and shows that Siku is responding to the competition coming from Norev and others. The doors open and it appears the engine cover and top should open although I do not think they are intended to do so. A detailed Porsche V10 is visable and nicely painted. The head and tail-lights are once again nicely done. The Porsche badge is a bit oversized but if done in scale would be hard to see. The wheels are correct for the car and again rubber-like tires provide a realistic look. Some feel the wheels should have a brighter finish.

With 14 diecast Porsche models spanning more than 40 years, Siku continues to be the premier small-scale provider for this marque. The consistant quality and high play value have become industry standards. With a nudge from Norev, Siku has taken steps to make their toy cars even better.