| | |
| --- | --- |
| | Gilles Villeneuve (left) was a rising star for Ferrari in the 1970's. His aggressive style could bring victory or disaster. |

This is part three of our series covering the Kyosho Ferrari F1 cars in 1/64th scale. These models were originally prizes in a coffee drink promotion by the Dydo Company of Japan. The workmanship in all details and aspects of these small cars is absolutely outstanding and worthy of attention.

The 1970's saw many notable Ferrari successes in F1 and the foundation to them all was a new engine design by engineer Mauro Forghieri ­ the 312B (3-liter, 12 cylinder "boxer" configuration). The idea was that a flat engine would give a lower center of gravity and help clean up the airflow to the rear wing.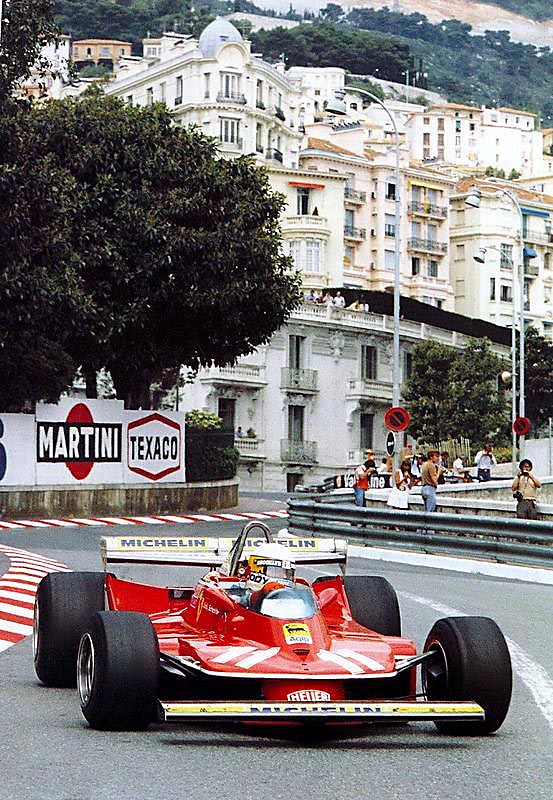 The first car pictured is the original 312B from 1970. This car won four races throughout the season but finished second in the championship to Lotus. The large boxy structures on the rear funnel air to oil coolers. 1971 through 1973 saw a few more lucky wins for the 312B but no consistent run for the championship.
In 1974, several management changes were made and a young Niki Lauda was brought in to partner Clay Regazzoni. Lauda won 2 races while his more consistent teammate finished second in the championship. For 1975 the 312T model was introduced ­ the transverse transmission was designed to concentrate more weight within the wheelbase, rather than having the gearbox hanging out the rear of the car like most conventional models of the day. With a car like the one pictured here, Lauda won the first of his championships for Ferrari. In 1976 he finished second to James Hunt after a legendary season-long struggle that saw him survive nearly being burned to death in a horrible accident. It is a tribute to Lauda's strength and determination that he was able to come back and stay in contention that season. Lauda won his second championship for Ferrari in 1977 driving a 312T2 like the one shown here.
For 1979 the 312T4 was designed to incorporate the latest ground effects ideas. Jody Scheckter and Gilles Villeneuve finished first and second in the championship in cars like the one pictured here. The bottom view clearly shows the curved wing-like underbody tunnels. Unfortunately, this was to be Ferrari's last championship for 20 years!
In the side-by-side comparison of the four cars, we can see the transition from Firestone to Goodyear to Michelin tires as well as the switch from Shell fuel to Agip and the increasing influence of major stockholder Fiat after 1969. Large slick tires approached their maximum width and height and speeds increased annually. The 1970's were the years of Ferrari and Lotus domination ­ both teams won 3 drivers and 4 constructors championships in the decade.