'Packin Pacer' - Hot Wheels


AMC Pacer - Corgi


AMC Pacer - Corgi


AMC Pacer - Corgi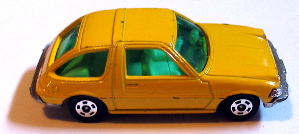 AMC Pacer - Tomica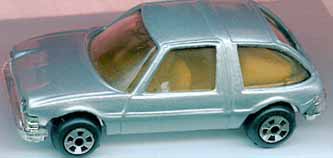 AMC Pacer - Wheeler
Few cars have shapes so different from their contemporaries as did the AMC Pacer. My mother called the one my father bought the 'moon car'.


My father with the 'moon car' in 1980, a week after the eruption of Mt. St. Helens. Note the ash on the tires.
I was already in college but did join my family for one trip in the Pacer. The photo above was taken on a fishing trip in 1980, one week after Mt. St. Helens erupted, and required frequent stops to clean out the air filter.

The Pacer has not been neglected as a toy car. Models were produced by Hot Wheels, Tomica and Corgi when the actual car was still in production. Hot Wheels did the Pacer Wagon but in their own style with an additional engine in the rear. The Tomica example is an excellent representation with all the quality for which Tomica is known. The Corgi Pacer is also quite authentic and came in a variety of colors, even a red wine version much like the one owned by my parents. Corgi's chrome interiors were a bit distracting. Universal and Wheeler offered copies of the Hot Wheels and Corgi castings in their lines (images courtesy of Kimmo Sahakangas).
More recently, we have seen new models of the Pacer from Racing Champions and Motor Max. Racing Champions offered the Pacer in their Mint Edition series and then produced a budget version in their Street Wheels line. The Mint Edition version came with an opening hood, metal base and rubber tires. The black version was offered in their 'Muscle Series' with white letter tires. That anyone would consider the Pacer a muscle car is hard to accept. The 'Street Wheels' castings are slightly smaller than the original casting and often came with curious wheels as shown on the yellow example. Another odd variation is the Pacer in modern rally colors. At least the wheels are a big improvement.

Motor Max has offered the latest example of the AMC Pacer, identified as a 1978 model. The quality is excellent, especially for less than $2. Stock paint colors, rubber tires and chrome wheels and metal bases are all provided in the 'Fresh Cherries' series of cars from the 1970's. An AMC Gremlin is also produced.

With all these examples of the Pacer available, more small-scale examples would seem un-necessary. Other AMC models of the 1970's and 1980's, like the Matador, Eagle 4WD Wagon or Spirit hatchback would be far more welcome.

AMC Pacer - Universal


1977 AMC Pacer - Racing Champions Mint Edition

1977 AMC Pacer - Racing Champions Muscle Series



1977 AMC Pacer - Racing Champions Street Wheels

1977 AMC Pacer rally - Racing Champions Street Wheels


1978 AMC Pacer - Motor Max