Porsche - Four Decades of Red Roadsters
By Doug Breithaupt


While the four cars pictured here are all Porsches, the beauty of this set is even more interesting. The four cars represent four decades from the 1960's to 1990's. All are the same shade of red with black interiors to provide perfect color coordination. Finally, all are open cars. Very seldom can I create so perfect a set, even with over 4,000 1:64 scale cars to choose from.
The Porsches represented here are:
1956-64 356 Speedster by Tomica, #F-9, scale 1:59, value mint $12
1978-83 911SC Targa by Corgi, #na, scale 1:60, value mint $5
1989 911 Speedster by Maisto, #9012, scale 1:60, value mint $2
1996-date 986 Boxter by Maisto, set #29, scale 1:60, value mint $2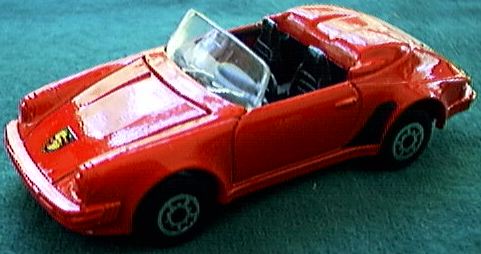 The combined value of these cars is only about $20 and all four are reasonably easy to find. The Tomica is a gem, one of their best. The Corgi is still in production, now as a Mattel Hot Wheel in silver or yellow. The red example may be a bit harder to come by. Both Maisto cars are in current production and often available for less than $1 each. The Boxter is a new 1998 model. Full profiles for each of these cars are linked to my 'minicars' list.