The New Muscle Machines from Hot Wheels
by Doug Breithaupt
Hot Wheels exploded on the diecast world in 1968 with metallic colors, red-line tires and custom body-work. What really sold though, was the cars represented in the line-up. Camaro, Mustang, Charger, 442, Barracuda, AMX, Cougar and Firebird were the names that made teen-age boys sit up and take notice. Thirty years later, many of those same boys have gone out to find the toy cars of their youth and early Hot Wheel muscle car prices have soared. It took a while but Hot Wheels finally realized that maybe a new slate of classic muscle cars would be popular too.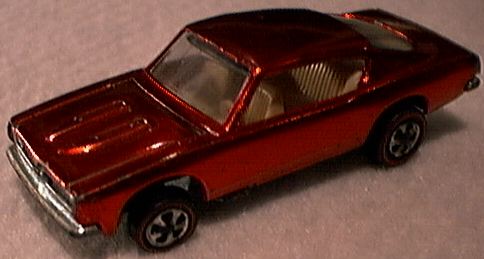 .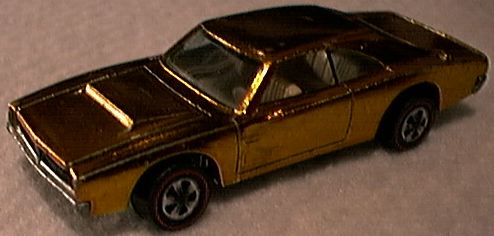 .
---

1967 Plymouth Barracuda, #6211 - 1968 Dodge Charger, #6268 - 1970 Plymouth Hemi 'Cuda funny car (replica), #6409R



.
.

1970 Plymouth Hemi 'Cuda' convertible - 1970 Plymouth Roadrunner, #661 - 1969 Dodge Charger Daytona, #382
---

Perhaps it is appropriate that the first Hot Wheel, the 1967 Chevrolet Camaro is the only muscle car to span the 30 years. Although it was re-introduced in 1983, the look has hardly changed. The evergreen '67 Camaro has come in many colors but the black and yellow model is one of the sharpest. It was joined in 1984 by a 1965 Mustang convertible. While some may consider the early Mustang a poser compared to the Original '67 Mustang by Hot Wheel, fully optioned, it was a hot package. For many years the '65 Mustang was only offered with wide-white walls, for no conceivable reason. More recently, a new Oldsmobile 442 W30 was offered in regular issue form as #267. Most feel the original Olds 442 was a much better casting. In 1996, the 1970 Dodge Charger Daytona, #382, was introduced. A bit too long and narrow, it also suffers in comparison to the original '68 Dodge Charger. In 1997, The 1970 Plymouth Hemi 'Cuda joined the parade of new/old muscle. This is not the first'70 'Cuda for Hot Wheels as a hard top funny car version was done featuring Don 'the Snake' Prudhomme. The '67 Barracuda was one of the original Hot Wheel releases. For 1998, the 1970 Plymouth Roadrunner, #661 makes it an even half-dozen of the new.


.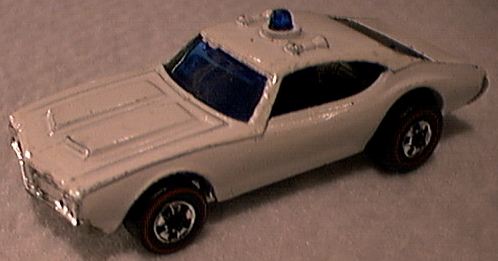 .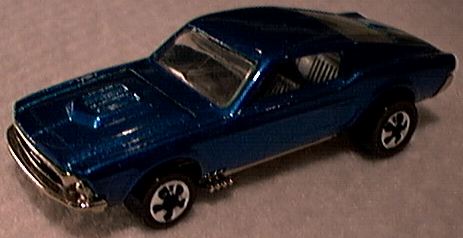 1967 Chevrolet Camaro, #6208 - 1970 Oldsmobile 442 (Police), #6963 - 1967 Ford Mustang (replica), #6206R
---
.
.

1967 Chevrolet Camaro, #3913 - 1970 Oldsmobile 442 W30, #267 - 1965 Ford Mustang convertible, #59
---
Compared to the classic muscle cars recently offered by Matchbox, these Hot Wheel cars are more toy-like. The '70 Hemi 'Cuda is the best of bunch to my eye. The Hot Wheels do however, have more realistic colors and tampos. Watch 'Tales of Toy Cars' soon for a side-by-side comparison. Whichever you like best, it's nice to have so much classic muscle back on the toy shelves.