Toy Box Treasurers - Playart III
By Doug Breithaupt
The Playart story concludes with the remaining material provided by Brian Willoughby of Kentucky.
Like most people, I remember them being sold at Woolworth's and have always thought that, theoretically, they should be much more common. After all, didn't every small town used to have a Woolworth's before Wal-Mart arrived and forced them out of business? Also, they were sold by Sears (as "Road Mates") and other discount chains (under the name "Fast Wheels). I can't explain their absence: they don't seem to suffer from metal fatigue (like some other Hong Kong brands) and destructive boys couldn't have burned, "hammered" and "firecrackered" them all out of existence. My theory is that their scarcity had something to do with their price: they were priced relatively high for an "off brand" at $.99 in the late 1970s. Hot Wheels cost less than that at the time and so did Matchbox as a general rule. Additionally, they were well-established brands that young consumers readily identified with due to massive advertising campaigns in both print and on television. I can remember as a kid that nobody wanted Playarts; when I would get together with my friends to trade cars, I always offered up Playarts (sometimes as many as three for one) to get anything Matchbox! While they might have been nearly an equal to these other brands on several levels, the perception among 1970s boys was that Playarts were ugly, clumsy and inferior. Perhaps a combination of these factors killed them: they cost too much and they weren't well-liked by kids. With the arrival of Hot Wheels, everything changed in the diecast market and accurate scale models (like those offered by Playart) simply couldn't compete against the more fanciful Mattel products with their futuristic styling and wild colors. Matchbox and Corgi responded by introducing absurd models that completely missed the mark and alienated their traditional customers; Playart never did this and it was probably just as well since the battle was already lost.
Playart also produced a range of larger scale models that hovered around 1:43. I've also seen listing for models that were supposedly 1:32 and some others, mostly buses and fire trucks were scaled around 1:87. Apparently, none of the larger scale items sold well since I have seen liquidators still closing out new-old-stock as late as 1996. Again, they made a Range Rover at a scale of 1:48. I think there was also a Fiat X1/9 and a Toyota Celica and three others for a total of six. The 1:43 scale models were sold both with and without friction motors. The 1:48 scale Range Rover I have was repackaged as a "Model Power" toy and certain others were as well.
Here are the last eight Playart models in my collection. Full image profiles for each of these cars are linked to my 'minicars' list.
.
.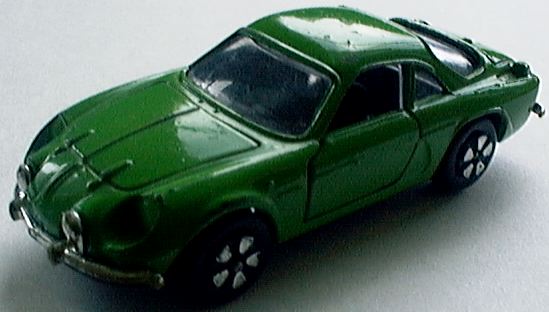 .

1978 Porsche 928 - 1972 VW/Porsche 914 - 1970 Renault Alpine A110 - 1973 Rolls Royce Silver Shadow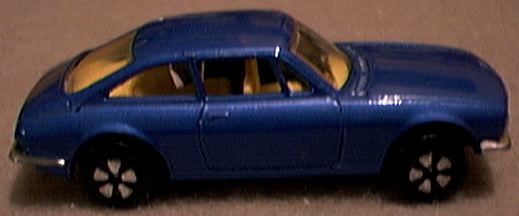 .
.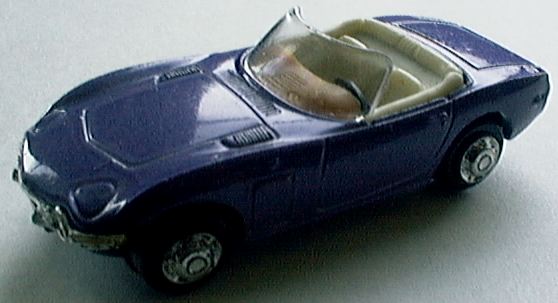 .

1971 Isuzu 117 Coupe - 1942 Volkswagen Schwimwagen - 1968 Toyota 2000GT - 1972 Toyota Corona Mk II 1900SL
As far as packaging, 1:64 Playarts were sold in both blisterpacks and window boxes (like what Matchbox has used for the past decade). The boxes are definitely rarer though I have never heard of anyone thinking that they somehow enhance the model's value by more than maybe a dollar (which is what I have found to be typically the price difference between the two). Sets were offered in large window boxes and the models were secured in place somehow, presumably in Styrofoam trays (I don't have any sets and I can't remember them from my childhood so I am speculating as to the Styrofoam insert).
I don't know when Playart cast its last. I remember buying a Citroen CX 2200 in a Playart package around 1981; however, it had a Yat Ming baseplate. I believe the Playart and Yat Ming models of this car are virtually the same: the Playart does not have red plastic taillamps and the baseplate is slightly different, otherwise, the body casting appears identical. I'm certain that the model I bought was in a Playart blister: it came from Woolworth's and I remember being surprised to find that it didn't carry the familiar Playart name on its base. Perhaps my memory has faded me, though I'm fairly convinced of this model being packaged and sold as a Playart model. Nonetheless, I've not been able to directly link Playart and Yat Ming. I have versions of both the Yat Ming and Playart Porsche 928s; they are not the same. Likewise, the BMW 633CSi models produced by Playart and Yat Ming are also completely different. Again, it's rather difficult to link the two companies outside of that mysterious Citroen CX 2200.