Toy Box Treasurers - Ertl's Small-Scale Diecast
by Doug Breithaupt
When the name of Ertl comes up today, most collectors can be expected to focus on their fine 1:18 scale diecast cars. The popularity of the large-scale diecast from Ertl have eclipsed the many small-scale vehicles that were produced in the 1970's and '80's. This is a shame as the small Ertl diecast are every bit as deserving as their big brothers.

You may remember the 'Dukes of Hazzard' cars offered by Ertl in 1981. A re-issue of three of these cars was done by Ertl in 1997, in conjunction with revived 'Dukes of Hazzard' productions. The original castings were very popular and command a premium price amoung collectors. The 1997 re-issues look the same but two of the cars are actually new castings. Only the 1970 Cadillac is identical to the original casting. Ertl did many other TV and Movie cars, as shown below.
Ertl's 1:64 scale cars often represent unique models in this scale. Cars like the Ferrari Dino 246GT and Jaguar XJ6 S2 are wonderfull designs that deserve to be represented in this scale. No one but Ertl has done a 1980 Pontiac Sedan or Maserati Quattroporte. I have encouraged Ertl representatives to re-issue more of these miniatures and they are considering it.
Few lists of Ertl's small-scale cars exist. Some of the packaging had collector lists on the back but these are far from complete. The following is a combined list of 68 Ertl diecast, 1:64 scale, from my collection. I have also noted cars I am
aware of that are missing. If you know of more, please let me know.
Movie and TV Cars
1989 Batmobile, black #3169G
1937 Cord 812 (Bruce Wayne's car), goldenrod #0573GX
1982 Pontiac Firebird (Knight Rider 2000 'Kit'), black, un-numbered, no Ertl label
1983 Coyote (Hardcastle & McCormick), red #1514
1960 Chevrolet Corvette (Rip Tide), red, un-numbered
1981 Chevrolet Camaro (Simon & Simon), red #3195G
1982 Maserati Quattroporte (Rocky III), tan, un-numbered
1972 Ferrari Dino 246GT (Cannonball Run), red #1402S
1980 Rolls Royce Silver Shadow (Cannonball Run), ivory, un-numbered
1980 Chevrolet Caprice 'Hawaiian Tropic' stock car, (Cannonball Run), burgandy, un-numbered
1936 Ford Business Coupe (Sir Topham Hatt's Car - Thomas the Tank Engine), lt. blue #3645Q

1936 Ford Business Coupe (Dick Tracy's car), black #1710YC
1937 Plymouth Business Coupe (Tess's car - Dick Tracy), orange #2060YC
1939 Chevrolet Sedan (Dick Tracy), orange #1690YC
1937 Ford Police Sedan (Dick Tracy), black/white #1710YC
1969 Dodge Charger (General Lee - Dukes of Hazzard), orange #8-1581
1980 Pontiac Bonneville police car (Dukes of Hazzard), white, no number
1970 Cadillac DeVille convertible (Dukes of Hazzard), white, no number
1997 Dukes of Hazzard Re-Issues #7068 (Note: Dodge and Pontiac are new castings, Cadillac is original)

1969 Dodge Charger (General Lee - Dukes of Hazzard), orange #1268D1
1980 Pontiac Bonneville police car (Dukes of Hazzard), white #1268D1
1970 Cadillac DeVille convertible (Dukes of Hazzard), white #1268D1
Diecast Metal Replicas
1972 Fiat Abarth, met. blue #1601
1968 Ford Mk IV, white, #1602
1969 Porsche 911 Targa, yellow #1603
1972 BMW Turbo show car, orange #1604
1972 Mercedes-Benz C111 show car, lime # 1605
1972 Mercedes-Benz 350SL, burgandy #1606
1970 Porsche 917 GT racer, silver #1607
1970 McLaren M8A Can Am racer, #1608
1972 Mercedes-Benz 450SE, copper #1609
1972 Rolls Rocye Silver Shadow, blue #1610
1968 Alfa Romeo Coupe 33, red, #1612
1932 Ford Coupe, cream/black #1613
1957 Ford Thunderbird, lt blue #1615
1973 Ford Mustang Mach 1, burgandy #1616

1963 Chevrolet Corvette Stingray, red #1617
1950 Mercury Sedan, burgandy #1629
1950 Ford Convertible (top up), blue #1631
1950 Ford Convertible (top up), red #1631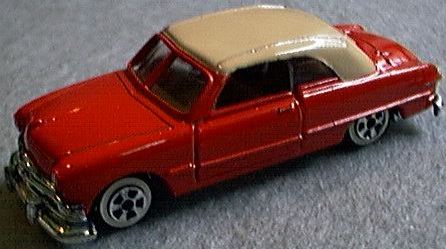 1956 Ford Crown Victoria, black #1633
1957 Chevrolet Belair Convertible, lime, un-numbered
1970 International Scout Traveler, brown, un-numbered
1980 Pontiac Bonneville police car, gold, un-numbered
1978 Chevrolet Camaro "Chuck E. Cheese", lt. blue #27
1964 1/2 Ford Mustang, olive #35
1982 Ford Mustang GT, orange #19860
1982 Ford EXP, blue #3425G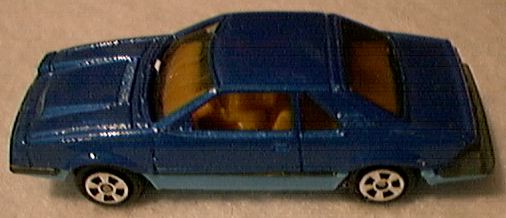 1972 Ferrari Dino 246GT, yellow #1402S
1974 Jaguar XJ6 S2 Saloon, burgandy #6
1978 Mazda RX-7, silver #2
1978 Datsun 280ZX Turbo, black #10
1984 Chevrolet Corvette, yellow #2354
1984 Pontiac Firebird, blue #32
1984 Chevrolet Camaro Z28, red #34
1980 Porsche 930 Turbo, brown, un-numbered
1980 Porsche 930 Turbo (Martini), white, un-numbered
1925 Ford Model T 'T bucket' hot rod, red #23
1932 Ford Coupe Street Rod, orange #19
1934 Ford Sedan Street Rod, silver #20
Speed Strips (featuring diecast cars with viewable comic strips in base) circa 1992-93, all numbered #2780G
1992 Ford Thunderbird stock car, orange
1992 Ford Crown Victoria sherrif's dept. car, black/white
1982 Chevrolet Corvette, silver
1992 Chevrolet Corvette Z1, purple
1988 Chevrolet Camaro, yellow
1988 Nissan 300ZX, yellow
1990 Ferrari Testarossa, red
1988 Lamborghini Countach, black
Ertl cars missing from my collection (of which I am aware - there must be others)
#1611 Volkswagon 1200 LS
#1614 1957 Chevrolet Hard-Top
#1618 Pontiac Trans-Am
#1639 1951 Chevrolet
#1632 1955 Chevrolet Nomad