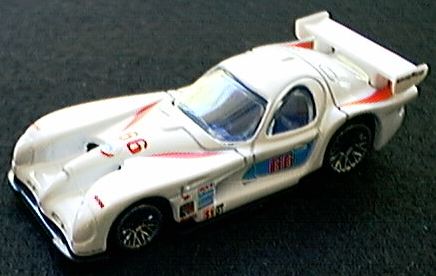 Three GT Racers for 1998
Panos GT1 by Hot Wheels - Porsche 911 GT1 by Matchbox - Dodge Viper GTS GT2 by Maisto
It has been a long time since we saw three modern GT race cars produced by 1:64 scale manufacturers in the same year. 1998 offers us three of the best. Matchbox, Hot Wheels and Maisto have all stepped up with fine examples of the winged warriors that battled the 1998 the 24 Hours of Daytona, 12 Hours of Sebring and 24 Heures de Le Mans. All three are presented in white (just to make for a fine comparison I'm sure). The Panos is a welcome surprise from Hot Wheels, other than the unfortunate wire like wheels. Come on guys, GT cars have not run wire wheels in 30 years. Beyond the wheels, this is a fine representation of the car some call the 'Batmobile'. Don Panos has done what few dare attempt today. He offers both race and road cars in an age when the experts say it can no longer be done successfully.
Maisto produces both the street version of the Viper GT and the racing GTR. Presented in American racing colors of white with blue skunk stripes, this is an excellent addition to 1:64 scale racers. Like the Hot Wheel, Maisto's wheels leave something to be desired but are at least correctly scaled. The Porsche 911 GT1 won the Le Mans race and is an excellent addition to the many fine Porsche race cars in 1:64. As usual, Matchbox has done an excellent job presenting this car. The wheels are the best of the three cars. I am sure we will be seeing this model in many future colors.
With so many NASCAR and open-wheel cars produced each year, it's great to see some other race series represented. How about a few more of these GT racers. Where is the Ferrari P333 that won Daytona and Sebring? Mercedes new GT racer is another obvious choice. Even the McLaren F1, one of the last supercars and Le Mans winner, has never been done. Enough complaining, let's just enjoy what we have for the moment.