The Hot Wheels Race Team, (continued)
By Doug Breithaupt

Two Corvettes, a '63 and '84 are represented in the racing series. Two Camaros are also included, the evergreen '67 and a funny car version. Two Chevrolet stock cars appear, a '97 Monte Carlo and an early '90's Lumina. A classic '57 Chevy is the oldest of the bow-tie brigade. Two Fords are included. The Shelby Cobra 427 and a '34 Hot Rod.


.
.
.
.
.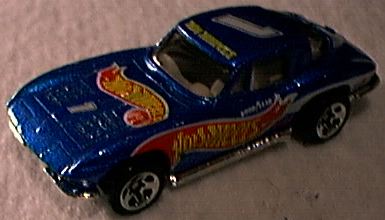 .
.
.


These Hot Wheels may be a bit self-serving for Mattel but this can be forgiven. After all, they do make for a great display and blue is my favorite color.