TOY LOTUS GRAND PRIX
story and *photos by David Cook
The previous article on Ferrari Formula 1 in the August 1998 issue prompted me to write about another famous F1 race and road car constructor, Lotus. In its heyday, this marque was the subject of many small-scale models.
Like Ferrari, the story of Lotus is about one man and his passion for motorsport and competition. Colin Chapman was trained as an engineer and his innovative racecar designs would often leapfrog his rivals, leaving them scrambling to catch up. Many times, however, his habit of making all parts of the car as light as possible led to disaster for his drivers.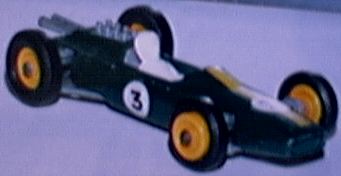 The first car pictured here is a Lotus 25, built in 1962. It's a Lesney Matchbox No. 19 in the very correct British Racing Green with yellow racing stripe and dark yellow wheels. This was the first "monocoque" chassis whose aerospace design offered greater stiffness and lighter weight over tube frame models. With the type 25, the great Scot Jim Clark dominated this era, winning championships in 1963 and 1965. Another variation, the type 29, raced at Indianapolis with Ford power.
This leads to our next picture, a Lotus 56. It is a Hot Wheels "Lotus Turbine" (1969) and is a fairly correct design except for the color. Chapman's successes at Indy led him to continue his quest with a radical gas turbine powered 4-wheel drive car in 1968. What looks like a doorstop with wheels was designed for maximum downforce at high speed. The STP-sponsored car took pole position but failed to finish the race.
I should point out here that Chapman was a leader in securing big dollar sponsorship for his team from tobacco companies and others. John Player brand cigarettes was a major sponsor for many years so the cars became "John Player Specials".
The next model is the Lotus 72. This is a Polistil JPS 72, No. RJ3. Yatming also did the same car, No. 1306 "Lotus JPS 72" with somewhat correct "Texaco Special Racer" markings. The tall airbox above the engine is characteristic of this type. The Lotus 72 had a very long lifespan in a sport where some models are obsolete before they're built. It won a sadly posthumous World Championship for Jochen Rindt in 1970 (after his crash at Monza), and another for Emerson Fittipaldi in 1973. Continually upgraded (with letter designations through 72F) it was raced off and on through 1975. Type 72s were often dragged out from the back of the garage after newer Lotus designs proved to be slower!
Jumping forward a few years brings us to the Lotus type 78. The picture here is a Tomica "Lotus 78 Ford" No. F36, scale 1=1/59, 1978 Tomy with John Player Special markings. It is a very correct model except for the rear end and the underside, for here lies Chapman's greatest design innovation, "ground effects". His idea was to make the bottom of the car like an upside down airplane wing. Air rushing under the car at speed and out the upswept rear created a low-pressure area sucking it to the ground. Driver Mario Andretti would describe the car as "painted to the road" and cornering "like its on rails"! The type 78 won several races in 1977 and dominated in 1978 with Andretti the champion.
Our final model is a Lotus 99T. It's a Tomica No. 72, scale 1/55 and looks huge next to the others! It is a fairly correct model although Tomica made several other cars with the exact same body style but different paint and markings to make Ferrari, McLaren, Williams and Arrows cars from the same era. This type 99 represents a different era Lotus, built after Colin Chapman's death from a heart attack at the end of 1982. His road car company was sold off to others while the race team continued for some time under family ownership. Powered by a Honda turbo engine and driven by the great Brazilian Ayrton Senna, the type 99T scored Lotus' final 2 Grand Prix victories in 1987.
Senna's departure for greener pastures in 1988 was the beginning of the end for Team Lotus. Ownership passed from Chapman family hands while entries were fielded until the early 1990's, with little success. Lack of sponsorship and mismanagement killed the team. Unlike today's revitalized Ferrari Team, Lotus is probably gone forever. Many of Chapman's design innovations remain today, though, along with the records of Lotus' many victories at the hands of a long list of champion drivers.
I hope there are more small scale Lotus car models out there for me to collect. Please let me know which ones I have missed!
*Editor's note: All of the photos and cars pictured here are from the collection of David Cook except the Polistil Lotus JPS 72 which is from the collection of Doug Breithaupt.